The USDJPY plunged today raising a few analytic eyebrows. We do not see this as a warning sign, in fact we're monitoring this pair for a possible opportunity to go long.
The longer-term technicals paint a pretty picture for USDJPY with support just above 96.00 in the form of our Risk Tolerance Threshold Level - think balance line of the previous 3-month up-move - and a trendline just below that - see figure 1.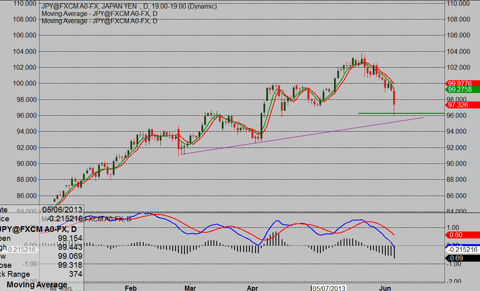 Figure 1.
We see recent volatility as a welcome sign and the current sell-off as a text-book market correction. More times than not high volatility such as we are seeing now marks the beginning of the end of market corrections. Once the market rebalances itself by stopping out a goodly number of weaker handed longs, allowing market makers to rebalance their books and swing back inline with the long-term pattern, it settles down and starts a slower trend higher with falling volatility, i.e.: a return to the bull.
Of course we still need to see how the U.S. Non-farm Payroll Number comes in, but at these levels we are definitely leaning toward being long.
Jay Norris is the author of the best-selling The Secret to Trading: Risk Tolerance Threshold Theory
Trading involves risk of loss and is not suitable for all investors.
Disclosure: I have no positions in any stocks mentioned, and no plans to initiate any positions within the next 72 hours.