11/10/2103
The 50-day, or intermediate-term pattern is still higher in EURUSD as long as this pair continues to hold above approx. 1.3340, with even longer-term secondary support at 1.3285. The significance of this is traders will be quicker to cover on dips because of that support, and more likely to consider playing both sides of the market, i.e.: buying dips along with selling rallies.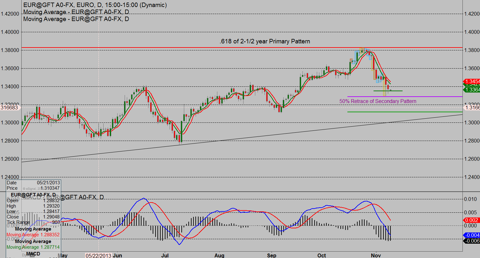 Daily EURUSD Chart 11/10/13
___________________________________________________
11/6/2013
Just ahead of tomorrow's ECB press conference our Risk Tolerance Threshold Ratio, which is based on a tenet in Dow Theory for differentiating between an impulsive move and a reactive move, is giving a mixed reading. The RTT Ratio provides a straightforward framework for choosing which market to trade and which direction to trade it from. Not so much right now though - depending on which time frame you trade - Figure 1.
The tool is used by taking any 3 successive patterns in the ratio and trading in the collective direction of those three patterns, where collective equals majority.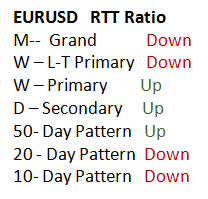 Figure 2. RTT Ratio for Euro for 11/6/2013
Currently the ratio is bullish on the intermediate to long-term patterns in Euro, and bearish for the short-term patterns. Interpretation: long-term traders are buying dips while short-term traders are selling rallies. Whenever given such a choice, I lean toward both. It was also hard to look past the buy signal given last night on the 4-hour chart - see Figure 2. A double bottom on a longer-term 50% retracement level is a reliable pattern as is a long-term 3 point trendline - particularly after having just put in that 3rd point.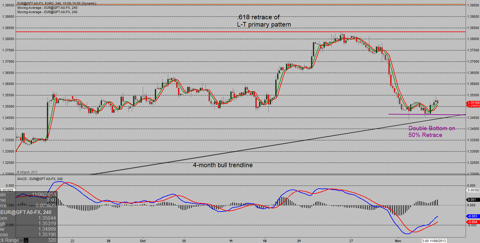 Figure 1. 4-hour Euro chart for 11/6/13
If you are a swing trader or position trader you would already have been eyeing this dip as a buying opportunity. If you're a day trader and tried selling rallies these last two days you're probably happy to have broken even. As is always the case in markets, professionals will migrate to whichever side of the market is most profitable.
The more I look at support just below current levels in EURUSD the more I have to respect it, despite it being in ECB boss Draghi's best interests, or more specifically European businesses which rely on exports or tourism, best interest to talk the Euro down.
To see Jay Norris highlight trade set-ups and signals in live markets on Mondays & Thu's go to: Live Market Analysis. Jay is the author of "The Secret to Trading: Risk Tolerance Threshold Theory".
Trading involves risk of loss and is not suitable for all investors.
Disclosure: I am long UUP.