"Far more money has been lost by investors preparing for corrections, or trying to anticipate corrections, than has been lost in corrections themselves." Peter Lynch, legendary fund manager.
I completely agree with Peter Lynch's thought process, along with another investor who scoffs at the idea of trying to time market corrections, Warren Buffet.
No doubt, the trickiest part in investing or trading is to predict a market correction and trickier still gauge how long that correction will last. It takes a ton of patience just to get on the right side of the market long-term, why complicate the process by trying to time shorter-term secondary moves? The only correct answer to that question is because your method tells you to.
Be Happy, Make Money
The last 9 months have been great because I was so forthright that a sea change move in the U.S. dollar was on hand --http://www.forexfactory.com/news.php?do=news&id=488201 - and I positioned myself aggressively for that. Regarding my long-term cash positions nothing has changed. I'm still long UUP - The U.S. Dollar Index ETF. As a trader however, I am free to trade whichever way the shorter-term patterns tell me.
Last year I passed on any short-term counter-trend signals and just waited to buy dips in the U.S. Dollar, and or sell rallies in the Euro. After all the golden rule of trading is: "Buy dips in uptrends, and sell rallies in down trends". I'd be suspect of any strategy where this was not at the core.
Four Years to 50%
This year however I will trade those shorter-term, counter-trend signals the method produces, and here is why:
Cuz I can. If you have a method which produces well statistically in both long-term and short-term time frames then by all means take advantage of it.
We are nearly at the 50% retracement level of the previous bear cycle in the dollar and the current bull cycle is in its 4th year -- see Figure 1. (If we take the 2011 low on the Monthly Dollar Index chart as the beginning of the new bull, then this cycle is going on 4 years. (We always want to start a cycle on a higher low or a lower high, and not on the absolute low or high). Given the rally is starting to mature it becomes natural that at some point the rate of acceleration will slow which means more corrective behavior, i.e. more retracements.
Market corrections are faster and more violent than the trends they are retracing. As most traders know it is hard to find fault with profiting from a fast market.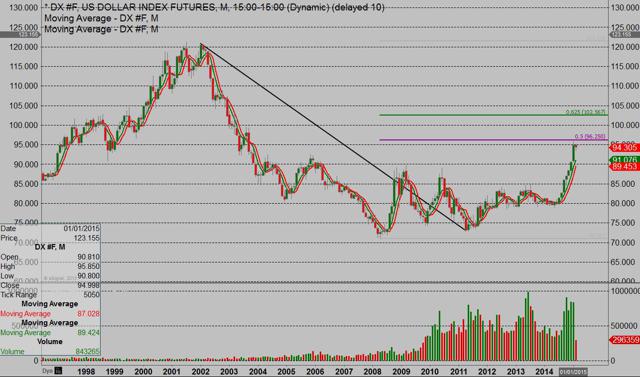 Figure 1.
Nothing Has Changed, But The Aussie…
I am no less bullish on the U.S. Dollar and U.S. economy. If the Greenback does correct however and we do see a secondary rally in the Euro once this Greek business fades from the headlines - again - I want to participate.
Same for the Aussie -- which is a completely different scenario than the Euro --and where there is a chance a long-term bottom is being sewn in.
Jay Norris is the author of two McGraw-Hill books and teaches the art of trading at Trading University. To see his weekly forecasts on YouTube go to: Weekly Forex Forecast
Disclosure: The author is long UUP.