With new U.S. Durable Goods orders having come in lower for 6 of the last 7 months, and the S&P 500 having chugged happily higher over that same period, market analysts have to be asking the question "what gives?"
Here is a historic chart of new durable goods orders -- top --and the S&P 500 on the bottom.
The March Durable Goods figures will be released tomorrow at 8:30 AM EDT by the U.S. Census Bureau and are expected to rise by 0.7%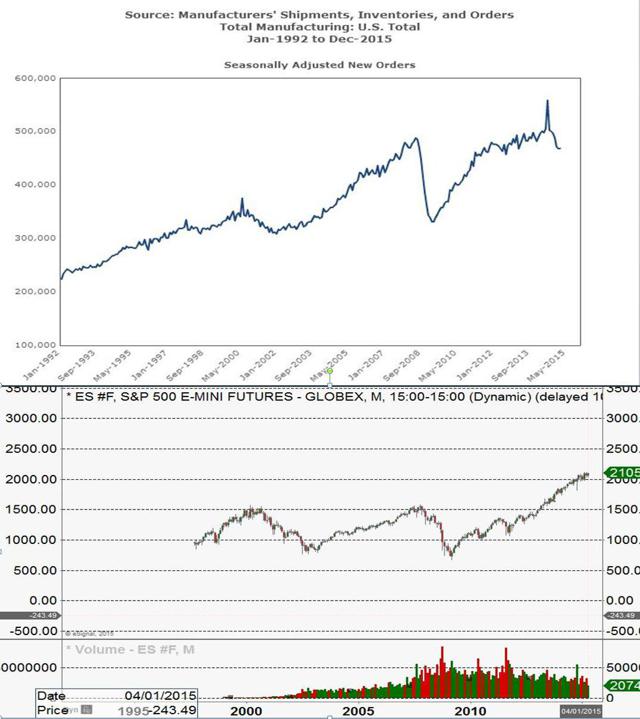 The long-term correlation seen in this chart makes perfect sense; when consumers and businesses are buying "big ticket" items the economy does well and the stock-market benefits.
When Durable Goods purchases turn lower however so does the long-term trend in stock prices.
In 2008 stocks led the way lower while in 2000 durable goods topped 2 months before stocks corrected.
Currently Durable Goods topped in July of '14 and have been lower for 6 of the last 7 months. Before you get too bearish on stocks though, realize that there is a powerful Spring seasonal for the U.S. Economy that is just kicking in.
And volume into the stock market is also much higher than it was during past cycles meaning it takes longer for the momentum to wane. Markets are like ocean liners...they take a lot of distance and time to turn around.
Stay tuned; this ain't rocket science and they haven't repealed the law of gravity just yet either.
Jay Norris has published two books on trading for McGraw-Hill and currently hosts Trading University's Live Market Analysis
Disclosure: The author is long UUP.