I have always appreciated the saying: "a picture is worth a thousand words". In fact, in market analysis a picture can be worth a lot more.
I don't analyze the stock market much for the simple reason I see it as a perpetual bull market fueled by a large percentage of working Americans investing a portion of their pay checks twice a month into their 401Ks, IRA's and ESOPs etc.
I also think timing markets with long-term investment funds is something 98% of us should avoid like the plague. Dollar cost averaging - buying a fixed amount of stock or index funds on a regular basis - is all you need to do to make money over the long haul.
Because I am an active trader however, who looks for double digit annual gains in speculative and intermediate-term investing accounts, I can't help but notice when something looks a little off-kilter.
Before I get into any analysis I'll tell you how ultra-wealthy people invest in stocks. They wait till the headlines are screaming about the stock market collapsing and firms going under and people losing everything, and then they call their brokers. They take an accounting of how much cash they have on hand and instruct their brokers to buy as much stock as they can afford. Then they hang up the phone and go back to doing whatever ultra-wealthy people do. On average this happens once a decade - most often in the second half. See a long-term stock chart of the crash of 87', the correction of 97', and off course the great market panic of 2008.
Now you may ask when do the wealthy people sell their stocks?
Never. At least not while they are alive.
The lesson here is in the buying not the selling which brings me back to what's "off" about today's market.
The first graph is the S&P 500 which we can see has been in an 8-year bull market, up nearly 200% from the 2009 lows!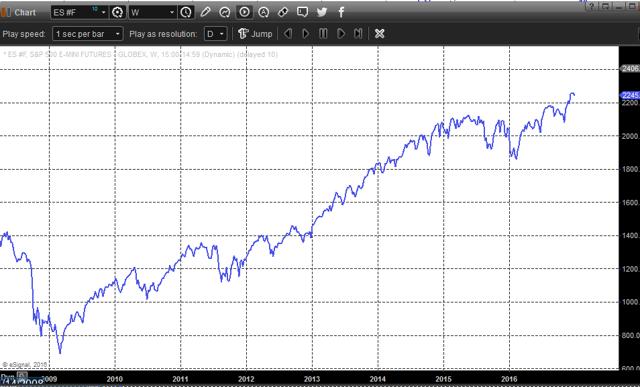 Figure 1. S&P 500 Stock Index
The next two charts are measurements of two important components of the U.S. economy and stock market, retail sales and home buying.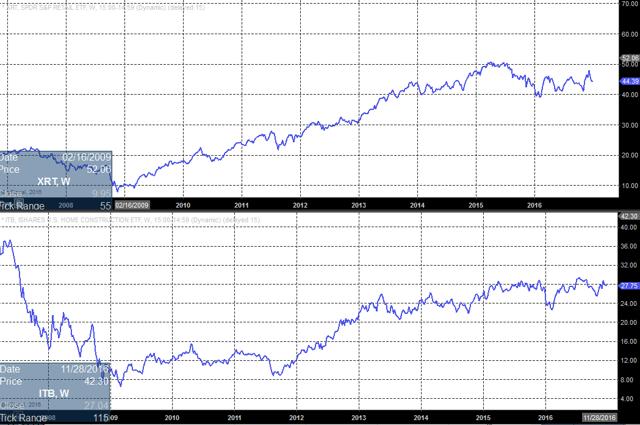 Figure 2. Retail and Housing Stock Indices
I'm a big fan of Dow Theory when it comes to investment and trading analysis. And a tenet of Dow theory says that the indices must confirm.
This means that if the broader market is in a sustained move then the different components of the market need to also be exhibiting like behavior, i.e.: confirming, or what we call converging.
I don't see that on these charts. Figure 2 shows the retail index in the upper half having topped in 2015 and having just turned down at the end of this year - 2016. In the lower chart of Figure 2 we see housing moving sideways over the last two years. Both retail and housing are not confirming the broader market rally we see in the S&P 500. We call this divergence, and while it may not signal a big downturn in stocks it is definetly not a bullish development!
Why is this divergence a big deal? Because retail sales and housing make up upwards of 80% of the U.S. economy!
How can the S&P 500, a bell-weather indicator for the U.S. economy continue to move higher without these two essential components?
It can't.
Without a quick turnaround in both sectors President-elect Trump, who was adamant that the stock market was in a bubble before his election, may be right.
Jay Norris is a Trading Instructor at Trading-U.com