The Aussie found support just below 99.00 today after selling off over 500 pips over the previous 3-weeks. While this pair is still in a 3 month bearish pattern, it's right on top of a confluence of long-term support including Weekly Pivot S2 and a secondary pattern line - see Figure 1. The Aussie remains the carry pair of choice for global institutions/investors, meaning big money is always looking to buy dip. We will continue to monitor the 99.00 level for buy-set-ups and signals, albeit with a tight stop loss order. The risk to any buy side action is that the Euro goes into a free fall and takes the asset class markets, including the Aussie with it. What is most attractive about AUDUSD right now of us is both its primary and secondary patters are higher. Keep in mind the Aussie is not in the U.S. Dollar Index so a strong dollar does not automatically mean a weak Aussie.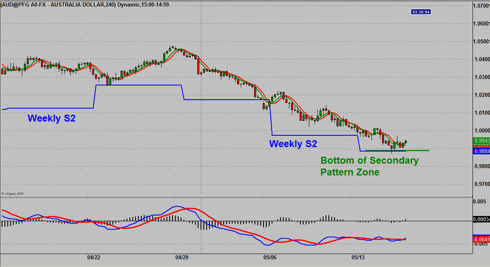 Figure 1. AUSUSD 4-hour Chart
USDCAD finally closed above the confluence of resistance created by the 6-month bear trend line and the February high at 100.50 - see Figure 2. We have to consider this is a break-out and will continue to look to buy price dips. USDCAD looks to be in the process of shifting its secondary pattern higher in-line with its primary pattern, which is already higher following last year's 3rd quarter rally. USDCAD is a benefactor of dollar strength/risk, and a hedge for U.S. stock market weakness.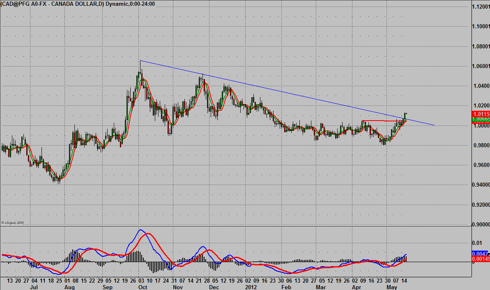 Figure 2. USDCAD Daily Chart
The EURUSD is in a bear market, with both the 1-year pattern, and 3 to 5-year pattern both lower. Momentum is down hard on the daily chart - Figure 3 - and the current seasonal for May and June is decidedly bearish. Europe is in deep trouble because its banks and borrowing are moribund and it's demographics nearly as bad. But its central bank is still respected, which can make selling break downs a dangerous proposition --the euro get a lot of press lately for short squeezes. Up until now you had to sell rallies in this market, but that was before the 2nd week of May seasonal. With a potential near-term bottom at hand for the S&P 500 which finds itself just above a long-term .382 level, and with the Aussie finding long-term support at 99.00 you could see short-covering in the Euro into the weekend. But The bottom line fundamentally remains a panic in the Euro only tightens the noose on the Continent, which is why central bankers are rumored to be supporting the currency. It's still a bear though. Keep in mind that the Euro comprises 60% of the U.S. Dollar Index, and in times of risk, money still flow to dollars. The Euro really doesn't stand a chance, and is likely about to make the U.S. dollar look very good in comparison. Our intermediate-term down-side target is 119.00.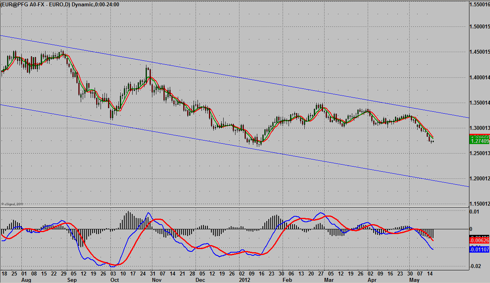 Figure 3. Bear Market in Euro
Jay Norris is a Professor at IBUniversity.com
Trading involves risk of loss and is not suitable for all investors!
Disclosure: I have no positions in any stocks mentioned, and no plans to initiate any positions within the next 72 hours.