Bad news all around in the markets today with the U.S. Philadelphia Fed Manufacturing Index dropping sharply to -5.4 to knock the S&P 500 down nearly 1-1/2% and continue the current string of bearish U.S. data. The bad news in the U.S. and the continued Greek crisis weighed on AUDUSD and EURUSD and supported USDCAD.
In AUDUSD support at the 99.00 to 98.80 level softened as falling stock prices had a domino effect in currencies. While the Aussie is exhibiting a 3 month bearish pattern, it's right on top of a confluence of long-term support including the weekly S1 floor pivot-see Figure 1. While the Aussie remains the carry pair of choice for global investors, we are more cautious today toward Aussie following that terrible U.S. manufacturing number. The risk to the long side in Aussie is an acceleration lower of the current downtrends in the Euro or S&P 500, either one of which takes AUDUSD down hard. What continues to be attractive about AUDUSD is it is right at longer-term support and its primary pattern -- several quarters to several years - Is still higher.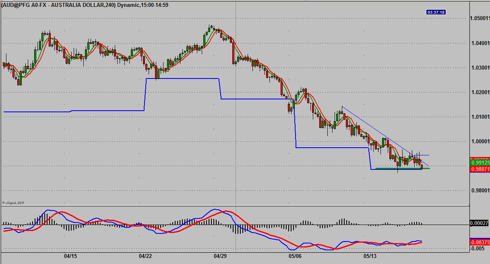 Figure 1 AUSUSD 4-hour Chart.
The Euro is in a bear market and the Continent is under heavy financial stress due to the continued deterioration of Greek situation. The recent string of disappointing economic numbers in both Europe and now America is a serious concern for global markets that is not going away. As if things were not bad enough, the current seasonal in the Euro for May and June is decidedly bearish - see Figure 2. A panic in the Euro tightens the noose on the Continent, and threatens contagion of the global system, which is why central bankers are rumored to be supporting this currency. Because if that support the Euro still has a near-term, and relevant reputation for short squeezes. The Euro comprises 60% of the U.S. Dollar Index, and in times of risk, money still flow to dollars. The Euro really doesn't stand a chance, and is likely about to make the U.S. dollar look very good in comparison. Our intermediate-term down-side target remains 119.00.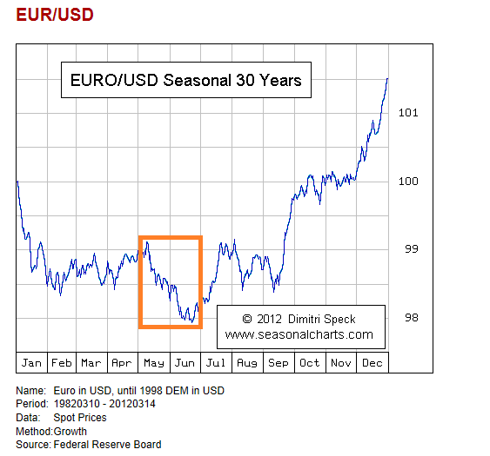 Figure 2. Bear Seasonal in Euro for May-June
USDCAD took advantage of the bad news and stock weakness to extend its gains. After breaking out above 100-50 earlier in week - see Figure 3 --USDCAD extended the rally to post a new 4-month high settlement just below 102.00. USDCAD is in the process of shifting its secondary pattern higher in-line with its primary pattern, which is already higher following last year's 3rd quarter rally. USDCAD is a benefactor of dollar strength/risk, and continues to be a good hedge for U.S. stock market weakness. We continue to favor short-term price dips for buy set-ups.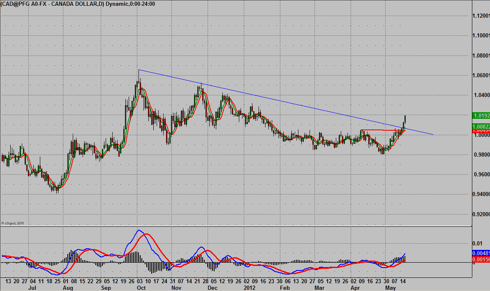 Figure 3. USDCAD Daily Chart
To see Jay Norris point out trade signals in live markets on the London/ U.S. overlap every Monday & Friday go to: Live Market Exercise Workshop. Trading involves risk of loss and is not suitable for all investors!
Disclosure: I have no positions in any stocks mentioned, and no plans to initiate any positions within the next 72 hours.