After over 30-years of observing markets, if there is one thing I am certain of, it is that everything going on in the world naturally, socio-politically, and economically is reflected in the high, low and closing prices of a market's chart. The old saying "the market discounts all things" is gospel in my book. The question for traders is never: "what do you think of that durable goods number?", but "what do you think of the market's reaction to that durable goods number?" And once you view the market based on how it moves and its simple pattern of highs and lows, instead of from what so many experts say the market should be doing, you become surer footed in your analysis.
I thought of this today when I noticed that the S&P 500 is showing a pattern of higher lows on its Daily chart while Gold is showing a pattern of lower highs. I've been thinking of gold lately after seeing a somewhat prominent gold trader talking about the managed program he trades. No surprise he is a "gold bug". What surprised me about what he said was how certain he sounded that gold was "not going to get to $2,000 per ounce anytime soon". I have to think that if I was a "gold bug" I would have to be a little disappointed that for all the problems the world's economies have faced these past 5 years that gold still could not eclipse $2,000 per ounce, and is now stalled out just above its 10-month low at $1,525 see Daily gold chart in Figure 1 - 25% off the highs sounds suspiciously like a bear market.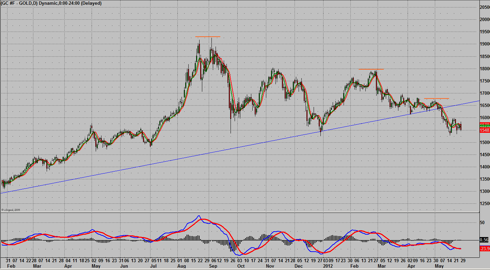 Figure 1. Daily Gold Chart
The stock market, i.e.: the S&P 500, in Figure 2 on the other-hand is showing the opposite formation; one of higher lows. When you factor in that the Fed is finally removing QE from the table, which undoubtedly was supportive of gold, you have to wonder where the next panic comes from to put gold back on a bull track. If you answered the meltdown of the Euro, we can say, "maybe", but the Continents problems are well documented. As bad as it is in Europe the Euro is still above the 2010 low, and the smart money opted for U.S. Treasuries this past month, not gold when bad news hit the tape.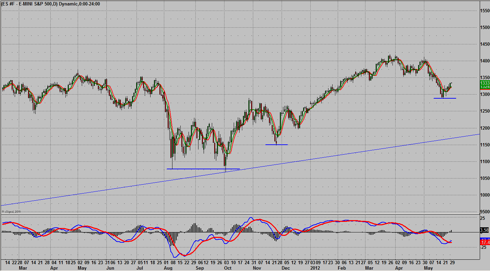 Figure 2. Daily S&P 500 Chart
It may be hard to swallow for many hard-core gold bugs that what was actually supportive of precious metals was that the government's efforts to stabilize the economy were successful. With the QE's driving more speculative funds out of fixed income and into business investments and stocks, gold benefited from the residual of that flow. Far and away more money went into stocks and treasuries further up the curve than into gold. The real question going forward is where will all that money in treasuries go to once institutions feel that the global economy really is on the mend, as stocks seem to be telling us? While some institutional funds are clear to hold a small portion of funds in gold, it would seem unlikely they would decide now to increase that percentage. The charts in Figure 1 and 2 tell the story better than I could. Better to focus on a continuation of the current trend than to bet on a reversal of it.
Trading is a risky endeavor and not suitable for all investors!
Jay Norris is a Professor at www.IBUniversity.com
Disclosure: I have no positions in any stocks mentioned, and no plans to initiate any positions within the next 72 hours.