Despite a late session sell-off in sympathy with U.S. stock indices, AUDUSD put in a good showing today by posting a higher low and a higher high from the previous session, with the 100.00 level continuing to be resistance. No news has been good news for the Aussie this week with this carry pair holding on to last week's gains following positive jobs and GDP releases last week. As of this report the Aussie is a hair higher on the week. We would see a dip into the 98 handle as a possible buy opportunity with 104 as the upside target. Short-term however the Aussie remains vulnerable to continued disappointing U.S. data, while longer-term a continued stable China likely means the bottom of the current longer-term range, approximately 96 to 95 holds - See Figure 1.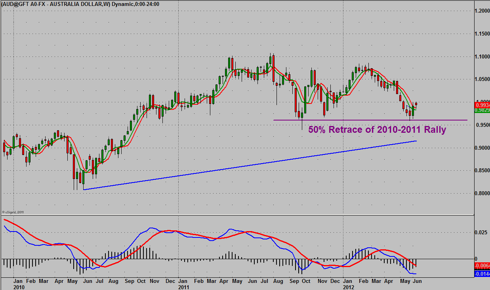 Figure 1. Aussie Weekly Chart
The Euro looks to have reverted to its old M.O. of producing healthy short-covering rallies timed to trap over-zealous bears. Sunday's open produced a mighty short-covering squeeze which took out buy stops above the previous weeks high at 1.2625, based on reported efforts to stabilize Spanish banks. Today's U.S. session rally produced a miniature version of the old short- squeeze with price getting just high enough to clear out buy stops above 1.2600. The Euro hit resistance at approximately 1.2650 just off Sunday's open and we see that level as one to watch for potential sell set-ups. For now the Euro finds itself pinned between 1.2450 below and 1.2650 above. All things considered we have to take stabilization/bailout efforts serious because the market itself takes them seriously. The chart in Figure 2 for some reason reminds me of a wounded animal with fully functioning paws and very sharp teeth. The 1.1900 figure remains our intermediate-term target but we cannot rule out a move on 1.28 given this pairs renewed penchant for running off retail shorts. Any rally the Euro did produce would be an opportunity for a patient person to take a modest short position.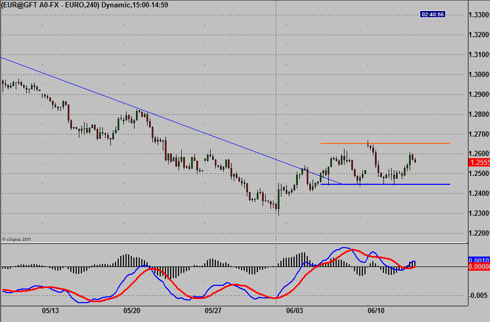 Figure 2. 4-hour Euro Chart
While I'm hoping for a move down to somewhere just above 1.00 in USDCAD for a buy set-up this could be just wishful thinking. The Canadian currency is a great example of what traders have known for some time and many analysts are still in denial over: USDCAD does not follow Canadian fundamentals for more than 5-minutes at time. The Canadian dollar slavishly follows the other majors which is a good thing for momentum traders and a bad thing for analysts expected to make sense of market movement based on short-term economic data. What is most important going forward is that Canada has unfavorable demographics and is dependent on the U.S. economy, just as Australia is dependent on the Chinese economy, and while it may benefit when the other major currencies exhibit strength, it will naturally lag in a normalized, post QE environment. Our intermediate-term upside target for USDCAD remains the 2011 high at 1.0650.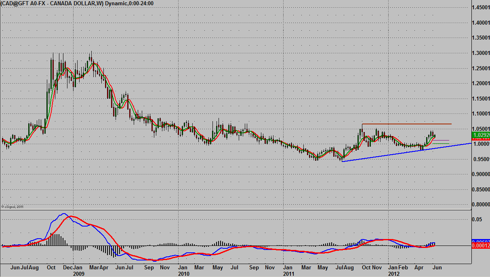 Figure 3. Weekly USDCAD Chart
Trading is a risky endeavor and not suitable for all investors!
Jay Norris is a Professor at IBUniversity.com
Disclosure: I have no positions in any stocks mentioned, and no plans to initiate any positions within the next 72 hours.