Aussie Bulls carried the load through weekend to extend the June rally beyond par --1.00-- and post a 1-month high settlement last Friday. The Aussie took strength from central bankers assurances that they are prepared to fortify financial markets coming into the new week following Greek elections. Despite continued bad U.S. data, or perhaps because of it, and the perception of the necessity of more QE for the U.S. those lower than expected figures generate, the Aussie closed up nearly 2% on the week. U.S. stock indices rallied again to close the week on their highs with the S&P 500 posting a new 1-month high settlement, while energy and precious metals held steady for the week but closed off their weekly highs. With little hard economic news from Down-under the Aussie was left to track the S&P 500, which it is so well conditioned to do. Traders were reminded these past couple of weeks that for all the recent down-side price action, the primary pattern - call it 10-months to several years - in the Aussie Dollar is still bullish. We see short-term resistance at 1.02 with an upside target at secondary pattern resistance at 1.04 by mid-summer.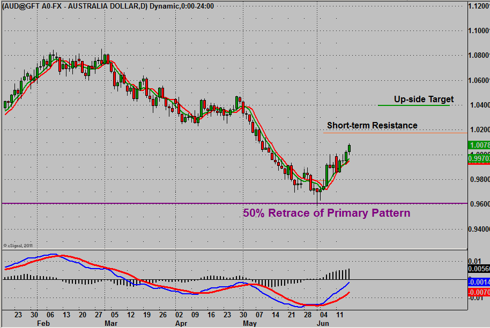 Figure 1. Daily AUDUSD chart
The Euro made it to resistance at 126.50 off of news that global central bankers are standing ready to support the currency regardless of events in individual countries in the union, but failed to close above that level, telling us that while money flows into stock indices and the Aussie might be the real deal, the buying in the Euro is just short-covering. Both the Aussie and S&P 500 retraced over 50% of the May correction, while EURUSD is still a full 200 pips short of that same geometric, which is also a level we would watch for potential sell set-ups should the current short squeeze drive above 1.2650. It ain't over till it's over for old 1.2650, but if ever there's a good time to reverse a move it's just ahead of the weekend, and that didn't happen, which leads us to believe the EURUSD is less weak than more. I'm an optimist though and I do focus on up-trends more than downtrends. I also understand and respect the meaning of the old trading adage: "Don't fade the Fed" and believe we could substitute the ECB, BOJ or most any other central bank in that phrase. The key is EURUSD is a bear market and 1.2650 to 1.2800 is likely a good band of resistance to hawk sell set-ups. EURUSD is the world's most widely traded financial market which means there are a lot of amateurs, both large and small swimming in these waters, and that makes for short-term volatility, i.e. it's a good market to sell rallies in in our estimation.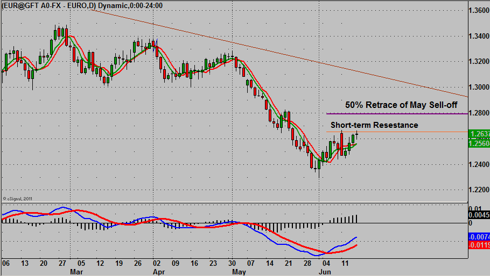 Figure 2. Daily EURUSD Chart
We saw from last Friday's economic data that the trend in slowing global manufacturing numbers is present in Canada as well as the U.S., but this didn't stop the Canadian currency from strengthening on central bankers assurances that markets will be stable headed into this week regardless of Greek elections. The 1.0200 level for USDCAD has been holding support and we feel a breach of that level on a closing basis means a trip down to somewhere between 1.01 and 1.00. The big question here is: is the current up-move in the U.S. Dollar over the last year based solely on a weaker euro? (60% of the U.S. Dollar Index is the euro, so if the Euro is weak the Greenback will by default be strong) Or is the strength in the U.S. Dollar also based on the U.S. Treasury and Fed having been ahead of the curve in applying and focusing on QE, as the U.S. stock market's performance would lead us to believe? Either way we feel the band of potential support in USDCAD between par and 1.01 or so and keeping an open mind, will help us in answering that question.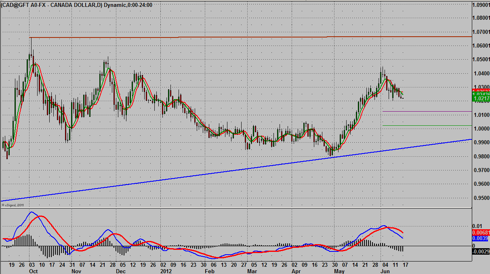 Figure 3. Daily Chart of USDCAD
Have a great weekend everybody!
Jay Norris is the author of Mastering the Currency Market, McGraw-Hill, 2009 and a Professor at www.IBUniversity.com
Trading involves risk of loss and is not suitable for all investors!
Disclosure: I have no positions in any stocks mentioned, and no plans to initiate any positions within the next 72 hours.