Like a farm girl who cleaned the dirt out from beneath her fingernails for the first time since planting season, and traded in her overalls for a skirt, the Euro chart ain't looking half bad today. I'm a big believer in focusing on the effect to avoid over-analyzing the cause, which is to say what I see on the chart is a reflection of anything and everything that can influence the price of a market that day. And what I see on the Euro chart today is a market that's got a little lift to her step as witnessed by the higher lows underfoot. No surprise that she's trying to step out when all the adults are out of town. i.e.: on summer vacation. If I were a gambling man I'd say she gets as far as 1.2475 to 1.2500 by Thursday. In these summer holiday markets even slightly less worse economic data out of Germany and Europe can have a magnified impact on the emotions of nervous shorts who already made the decision to hold positions thru August.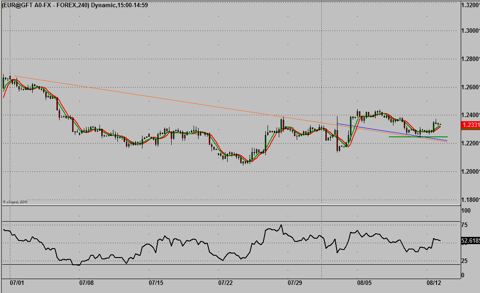 Figure 1. EURUSD 4-Hour Chart
In typical dog-day fashion we are seeing a break-down of the correlation in the currencies with the Aussie and Euro, at least temporarily, going their own ways. Just ahead of the close of the U.S. session here we're looking at a EURUSD +48 pips and AUDUSD -54 pips as traders in these markets start to unwind positions in anticipation of further counter-trending price behavior.
To see a video of Jay identifying a trade set-up and signal today in AUDJPY go to: Fractal Geometry in AUDJPY
Jay Norris is Director of Education at Trading University and the author of Mastering the Currency Market, McGraw-Hill, 2009
Trading involves risk of loss and is not suitable for all investors.
Disclosure: I have no positions in any stocks mentioned, and no plans to initiate any positions within the next 72 hours.