Analysts were expecting a pretty rough quarter from Alcoa (AA) with aluminum prices still low and industrial demand depressed.  Alcoa swung to a loss in the last quarter with at 28 cent per share deficit, and that number was expected to grow in the first quarter with consensus estimates predicting a 57 cent loss per share.  Revenue was expected to slow considerable to $4.08 billion, representing a 44.7% drop from last year.  Alcoa fell as much as 5% and finished the day down 2% for Tuesday's trading as traders feared the results would be even worse than forecast.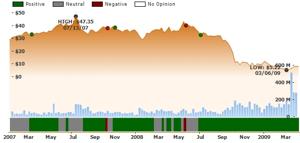 The pressure was on Alcoa to deliver in this make or break earnings season.  Revenue actually topped estimates ever so slightly coming in at $4.1 billion.  However, the loss was worse than expected coming in at 59 cents per share, totally $497 million.  They will be cutting cap ex by 50%, which totaled $471 in the first quarter.  The results were not all that bad, as Alcoa was successfully able to raised $1.4 billion in a convertible note offering, also the company was able to reduce the cost to produce aluminum by 33%.  The stock is trading slightly higher in after hours.  But as Fox Business Network reports, there is still a lot of excess capacity in aluminum and it could be some time before that ramps up again,
"One thing we look at the aluminum or metal's business is a utilization rate. Alcoa is down to a 75% utilization rate at their plant. That speaks to a bigger issue. When we start to recover, we have so much express capacity that short term you may make money on Alcoa, but it will be a long time before they are ramped up again."
Disclosure: No Positions