Chinese prices may be poised to grow at a slower pace in April, Bloomberg Brief's Daily Chinese Food Price Index indicates. The index showed consistent declines during the month. 

The daily price index is up 27.2 percent on an annual basis, down from a peak of 33.8 percent in early March. That peak coincided with China's highest inflation reading since July 2008.  

Bloomberg Brief derives the daily Chinese food price index using 104 daily agricultural prices from cities across China as measured by Shanghai JC Intelligence. 

This index has a strong correlation with overall Chinese CPI over the past year due to food's strong weighting of about 30 percent in China's inflation index. That is high relative to other countries -- the U.S. weighting is 15 percent - meaning increments in food prices heavily influence the headline inflation release.
The historical relationship between the two, leaving all else equal, implies Chinese inflation growth slowed to between 5.0 and 5.2 percent on an annual basis in April from March's 5.4 percent. The March figure was the highest in more than two years.
While a slowing in the pace of price increases would be seen as evidence that China's tightening is working, inflation still seems likely to remain above 5 percent. China's inflation target is 4 percent up from 3.3 percent last year, indicating more tightening from the Central Bank is likely, in the form of rate increases or additional reserve requirements.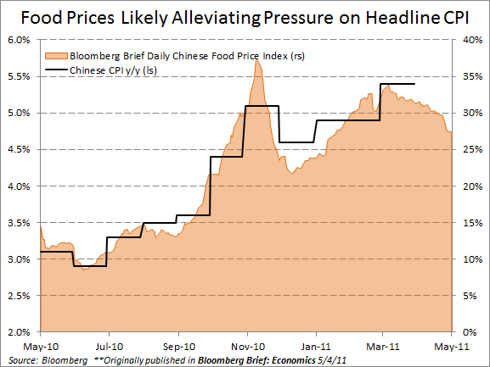 Disclosure:
I have no positions in any stocks mentioned, and no plans to initiate any positions within the next 72 hours.