In the past, I wrote about Cliffs Natural resources ( CLF) which is an iron ore producer in the US. Bearish points about Cliffs are weak solvency ratios, over capacity in iron ore industry and overcapacity in steel industry while bullish points for CLF include high cost of overland IO transportation (so limited competition from abroad) and US government's protectionism which includes more than 160 tariffs. Depending on how you count, imports of steel in 2015 accounted for somewhere between 34% and 29% of the U.S. steel market, which is mostly blamed on China by those with a vested interest in higher US steel prices. Yet some argue that Chinese export into US as a percent of 123 million tons ((mt)) of total Chinese export where not that large to begin with and their further decrease would not be a determining factor for US steel industry (that is to say both Chinese exports and US imports are quite diverse). Thus the recent meteoric rise of steel prices in the US is a result of domestic capacity idling. To judge the merit of each argument, we should familiarize ourselves with the US steel industry.
Most steel is produced in blast furnaces. The most important part of steel production is the oxidation of iron ore by coke in a large tower called a blast furnace. It is both expensive and time consuming to warm up and start a blast furnace. This expense makes the supply curve of steel quite inelastic and as a result make steel prices very volatile.
In this series, we aim to familiarize ourselves with the main players in the US steel industry. List of large steel producers in the US include: Nucor corporation (NUE), Commercial Metals Company ( CMC), U.S. Steel ( X), Steel Dynamics' ( STLD), AK Steel ( AKS) and Arcelor-Mittal ( MT). In this article, we study Nucor Corporation.
Nucor:
NUE is the largest US Steel producer and the largest mini-mill steel maker who in 2015 has produced 25 mt of steel and recycled about 17 mt of scrap; Nucor operates 24 scrap-based steel production mills. Nucor is known for decentralized management, performance based compensation and successful avoidance of unions. Nucor has generally been open to new technology and mostly uses electric arc furnaces rather than older and more capital intensive blast furnaces.
Over the past 2 years the stock price has little changed from around $50. It had a downward slope until this January and a sharp reversal since then. We expect the stock price to be correlated to US steel prices. The following chart is taken from Yahoo finance.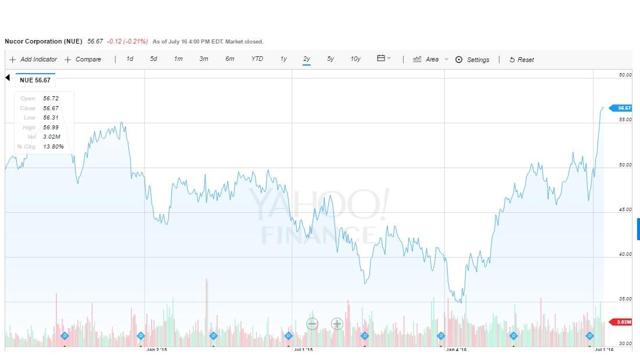 The price peak corresponds to the 2014 supply driven steel price rise. Then comes a fall in tandem with steel prices and finally the recent rally again in tandem with a supply driven steel price jump.
To study longer time horizons, we take the stock price at the beginning of each month from 1990 to present and plot it together with Producer Price Index for Metals and Metal Products Hot Rolled Steel taken from Federal Reserve Bank of St. Louis website.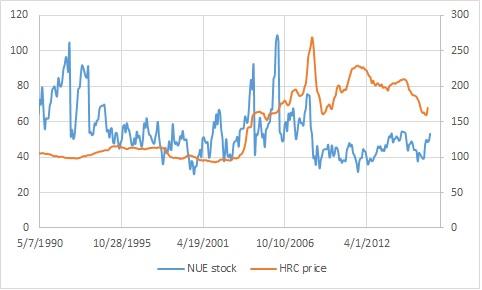 The stock price seem to be doing little while the steel price has been generally on an uptrend with an upward push after the Bush quota, a spike during the 2007 commodity bubble, a valley during the 2009 financial crises and finally a recent upward move following Obama import tariffs. The correlation among NUE stock price and HRC Index is -0.2 which is very counter intuitive.
The picture becomes clear and intuitive if we adjust stock prices for the dividend received.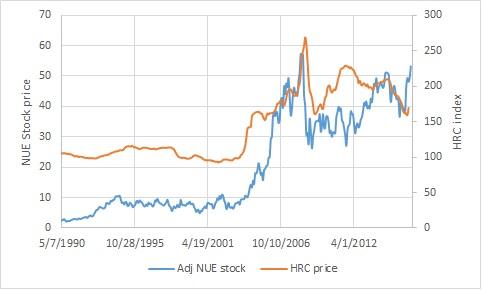 In this chart, we can see that NUE has been a healthy company creating wealth for its shareholders over time. Also the correlation between the adjusted NUE stock price and HRC Index is 0.91.
The information which follows are taken from the company's 2015 annual report. Please note Nucor's financial highlight in the figure below.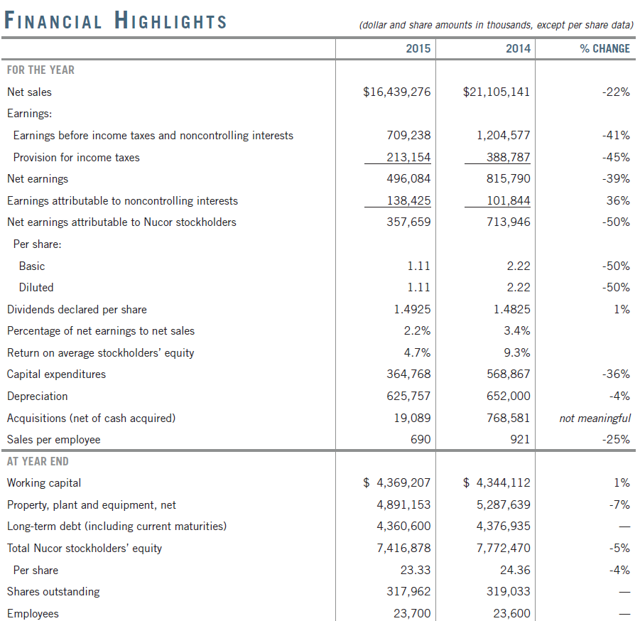 First we note a sharp drop in sales, -22%, and in earnings of shareholders, -50%. The drop can be attributed to lower steel prices which was partly offset by lower input prices (scrap prices paid by NUE went from an average of $381 per ton in 2014 to an average of $270 per ton in 2015) but exacerbated by lower capacity utilisation which was 71% for the industry and 68% for Nucor mills. Sales margin of 2.2% is rather thin and worrisome but this years jump in steel prices ensure it to be much larger over the first half of 2016.
The company's long term debt is almost equal to its working capital and shareholders' equity is sizable, thus Nucor is solvent. Nucor's management seems to understand the comparative advantage of foreign producers in offering cheap raw steel and is moving up the value chain by producing more specialized, higher value added products.
At this point, allow us to take a look at the company's statistics quoted from Yahoo finance.
| | | | |
| --- | --- | --- | --- |
| Valuation Measures |   | Trading Information |   |
| Market Cap | 18.02B | Stock Price History |   |
| Enterprise Value | 20.06B | Beta | 1.49 |
| Trailing P/E | 50.6 | 52-Week Change | 34.64% |
| Forward P/E | 18.4 | S&P500 52-Week Change | 1.67% |
| PEG Ratio (5 yr expected) | 1.04 | 52 Week High | 57.08 |
| Price/Sales (TTM) | 1.14 | 52 Week Low | 33.9 |
| Price/Book ((mrq)) | 2.43 | 50-Day Moving Average | 50.73 |
| Enterprise Value/Revenue | 1.27 | 200-Day Moving Average | 45.35 |
| Enterprise Value/EBITDA | 10.97 | Share Statistics |   |
| Financial Highlights |   | Avg Vol (3 month) | 2.81M |
| Fiscal Year |   | Avg Vol (10 day) | 3.63M |
| Fiscal Year Ends | 31-Dec-15 | Shares Outstanding | 317.93M |
| Most Recent Quarter ((mrq)) | 2-Apr-16 | Float | 316.83M |
| Profitability |   | % Held by Insiders | 4.02% |
| Profit Margin | 2.29% | % Held by Institutions | 74.60% |
| Operating Margin | 7.21% | Shares Short | 10.98M |
| Management Effectiveness |   | Short Ratio | 3.99 |
| Return on Assets | 4.85% | Short % of Float | 3.46% |
| Return on Equity | 6.58% | Shares Short (prior month) | 8.43M |
| Income Statement |   | Dividends & Splits |   |
| Revenue | 15.76B | Forward Annual Dividend Rate | 1.5 |
| Revenue Per Share | 49.19 | Forward Annual Dividend Yield | 2.64% |
| Quarterly Revenue Growth ((yoy)) | -15.50% | Trailing Annual Dividend Rate | 1.5 |
| Gross Profit | 1.58B | Trailing Annual Dividend Yield | 2.63% |
| EBITDA | 1.83B | 5 Year Average Dividend Yield | 3.33 |
| Net Income Avi to Common | 359.08M | Payout Ratio | 133.48% |
| Diluted EPS | 1.12 | Dividend Date | 11-Aug-16 |
| Quarterly Earnings Growth ((yoy)) | 4.40% | Ex-Dividend Date | 28-Jun-16 |
| Balance Sheet |   |   |   |
| Total Cash ((mrq)) | 2.33B |   |   |
| Total Cash Per Share ((mrq)) | 7.32 |   |   |
| Total Debt ((mrq)) | 4.37B |   |   |
| Current Ratio ((mrq)) | 3.88 |   |   |
| Book Value Per Share ((mrq)) | 23.36 |   |   |
| Cash Flow Statement |   |   |   |
| Operating Cash Flow | 2.14B |   |   |
| Levered Free Cash Flow | 1.91B |   |   |
The small debt level (difference between enterprise value and market capitalisation) together with greater flexibility of mini-mills compared with blast furnaces ensure that no industry down turn would bring NUE down. The sharp decrease in going from trailing to forward P/E suggests that earnings are expected to pick up sharply. YoY quarterly revenue has dropped while YoY quarterly earnings has increased, this observation supports the thesis that US steel price rise is mostly due to domestic plant idling and can reverse in spite of the vast array of government protectionist tariffs. Current ratio of NUE suggest ample liquidity. The stock is very liquid and a relatively small portion of shares being shorted suggest the weakness of the short thesis at the moment though the short interest is increasing and thus the strength of the short thesis is increasing.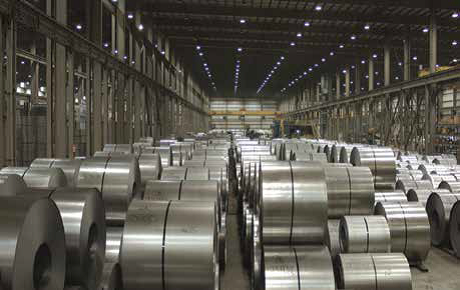 Conclusion:
NUE is a great company which can provide leverage exposure to any pick-up in growth and especially to any pick-up in US infrastructure spending. Because such a pick up would increase steel consumption and thus capacity utilisation at NUE and other steel producers. Yet currently given the prevalence of negative risks matched with record high stock market indicesو I think the whole market is overvalued and would wait for a correction before initiating a long position.
A correction in NUE stock price is likely to occur because steel prices are likely to correct. A correction in steel prices are expected because this years rise in steel prices would encourage steel producers to bring some of their idled capacity back online.
Disclosure: I am/we are short CLF.
I wrote this article myself, and it expresses my own opinions. I am not receiving compensation for it. I have no business relationship with any company whose stock is mentioned in this article.