Marani Brands Inc- Paving The Road For A Comeback In 2014
Please Note: Blog posts are not selected, edited or screened by Seeking Alpha editors.
Seeking Alpha Analyst Since 2013
My name is Joe and I day trade. I specialize in break out stocks. I find stocks before they gain momentum. I have over 8 years of experience in trading stocks under $5.00 a share. I am not a certified financial consultant or investment adviser. I day trade and share my experience with those who care to follow along. All my trades are transparent and I share all my profits as well as my losses. We never progress forward if we do not learn from our mistakes. I created a following on social media called PSProfits with the vision of creating a community for regular hard working Americans that want an extra means of income to get ahead of keeping up with the bills. I'm a regular hard working middle class guy and a veteran. I started with penny stocks in 2007 when I was deployed overseas. I didn't want my hard earned money sitting in a bank collecting next to nothing. I made it a goal of mine to educate myself on day trading and short term, high yield investments. I want to share my exciting gains in the stock market with other hard working Americans like you and I. I invest my time and my own money in the stocks I share and blog about.
The road of restructuring, a company must take in order to get it back on its feet, can be a long and strenuous journey. Marani Brands Inc OTC:MRIB , with the recent CEO Margrit Eyraud, has developed and executed a business plan focused on restructuring the company and its operations in order to bring the company back to where it once was a few years ago.
About Marani Brands: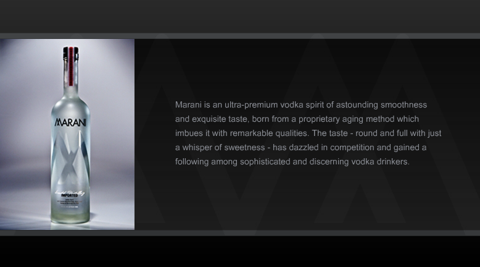 Marani Brands, Inc. develops, positions, markets and distributes fine wine and spirit products in the United States. Its signature product "Marani Vodka," is an ultra-premium vodka manufactured exclusively for Marani in Armenia. It is made from late-harvest Armenian winter wheat, distilled three times, filtered twenty-five times and then, through a proprietary process, is aged in oak barrels lined with honey and skimmed dried milk to give it its unique taste. Marani Vodka was awarded the Gold Medal in the prestigious International Spirit Competition, held in San Francisco, California, in both 2004 and 2007 and the coveted Star Diamond Award by the American Academy of Hospitality Sciences in 2008 and 2009.
(For more information on Marani Brands: http://www.maranispirit.com)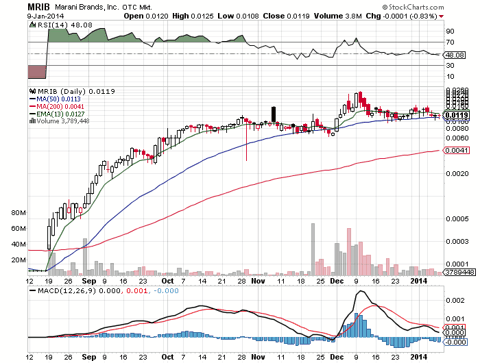 The CEO announced to their shareholders, plans of redirecting the company for worldwide distribution of their award winning vodka on August 4th, 2013. That publication grabbed the attention of potential investors and created the blueprint of the road to a possible comeback.
Over the next few months the company executed many steps in order to eliminate debt, market their vodka, promote brand awareness, and close on sale contracts in order to create revenue.
The timeline of PR's can be found here, MRIB PRESS RELEASE , showing the progress of the company and information provided to shareholders.
The decline in share price and debt in the past includes poor financials, massive shareholder loss, expired liquor licenses, and a loss of brand awareness. These items needed fixed in order to pave a road back to a profitable Marani Brands. Here are some issues and how the CEO has addressed them so far.
FINANCIALS:
The financials, as of September 30th 2013, show the company has low assets and more liabilities. (Financial Statement from otcmarkets.com) This presents a challenge that the company needs to overcome if they expect to see Marani Brands Inc back in the green area. After the CEO announced the redirection of the company, they eliminated over $1,000,000 in debt without share dilution. This made a positive impact on their financials, but they still have some left over in order to get their books straight. One could only imagine that this can be accomplished if their marketing and brand awareness campaign is successful. From August till now, Marani Brands Inc has announced two major sales contracts combined of over $70 million dollars for the next 5 years. They also increased production to 20,000 cases a month. This could have a positive impact on their debt. If Marani Brands Inc can secure more contracts of this value in 2014, they might have a way to eliminate more of their debt, increase revenue, and increase share price.
If you are reading this, you must already have an interest in the stock market. What is most important to you and I? Profits to the share holder. Marani Brands Inc hit rock bottom around March of 2012 at a share price of .0001. After the news of the restructured Marani Brands and how the CEO plans to bring the company back, it took only a few months of steady progress to create a rise in share price and bring profit back to the company and its share holders. From August 2013 to today's date, the share price has seen a steady rise from .0001 all the way up to a 52 week high of .0248. The company also announced a share reduction from 1,000,000,000 to 700,000,000. (Reduction details)
EXPIRED LICENSES:
With the manufacturing of liquor comes distribution. In order to sell the vodka globally, they need proper legal paperwork and abide by local regulations. In the American market, they were registered in California but they let the license expire which created a "Revoked" status since they did not renew the license in the proper time permitted. There has not been a press release yet from Marani Brands Inc, but if you look up their status on the California Department of Alcoholic Beverage Control website you can see they have a "Pending" status on a new license. (Pending License) If this license gets approved, Marani Brands Inc will be allowed to sell their award winning vodka in America through distributors across the nation. If this gets approved with the combination of new sales contracts from American distributors, this could generate more revenue for the company. This has every interested investor watching for the update on the license and when the decision from CA ABC.
BRAND AWARENESS:
It appears that Margrit has a focused marketing and promotion campaign in order to create brand awareness for Marani Brands Inc. She has sponsored events such as Bloomingdale's fundraiser "Evening of Food & Philanthropy", agreement with Collective Media Partners for Social Media exposure, participated with Cinemax sponsorship of the 1st annual Urban Action Showcase in New York, Sponsorship of New World Record with Outlaw Offshore Racing team, and a global branding agreement with Zodiac Brands of New York. The company also has an event in the UK with Vogue (to be announced). This awareness is great for creating that buzz and getting the attention that the company needs. According to Beveragedaily.com in an article published by Ben Bouckley, statistics of plain vodka (unflavored vodka versus vodka with fruit flavoring) shows a strong rebound in 2013 to date, and now holds a 51.67% new launch share compared to vodka's with flavoring.
Marani Brands Inc. has a strong person in charge of distribution. V.P. Dan senters, who has over 25 years experience with distributing liquor and spirits around the world with over 100 distributors and 40 licenses globally. Mr. Senters has been V.P. of Sales and Operations Manager of Distribution for some of the biggest names from Ralphs, Albertsons, Trader Joes and the private label beer program for Safeway.
The company received a announced full trade mark registration acceptance in the Dominican Republic. Which later they would announce a sales contract to distributors located there for $30 million dollars.
Below are a couple photos of the brand at some of the events.
VEGAS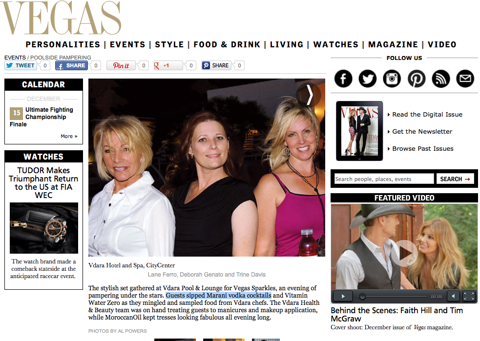 MARANI VODKA AT MOLTON BROWN, LONDON: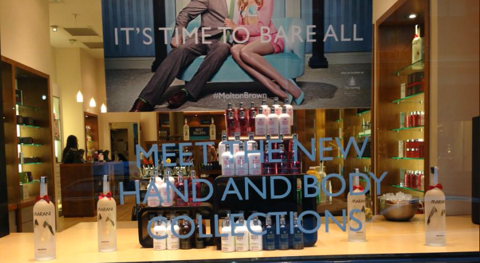 BLOOMINGDALE'S EVENT: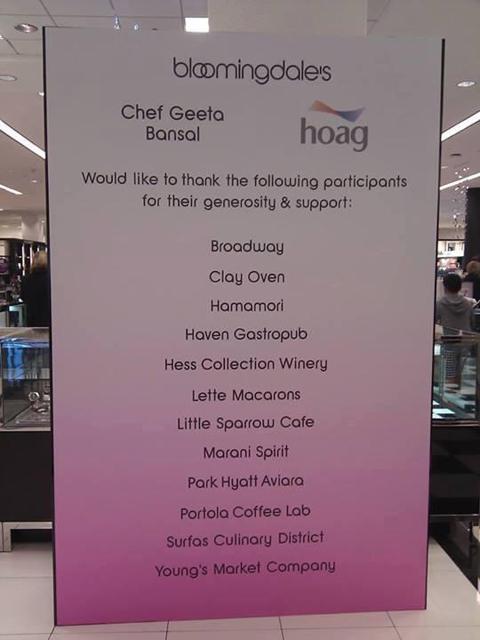 The company and its CEO announced their accomplishments for the past 90 days and can be found here.
Contact:
For more information, press only:
Marani Brands, Inc.
(800) 734-9619
info@maranispirit.com
In closing, with all the accomplishments that the CEO of Marani Brands Inc. has done and plans on executing, it appears that this company has found stable ground and is looking to make a come back in the near future. They have a few obstacles in their path such as getting their finances and debt in order, continue the brand awareness, continuing the process of getting their legal documentation correct and current, and last but not least, production of their award winning vodka to meet the demand that they expect.
Disclosure: I am long MRIB, . I wrote this article myself, and it expresses my own opinions. I am not receiving compensation for it. I have no business relationship with any company whose stock is mentioned in this article.
Additional disclosure: I have purchased shares of MRIB a while back. This article is of my opinion and for informational use only.
Seeking Alpha's Disclosure: Past performance is no guarantee of future results. No recommendation or advice is being given as to whether any investment is suitable for a particular investor. Any views or opinions expressed above may not reflect those of Seeking Alpha as a whole. Seeking Alpha is not a licensed securities dealer, broker or US investment adviser or investment bank. Our analysts are third party authors that include both professional investors and individual investors who may not be licensed or certified by any institute or regulatory body.