When researching a company to invest in, many times we run into many different sources for information. We can also find many different opinions and points of view. The hype of recent events pertaining to Marani Brands Inc. OTCPK:MRIB have been the catalyst for rumors that spread like wildfire. Today we look at some rumors and find them evident of being fictional or factual while looking over what is public and readily available to any investor in search of information.
Here are a list of topics I will cover:
Contracts and LC (Line of Credit-Shipping Product)
Marani Marketing Campaign- Pros and Cons, Social Media Updates
Legal Documents- Licenses, Bill of Lading (Previous shipments)
Production- Where the vodka is produced.
Various other topics
Please be reminded that all this information, links, pictures I post in the "Answer" sections are all public information for anyone to research.
1. Contracts and LC.
Questions: There are two contracts totaling $70 million dollars. How will this help Marani Brands Inc? How do we know if they are real?
Answers: The two contracts for Brazil and The Dominican Republic were press releases to shareholders and investors alike. While the information provided is exciting and looks promising, note they are forward looking statements. The key here is to watch the updated news for when shipments get sent out. There will be a bill of lading from where the product is shipped, and where it is going. How these contracts, when executed, will help Marani is that Marani utilizes Letters of Credit (NYSE:LC) for international vodka distribution. Cutting upfront capital requirements in half. (Marani is able to pull 50% from the (LC) upon product readiness "to be shipped" and the remaining 50% (upon delivery). It is beneficial to Marani because once the product is shipped and on its way, they receive the first portion of the payment. The next they receive after it has been received. This will go on for each shipment of both contracts. This revenue has been announced to be reported on Q2 Filing Reports around May 15th.
These contracts are for $70 million total in revenue over the next 5 years. This breaks down to:
$70 Million / 5 Years = $14 Million revenue per year for the next 5 years.
$14 Million / 4 Financial Quarters of each year = $3.5 Million in revenue per Q.
This revenue, once Marani begins to collect on it, will help build their financial status to better terms.
2. Marani Marketing Campaign:
Marani is implementing a multi-phase event strategy that will position the brand as the ultra-premium vodka of choice tastemakers in the worlds of art, entertainment, and fashion. The initial phase will tease the upcoming media campaign and maintain a narrow focus in the art world by supporting gallery openings in both Los Angeles and Chicago.

The second phase will continue this strategy and expand into event sponsorship and conceptualization in both the entertainment and fashion spaces. Moreover, the second phase will add both New York and Miami marketers to the brand's focus.
This strategy is cost effective and focused to the type of market that can produce an astounding awareness for a product. This goes along with some other well known brands in other markets. Some people will say this isn't the approach they should take and would suggest a marketing campaign that other businesses are using. To each their own. In this circumstance, Marani is capitalizing on the approach that they deem to be most beneficial.
The company they chose for advertising and consulting is Zodiac Brands Management, Facebook page , which recently posted:
Meetings with Marani Vodka for the next week. Great things coming out way. Stay tuned for updates everyone! http://t.co/Lj7tQONVtI
Some cons may be the approach to build awareness in other markets or other ways of advertising. We will just have to see how well their efforts pay off in 2014. Other efforts include an updated website, Facebook page, and Twitter page.
Facebook Page , Twitter Page , MaraniSpirits.com
These are great steps in connecting with their customers and shareholders alike. This also shows progression of steps taken in order to get their award winning vodka back in the hype of consumers.
3. Legal Documents, Licenses, Bill of Lading-
In recent events, everyone has their attention on the California License that was just posted on CA ABC website as being "pending". To clarify, this is not a "renewal" of the previous license held by Marani. That was Auto-Revoked due to Marani not renewing it in the allotted time. This new license was issued to be processed on January 6th, as stated on the CA ABC website under new license 540859. The waiting period for an approval to a Non-Protested Application can take on average 55-65 days. The date the pending status was filed on is January 6th, putting the decision at March 1st. That is though, the 55 days that the average application takes. This takes in consideration of average applications not submitting required information on time and other matters like that, not matters to include disputes. If Marani Spirits Inc submits everything on time and has no issues with the process involved, they may or may not see a quicker time frame for when the application can be processed.
Marani Spirits does have an active Importers Permit under CA-I-5029 Marani Spirits, Inc.
When shipments are sent out, we can find a Bill of Lading (example here) for each shipment internationally.
4. Production- Production is completed and bottled at Wine Plant of Eraskh in Armenia. (website found here) If you go to the website, click on ENG on the top right to switch the language to English. Then click on Products and then Vodka. You can see the recent bottle of Marani Vodka that they produce at their site.
5. Other Topics- License holds or possible disputes. Some opinions on forums and other sources say Marani may get denied due to tax issues. If you take a look at CA ABC information on their "Additional License/Permit Application form" we see in the highlighted areas that they may hold applications for tax issues if the individual or corporation is on the 500 Dilinquencies Tax List. If you scroll down, neither Marani Brands, Marani Spirits, nor any person with Marani Brands are on that list. We can also go back to the pending license and see that there are no issues at the bottom.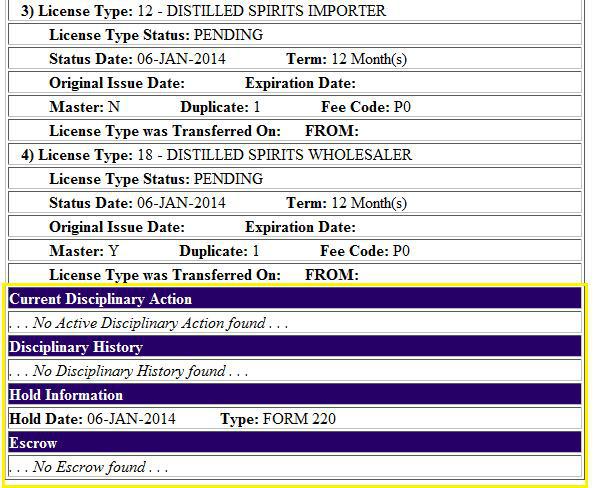 This can lead one to believe that the process for the application may go smooth.
In closing, with a little research we can find public information for all questions raised for many stocks on the market. All it takes is a little work, a cup of coffee, and some time. I write this as an informational article on public information for shareholders, potential investors, and anyone watching the recent events of $MRIB and Marani Brands Inc.
This article and anything linked, or related are my opinions and I have not been compensated with money or shares in writing this article.
Disclosure: I am long MRIB.