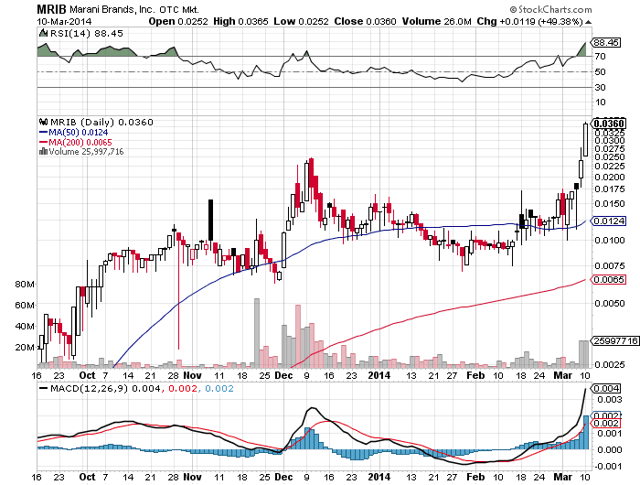 OTCPK:MRIB Marani Brands Inc has announced that the California Department of Alcoholic Beverage Control has given Marani a verbal verification that their distributors license has been approved.
Marani Brands, Inc. (Pink Sheets: MRIB) CEO Margrit Eyraud announced the company has received verbal confirmation of their California distributor's license.
Marani CEO video announcement of license approval.
The CA ABC website still shows a pending approval. That is only because there is still some documentation that needs to be processed. Once all documentation has been processed, it will be updated on the CA ABC website found here.
What does this mean to the shareholder?
This has been a much anticipated accomplishment that shareholders and potential investors have been waiting to see. This not only allows Marani Brands Inc to distribute their award winning vodka and other alcoholic beverages in the United States, it shows progress, it shows Marani Brands Inc is accomplishing what they have stated they are working on, and it will allow the company to start reporting revenues. The CEO stated that the company looks to report revenues by the end of the first quarter Q1.
Other developments include the Brazil and Dominican Republic contracts.
You can read my previous article showing recent public information and developments with the Brazil contract on my previous instablog.
MRIB closed at .036 today for a gain of 49.38% with a volume of 25 million almost 2.5 times MRIB's 10 day trading volume.
Hopefully shareholders and potential investors alike will see continued progress with Marani Brands Inc. If they stay on track with their accomplishments like they have been these past few months, we could see a new MRIB make an impact in the liquor industry. We will just have to wait and see how they capitalize on their accomplishments.