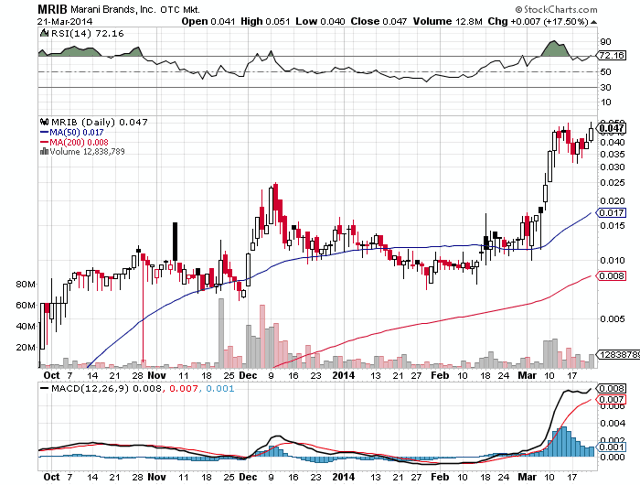 Marani Brands Inc OTCPK:MRIB recently press release:
Marani's Ultra-Premium Vodka Spirit Now Available Retail to 25 States Through California's Mega Award Winning Hi Time Wine Cellars 24,000 Sq. Ft. Retail Store

TUSTIN, CA--(Marketwired - Mar 21, 2014) - Marani Brands (OTC Pink: MRIB) (PINKSHEETS: MRIB) is excited to have Hi Time Wine Cellars start shipping product to customers across the United States. Hi Time Wine Cellars is a mega 24,000 sq. ft. wine and liquor store with a 3,000 sq. ft. underground wine cellar, a walk in beer refrigerator with over 1,000 different beers and a humidor with over 400 different cigar brands. The half century family owned business is a world class specialty premium liquor and wine retailer in Costa Mesa, California. To order your Marani Vodka today go to hitimewine.net or call (800) 331-3005.

For more information on Marani Brands: www.maranibrands.com
-MarketWired March 21, 2014 @ 3:15pm
Looks like Marani is stilling accomplishing the list of objectives they talked about a few months ago. From creating and implementing a focused marketing campaign to raise awareness, to getting their CA ABC license approval, Marani Brands Inc is on a path that appears to be making investors and shareholders very happy.
Today's market movement:
Price range: .0399-.0505
Volume 12,838,789 after rising following the recent PR @3:15pm
Closed @ 17.5% gains
Broke 52 week high with a new 52wk high of .0505
Shipments of their award winning vodka began right after the announcement of their CA ABC license approval. The website, MaraniSpirit.com, has been constantly updated and looks to provided a store locator for consumers to find a location near them to purchase the vodka.
What comes next?
The CEO has announced that by the end of the first quarter, shareholders and investors alike will be receiving a revenue report. We will have to see if it is announced before the end of Q1 or possibly early into Q2 as shipments continue to be distributed amongst the 25 states announced to carry their award winning vodka.
It appears that Marani Brands Inc plans to stay focused with their campaign and making more progress with the shareholders interest in hand. We could see more debt elimination depending on how sales and more contracts are announced. It is a possibility but I guess shareholders will have to wait and see what unfolds just like the previous accomplishments since the restructuring of Marani Brands Inc was announced approximately in August 2013.
This article is for informational purposes only. It contains forward-looking statements. No compensation has been or will be received by the author for writing this article.