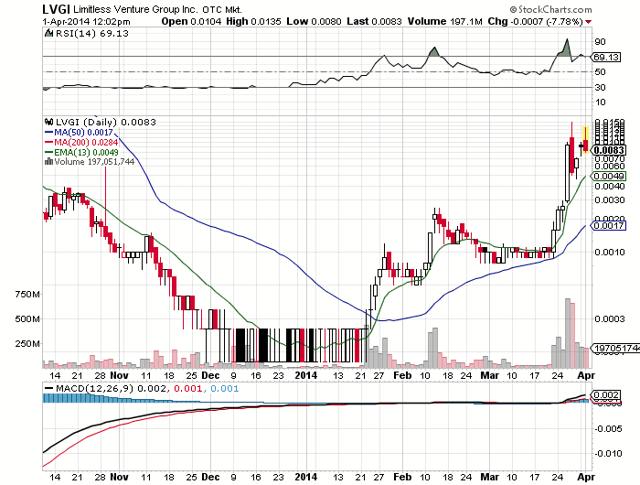 Limitless Venture Group Inc OTCPK:LVGI has been catching attention by investors over the past couple of months as developments are announced with the company and the new CEO, Joseph Francella.
Investors can notice a stair-step pattern with the chart for LVGI over the past few months from the initial press release stating what the CEO expects to do with the company, to the recent press release allowing more insight into the new market Limitless Venture Group Inc would like to enter.
Limitless Venture Group Inc. Announces Through Its Limitless Health Products Division The HempCore Health Series.

The Popular and Steadily Growing Sector Coupled With Consumer Demand Has Caused LVGI to Take Notice and Now Take Action

HOLBROOK, NY--(Marketwired - Apr 1, 2014) - Limitless Venture Group Inc. (OTC Pink: LVGI) (PINKSHEETS: LVGI) today announced that in response to the ever popular industry trend and overwhelming suggestions from consumers and shareholders alike LVGI through its Limitless Health division has developed and about to enter into production on a line of HEMP based health products called The HempCore™ Health Series. This will be a series of four products all based around the health benefits derived from the use of HEMP as the main ingredient. One product will be aimed as heart health and cholesterol reduction, one towards joint pain/arthritis relief, one for brain health/cognitive function and one for anxiety relief.

"As this release states we have been bombarded to look into the HEMP sector for uses in our Limitless Health line and we are very excited about what we've learned and even more excited about the line of products we are bringing to market," says Limitless CEO Joseph Francella. "Combined with a renewed focus on SLAM and some potential acquisitions in the due-dili phase LVGI's future looks very bright," Francella continued on to say.

More information to be released shortly in regard to the exact formulations and health benefits associated with the use of HEMP as well as product renderings and the launch date for product website www.hempcorehealth.com. The initial sales strategy will be online through www.hempcorehealth.com with the intent of leading into traditional retail outlet availability.
- MarketWired.com (Article found here)
We can find new developments to their HempCore website found here. Investors can keep up to date as the website continues to be updated in anticipation of its launch.
The stock price has 52 week range of .90 to .0001. Recent PPS movement has seen an uphill rise from .0001- .0085. Volume has been steady at 250mil shares over the past couple of weeks. New developments and press releases are said to be announced covering the updates of the HempCore products. We will just have to wait and see how things develope.
Disclosure: I have no positions in any stocks mentioned, but may initiate a long position in LVGI over the next 72 hours.