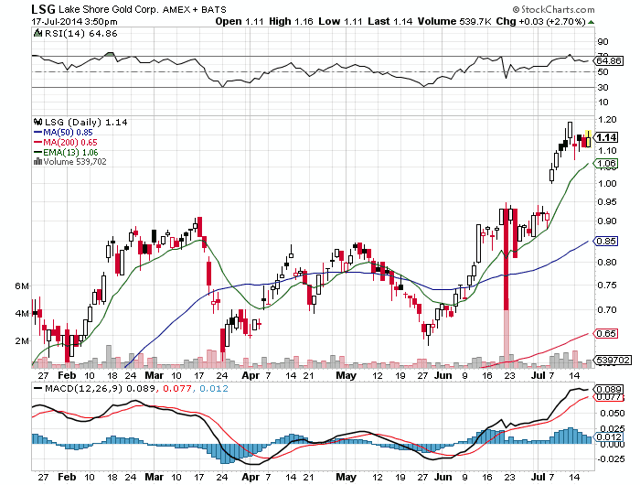 LSG Lake Shore Gold Corp- Making some noise in 2014
Lake Shore Gold Corp. (Lake Shore Gold) is a gold mining company. The Company is primarily engaged in the operation, exploration and development of three gold complexes located in the Timmins Gold Camp in Timmins, Ontario. Lake Shore Gold operates in two segments: mining operations and exploration and advanced exploration. Corporate, which is not an operating segment includes all the corporate growth and development activities and the corporate team that provides administrative, technical, financial and other support to all of the Company's business units. Its projects include Timmins West Complex, Bell Creek Complex and Fenn-Gib. The Timmins Deposit property consists of a contiguous block of 23 claims, covering approximately 395 hectares. Its Bell Creek Mine comprises three crown mining leases and five freehold patents. The Fenn-Gib Project consists of 171 mining claims, patents and leases covering approximately 29 square kilometers.
-Scottrade.com Company background
This company is catching potential investors attention. Why this happening:
$10 M Debt prepayment driven by continued strong operating results and increasing cash position
Reduces outstanding principal on the standby line from C$30m to C$20m.
Record production of 52,300 ounces of gold in second quarter of 2014
Lowered production costs from US$908/oz in second quarter of 2013, to US$570/oz second quarter of 2014
This means a couple of things to investors. First, the payment towards any debt is a great sign. A company paying their debt down shows that they are taking care of their liabilities. Lowering liabilities and raising assets will help create more cash flow and increase the financials on future revenue reports.
Secondly, increasing the amount gold extracted is great news. Lake Shore Gold Corp reported they are in line in meeting their 2014 goals they had for the amount of gold they wanted to extract. In addition to their lowered costs to produce the gold, the company can see more from profits after subtracting operating costs and other liabilities.
Finally, the stock chart looks to be on a rebound pattern and gradually climbing. We can see some support around the .65/share level and LSG breaking through their resistance level of approximately .90/share. It appears that LSG is finding support and keeping it's gains above 1.07/share. With the financial reports being released prior to the market opening on July 31st, we should see continued support for this stock as long as the report stays with the positive news so far of strong gold output and lowered operating costs with news of more debt repayment and Lake Shore Gold Corp keeping on track with their end of 2014 extraction goal.
In closing, LSG looks like it has the right components of a rebounding stock based off of positive actions that the company is taking and the supporting information of production and financials being reported. LSG looks to bring more attention from investors as more reports and news is released. I would say keep an eye on this one in the upcoming months and till the end of 2014.
-This article was written and publish without bias and has fore-ward looking statements. This is only an informational article and the author was not paid, or given shares of this copy for writing this article. Research before you decide to invest into any stock or investment.
Disclosure: The author has no positions in any stocks mentioned, but may initiate a long position in LSG over the next 72 hours.