TTNP / TITAN PHARMACEUTICALS INC.
As recent history proves, Titan Pharmaceuticals, Inc. (OTC: TTNP) has a long expedient of surprising movements in the market. The company has a current market cap of $77.59M since its start at $47,55M and develops products for the treatment of central nervous system (NYSE:CNS) diseases.
In recent months TTNP made astonishing movements going from under $1 to highs near $2.50 per share, even when the stock dropped at 1$ but kept still on the move. In 2009, the company made market headlines by running lows of a penny to highs of $2.50 per share so when volume and price started a run investors were ready to take action.
Visit titanpharm.com for more info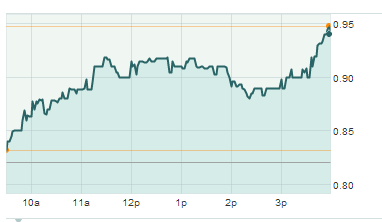 Did You Know? SuperSmartStocks is the new penny stocks information portal that reports on all active penny stocks. We also have huge stock picks. Subscribe right now to the greatest stock picks newsletters on the planet!
During september TTNP announced an agreement with Braeburn Pharmaceuticals Sprl for a $15.75M upfront payment in concept of exclusive commercialization of the investigational product Probuphine, a new subdermal implant designed for the treatment of opioid addiction.
Being that said, the deal sounds good even when they had to wait for the New Drug Application (NDA) to get a chance of review by the U.S. Food and Drug Administration (FDA), same is being classified now as a "Priority Review" by the institution.
Conclusion:
Probuphine is the second product TTNP develops after releasing Fanapt® (iloperidone), an atypical antipsychotic approved in the U.S. in May 2009 for the treatment of schizophrenia in adult patients, their second effort is in Phase 3 and is even giving a priority review status by the U.S. goverment, you make the math. The company is well funded now with a $4M capital infusion and could easily move much higher from current price levels with nothing to fear about.
Disclosure: I have no positions in any stocks mentioned, and no plans to initiate any positions within the next 72 hours.