PUGE is down by more than 6 percent in today's session. Could this go down HUGE? A correction was probably expected for the stock price as its was trading near its resistance level of $1.68. Currently trading at $1.37 the share touched its lowest of $0.87 in last one year.
(PUGE) is poised to enter the fast-growing medical marijuana market through its new subsidiary, Cannabis Biotech. How many people in the United States currently use medical marijuana? ProCon.org, an online resource for research on polemic issues, estimates there are more than 2,400,000 registered medical marijuana patients in the U.S. They qualify that figure, stating a statistically sound estimate is difficult to gauge.
The market is quickly becoming a big industry. According to Forbes, "The U.S. medical marijuana market, worth some $1.7 billion in 2011, is expected to blossom into a $9 billion industry by 2016." See Change Strategy, LLC, in their extensive report, The State of the Medical Marijuana Markets 2011, informed there were 24.8 million potential patients eligible for medical marijuana under existing state laws. Currently 20 states and the District of Columbia have enacted laws to legalize the use of medical marijuana.
President of Puget Technologies Ron Leyland said, "A majority of Americans now favor the use of marijuana. Along with this shift in thinking is a rising market in medical marijuana as an alternative to toxic, synthetic drugs." He added, "Cannabis BioTech has established a research and development division to investigate alternative delivery methods to meet the growing needs of patients who desire the benefits of medical marijuana but do not want the harmful effects or stigma of smoking it."
Amid changing attitudes about marijuana, Cannabis Biotech is dedicated to developing medicinal cannabinoid delivery options using scientific research and methodologies. The investigations conducted at Cannabis BioTech are expected to add to the growing body of data demonstrating marijuana's medicinal benefits. As previously announced, Cannabis BioTech has recently brought prominent authority Kenneth Morrow onboard. Morrow is a globally recognized expert on cannabis production and delivery techniques and practices.
About the Company
Puget Technologies is a publicly traded company on the OTCBB Market stock exchange under the ticker symbol PUGE. Headquartered in Ft. Lauderdale, Florida, Puget Technologies acquires, develops and sells leading edge consumer oriented products ready for rapid commercialization. Puget plans to become a recognized market leader in its product categories. Much of its resources are dedicated to research and development in order to provide consumers with quality options while meeting the expectations of its investors.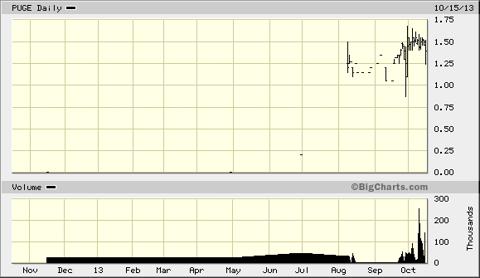 Did You Know? SuperSmartStocks is the new penny stocks information portal that reports on all active penny stocks. We also have huge stock picks. Subscribe right now to the greatest stock picks newsletters on the planet!
Conclusion:
PUGE is trading at a market capitalization of $55.10 million which is overvalued if compared with its fundamentals. The company reports nil revenues and nil assets which depicts that the stock is moving on promotions probably.
Disclosure: I have no positions in any stocks mentioned, and no plans to initiate any positions within the next 72 hours.