The San Diego daily newspaper reported this week that their fine city had the highest budgeted cost per firefighter in America at $210,648 per man annually. This number includes pay and benefits but
does not take into account unfunded pension liabilities which are now projected to be huge and growing.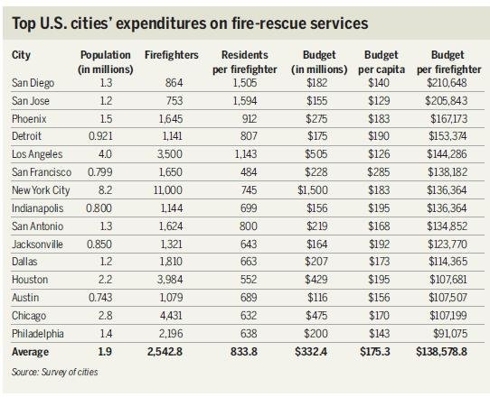 Police and Firemen are eligible to retire after just 20 years regardless of age. In many states they qualify for pensions based on (2.5% times the average of their highest 3-years of earnings including overtime). That means that in San Diego someone who started at age 20 could retire at age 40 with 50% pay for the rest of their life. With many men now living well into their 80's and 90's the stream of pension checks could easily extend for 45 years after a 20-year retiree left active service to the community.
If the actual salary averaged $125,000 over the final three years pre-retirement (very conservative for big cities today) these 40 year olds would collect $62,500 (plus any future cost of living adjustments) per year.
If that 40 year old lives to 85 he will have received $2,812,500 before any COLA adjustments.
If this same fireman had continued to work for 30 years to age 50 his pension would likely have been about
$112,500 per year or a
cumulative $3,937,500 by age 85.
It is any wonder our states and cities are all nearly bankrupt?
Disclosure:
none