For seventeen straight weeks 'mom and pop' investors have been heading for the hills when it came to equity based mutual funds. They've withdrawn huge amounts ever since the market peaked in late April and accelerated their pace after the 'flash crash'.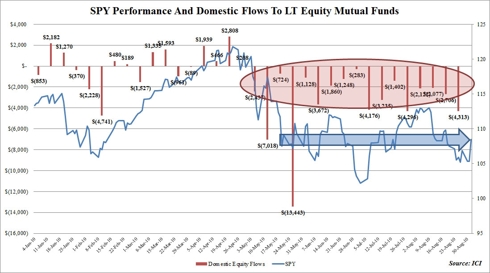 Particularly noteworthy is the fact that even as retail investors have been exiting en masse, the S&P 500 held virtually unchanged from mid-May through August.
What does this tell us?
As often happens at crucial moments in the stock market shares have been moving from weak hands to strong ones. The public panicked and gave away their shares at bad prices to professionals who knew better what the merchandise was truly worth.
This would also explain why we're starting to see much improved volume in merger and acquisitions. Private equity investors and companies alike are seeing enough hidden value in other firms to offer premium priced takeover offers that still make economic sense. This is perhaps the one saving grace in the Fed's 'near zero' interest rate policy. Financing costs are now at historical lows for companies that need debt to do deals.
Disclosure:
none