It was back in May that Research in Motion (RIMM) came into my attention and I wrote my first article about the company. I just had seen BlackBerry 10 being unveiled at BlackBerry World and, given the levels at which the company was trading, the expectations about the future, and its fundamentals, it seemed worth taking a look.
Back then, expectations about the company managing to turn around its eroding market share were pretty low. After almost a year of continuously disappointing its costumers with delays regarding what was and is supposed to be its next platform, almost everybody started to lose hope. I must confess, until BlackBerry World 2012, I was also very skeptical about the possibility of RIM recovering but, when I saw that they actually had a product being developed, it became a matter of thinking about investing in this company almost as if it was an investment in a start-up, but with a lot going for it already in place. After all, how many start-ups do you know that have 77 million subscribers, no long-term debt, and are selling at 30% discount to its book value? It seemed a good opportunity.
Unfortunately, as with any start-up, things don't always go as expected and a couple of months later, the company announced another delay to BlackBerry 10. It was the only thing I wasn't expecting to hear. Given the management changes that culminated with the introduction of a new CEO, and after all the credibility that previous management had lost, missing a crucial deadline seemed the same old music being played all over again. Worst, it gave a lot of relevance to what pessimist's were saying, namely that BlackBerry 10 was a demo that probably would never see daylight. Naturally, the market cap has since then devalued by almost 50%, being currently at around $3,8 billion.
Fortunately, it seems that it was a good management call. Believe me, I wasn't happy about the fall in the share price, nor with its actual level, but this was not a short-term investment, and it wasn't supposed to be. Of course we all want to profit as quickly as possible but we never know what will be the lowest point in a company's market cap. This was a good call because BlackBerry 10 is the final chance that RIM has to turn the company around, and it can't fail. They cannot have the risk of having any kind of trouble with the new products. They cannot disappoint.
So, if you believe that they will make it, mainly because you believe that BlackBerry 10 will be a success, the current market cap might be an incredible investment opportunity. Why?
Source: Google Finance
While it's very hard at this point to predict what the future levels of profitability will be (and the company is currently losing money), for the last 5 years net income varied between $1,1 billion and $3,4 billion. While the later was the best year ever, even if we assume that the company will earn $1 billion a year in its new form, that would mean a P/E of 3,8 at current prices. Remember, it's very hard, or even impossible, to predict what future profitability will be, but this should give you an idea of how the current market cap of $3,8 billion compares with potential results. Any kind of results similar to past levels will certainly mean you will be pretty happy with the return on your investment.
Also, with no long-term debt, almost $2 billion in cash and $9,6 billion in total equity, you can hardly say that you're not getting a good discount to be a part of RIMs future.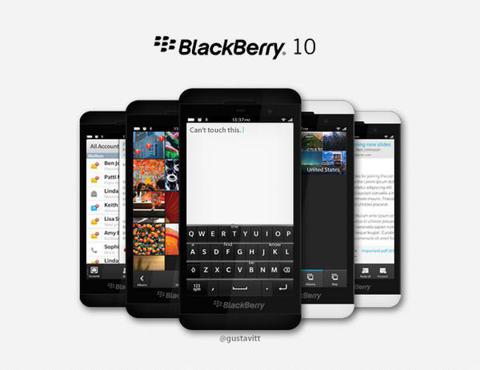 In the meanwhile, some reports about people who have seen the new phone have been surging. Here you can check one, where they look pretty optimistic, but also look like they're big fans. Also, some carriers have been demonstrating interest, like Verizon, something that tells me that this time the probability of any more delays is lower.
I believe that there is a good probability that things will develop as expected and that in the first quarter of 2013 we will be seeing the new phones coming to the market. If you also think so, now is the time to invest.
If you believe that this will not be the case, or that it will not be enough to turn around the company, you should avoid investing because all of the discount that you would be benefiting from currently, regarding total equity, will eventually catch up to you.
Disclosure: I am long RIMM. I wrote this article myself, and it expresses my own opinions. I am not receiving compensation for it (other than from Seeking Alpha). I have no business relationship with any company whose stock is mentioned in this article.