This article is about a Portuguese company that, because of the current problems that Europe and Portugal are facing, is at a very depressed price and might represent a one-time opportunity to invest. The purpose of the article is to both let you know about the company and help you decide if you would like to invest. The company only trades in Euronext Lisbon so, you can only traded it if you have access to this exchange.
The company is Sonae Capital, a Portuguese holding company with interests in multiple business areas that go from real estate to energy.
The group is divided into 3 sub-holdings: Sonae Turismo, SC Assets and Spred. Sonae Turismo is involved in the development and management of tourism resorts, hospitality and health clubs. SC Assets owns and manages real estate both for tourism and residential development. Spred is involved in refrigeration, air conditioning and maintenance services, and also in developing and managing energy production facilities (cogeneration).
Sonae Turismo
The company main attraction is at the Tróia Peninsula. Troiaresort is its flagship project and it's located between the Sado Estuary Natural Reserve and the Arrábida Natural Park, being divided into 4 areas. The central area has three 4 star hotels, a 5 star hotel with a casino, a marina, restaurants, sports facilities, medical center, congress center, and residential real estate. The beach area has 96 beach, lake and golf villa plots over 78 hectares. The golf and hotel resort area include a golf course designed by Robert Trent Jones Senior and a project for a construction of a 5 star hotel. The 4th area is called the eco resort and is still being developed. It will include 264 hectares with 125 villas, an equestrian center and a small boutique hotel.
All areas together, the Troiaresort covers 486 hectares of land with 618 apartments, 311 villas, hotels, marina, beach, for a total of 7430 beds.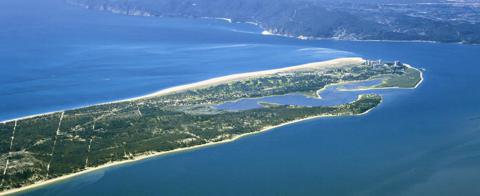 Other businesses that are relevant to Sonae Turismo are the hotels that they own and operate. One is Porto Palácio, a 5-star hotel in the city of Porto, and a member of the Leading Hotels of the World, and the others, a 4 star hotel in Algarve and three 4 star hotels in Tróia.
Also, the company operates a number of health clubs under the brand Solinca all over Portugal, and one in Malaga. It has more or less 28,000 members over 11 units.
SC Assets
This company is responsible for all services related to property management and the sale of properties that are owned by Sonae Capital. The real estate portfolio includes land in Tróia, the Douro and in Alqueva. The last two are also being assessed for potential use in resort developments.
Aside from tourism related real estate, they are involved in residential real estate projects in Lisbon, Porto and Matosinhos.
Spred
This company owns 70% of Selfrio, a company that is divided into 4 business areas: engineering and commercial refrigeration solutions, air conditioning, maintenance services, and distribution. The other 30% is held by Johnson Controls (NYSE:JCI) and they operate in Portugal, Spain and Brazil.
Also, the company has interests in energy, fully owning a company called Ecociclo II, that owns and operates cogeneration facilities. These facilities generates electrical power, that is sold to the portuguese electrical system, and thermal energy.
Spred also owns a lot of other small companies but there is one also worth mentioning: a 36% position in Norscut. This company owns the concession and all the related services of the North interior motorway and connecting access roads for a 30 year period that begun in 2001.
Sonae Capital trades in the Euronext Lisbon under the ticker SONC. It can be found in Bloomberg under SONC PL.
So, now that you know the company, let me tell you that the current market cap is at around €30 million and Cushman & Wakefield valued the property portfolio at €594 million at the end of 2011.
It's time to have a look at some numbers.
| | |
| --- | --- |
|   | Nine months 2012 |
| Total assets (in millions) | €682 |
| Equity (in millions) | €329 |
| Non-current liabilities (in millions) | €152 |
| Turnover (in millions) | €83 |
| EBITDA (in millions) | €1.9 |
| Investment income (in millions) | €15.8 |
| Net Income (in millions) | €2.1 |
| Current market cap (in millions) | €30 |
Looking at some balance sheet items, and given the tangible nature of most of its assets, with a current market cap of 30 million euros the company is trading at a very attractive valuation. At current prices, we can invest in this company at almost 10% of its book value and get in return, aside from the various real estate assets and financial investments, a peninsula.
The way that the company is organized is very smart. Basically, the main asset of Sonae Capital is Troiaresort. It started being developed a few years ago and is still in development, apart from being already fully operational. While it was being developed, and while it's not fully developed and sold, the company has other assets and investments that generate enough income to keep the company going. Sonae Capital is organized in a way that its business areas complement each other and make it possible for the company to wait with tranquility until the Troiaresort project is completed and its value realized.
Sonae Turismo turnover reached €30.2 million in the first nine months of 2012 and was originated by its hotels, health clubs, golf club, marina, supermarket and the ferries that they own and connect the Tróia peninsula to Setubal.
Spred was responsible for a turnover of €52 million, with the most part coming from Selfrio (refrigeration, air conditioning, enginnering) and the its energy cogeneration business.
Investment case
Sonae Capital is a small company who is trading at a massive discount to its assets. Given the financial and economic problems that have faced Portugal and Europe, some publicly traded companies have reached valuations that don't make sense. Some of them have caught the attention of international investors, who have been catching this opportunity to invest in Portuguese companies. Others, like Sonae Capital, have been forgotten, given the lack of availability from Portuguese investors, and the low liquidity that makes it off the radar of international investors. Even so, before the crisis started, one investor (Mohnish Pabrai) managed to find it and invested in Sonae Capital.
At current prices, there is practically only one risk that can make it a bad investment: Europe falling apart. In this scenario, given that we will have invested in euros, if Europe falls, the euro will also fall, so the return on investment is very hard to predict given the uncertainty with the value of future exchange rates.
If everything remains the same regarding Europe, given the diversified structure of Sonae Capital business areas, and the current market cap, it will be very difficult for this opportunity to go wrong. Regarding the company, until things start to improve in sales of Troiaresort, the various businesses manage to keep the company almost at break-even so it's not expected any bad surprise regarding any kind of the financing problems that have affected real estate companies in recent bubbles.
The main goal with this investment is to take advantage of the current market prices to start building a position at a fraction of its equity value, and wait until market prices adjust.
Think of it as if you would be buying Troiaresort for a fraction of its price, with the bonus of all the other business areas that come with Sonae Capital.
But before investing, visit and explore the site and decide if it is something that you would like to own.
This is not a lifetime investment. It's a one time opportunity to invest and wait until the company value is reflected on its market price. Or, if you have a significant amount available, try to catch all the shares that you can and take the company private, keeping the difference to yourself.
Disclosure: I have no positions in any stocks mentioned, and no plans to initiate any positions within the next 72 hours. I wrote this article myself, and it expresses my own opinions. I am not receiving compensation for it (other than from Seeking Alpha). I have no business relationship with any company whose stock is mentioned in this article.
Additional disclosure: I'm long SONC PL