Futures Outlook: 04/30/14
Au Canada…Time for the CAD to Regain Power
The Canadian Dollar seems well poised right now for an upswing which is deserved since falling from the 1.04 Territory back in 2012.
Canadian Dollar
Looking at the Daily chart, you will see that we have just started to find a burst of energy here. Not only is this burst of energy important, but also the fact that it signals a failed head and shoulders pattern. The failure of the completion of this bearish pattern signifies the Loonie's potential desire to rally.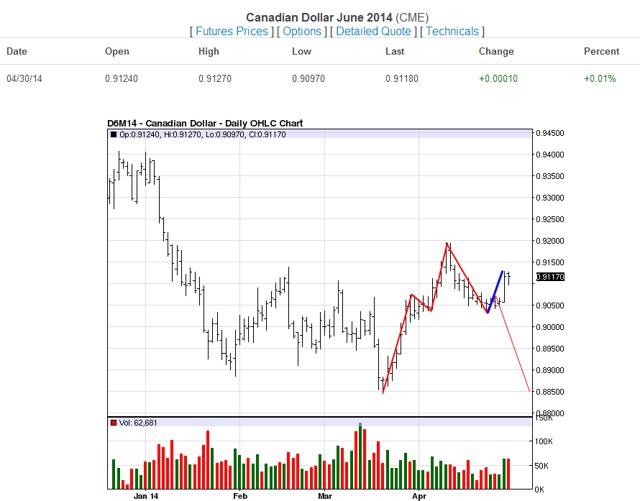 I have highlighted the head and shoulders pattern in bold red, with a faint red illustrating that the pattern, should it have completed itself could have brought the CAD down to the 0.88500 territory. The failure to do so and the breaking of the bearish pattern is illustrated in bold blue from earlier this week. This is prime time to watch and potentially participate in what may be a breakout in the near term and potentially a trend reversal on the longer term.
Moving to the Weekly chart: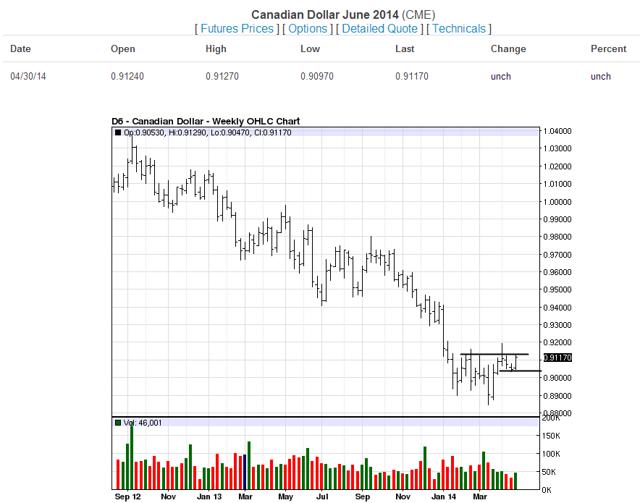 Here, I want you to notice that we have challenged the high side or resistance territory (top horizontal black line) before, but on the failure of that challenge we did not drop as low. The CAD established a new higher low from which to work (lower horizontal black line). This new low or support may allow us to step higher now still.
When looking at the Monthly chart for the CAD: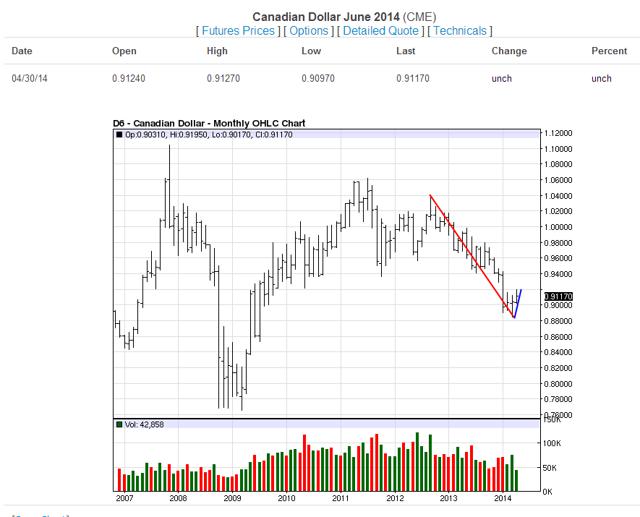 You can see how the CAD lost some significant ground over the last two years, as highlighted in red. You can also see how we have built a bit of consolidation and now the potential with future bullish activity to reverse or at minimum retrace that trend line.
I would like to see us respect and remain above 0.90, but a slip down to 0.8850 wouldn't seem to harm our cause. The high side to break and really have the potential for a longer term upside break is 0.92. These are the levels to keep an eye on.
In addition, you might also want to keep an eye on Crude Oil as it is a staple of the Canadian Economy. When Crude Oil prices rise, the CAD tends to rise also. Keep in mind that this is not a guarantee of corresponding action, but simply a side note that may lend additional support for the trade as it comes along.
Now is the time to evaluate your opportunity to become involved in the Canadian Dollar (NYSEARCA:CAD) There are a number of ways that we can customize a CAD play for you. One of the plays that we like right now has a cost of $800 plus transaction costs for a gross potential of $4,000 should CAD hit target by September.
Contact us directly and we will be happy to create and employ a custom strategy for you so that you can take advantage of the next round of Canadian strength.
Remember, that we are here to keep your options clear.
Lindsay Hall is Chief Market Strategist with commodities specialists RMB Group. Get the latest futures and commodities commentary from Lindsay and the RMB Group on our Big Move Trades--an online report offering trading ideas backed by research.
Questions about this report or trading futures? Contact us online or at 1-800-345-7026. Follow us on Twitter @RMBGroupFutures
This material has been prepared by a sales or trading employee or agent of R.J. O'Brien and is, or is not in the nature of, a solicitation. This material is not a research report prepared by R.J. O'Brien's Research Department. By accepting this communication, you agree that you are an experienced user of the futures markets, capable of making independent trading decisions, and agree that you are not, and will not, rely solely on this communication in making trading decisions.
DISTRIBUTION IN SOME JURISDICTIONS MAY BE PROHIBITED OR RESTRICTED BY LAW. PERSONS IN POSSESSION OF THIS COMMUNICATION INDIRECTLY SHOULD INFORM THEMSELVES ABOUT AND OBSERVE ANY SUCH PROHIBITION OR RESTRICTIONS. TO THE EXTENT THAT YOU HAVE RECEIVED THIS COMMUNICATION INDIRECTLY AND SOLICITATIONS ARE PROHIBITED IN YOUR JURISDICTION WITHOUT REGISTRATION, THE MARKET COMMENTARY IN THIS COMMUNICATION SHOULD NOT BE CONSIDERED A SOLICITATION.
The risk of loss in trading futures and/or options is substantial and each investor and/or trader must consider whether this is a suitable investment. Past performance, whether actual or indicated by simulated historical tests of strategies, is not indicative of future results. Trading advice is based on information taken from trades and statistical services and other sources that R.J. O'Brien believes are reliable. We do not guarantee that such information is accurate or complete and it should not be relied upon as such. Trading advice reflects our good faith judgment at a specific time and is subject to change without notice. There is no guarantee that the advice we give will result in profitable trades.