Futures Outlook: 5/8/14
Slow Silver Prices, Time to Hedge?
Silver has remained in its comfort zone for quite some time now. While I remain an overall long term bull, it may be time to evaluate a small hedge for protection should you own the physical.
Silver
Silver made some attempts to try and break out of its range to the high side, but ultimately ended up staying put. We really haven't seen at this point any tremendous energy in the metal which could potentially lead to trouble. Right now I am not a huge silver bear, but as I mentioned in a piece that I wrote last year: Every Cloud Has a Silver Lining, if you are holding the physical there are times where your thoughts should be on protection. Please read this article again as my thoughts now are quite similar to where we were last August.
Let's evaluate the Daily chart: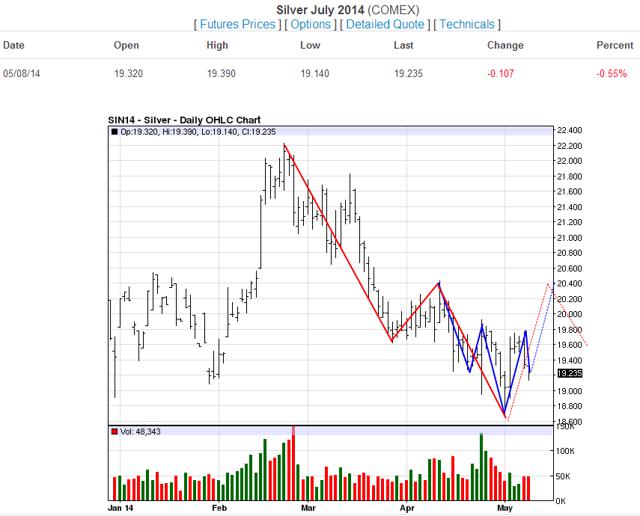 This daily chart for me gives us a little time for evaluating whether or not Silver can ramp up its energy and give us a bullish challenge for a break. If it can pierce that 22 level over the next couple of months then we may find ourselves back on the climb.
Here on this chart, I have highlighted two potential inverse head and shoulder patterns. The most immediate and smaller potential move is highlighted in blue solid line with a blue dotted line for potential pattern completion. Should this initial inverse head and shoulders pattern complete over the next week or two, we may see silver back up around 20.40. The larger potential inverse head and shoulders, should it complete its pattern might well see a momentary failure at around the 20.40 level dropping back towards the 19.60 ballpark. In order to complete its ultimate pattern then after approaching the 19.60, it would rally over the next few months to challenge the 22.20's that he hit in our most recent bullish behavior. So far, via the daily chart, everything looks like it has the potential for a bullish run. In the near term, should these patterns complete themselves then we might very well get the bullish break that we want.
However, it is the weekly chart and the monthly chart that have me again throwing out a caution flag.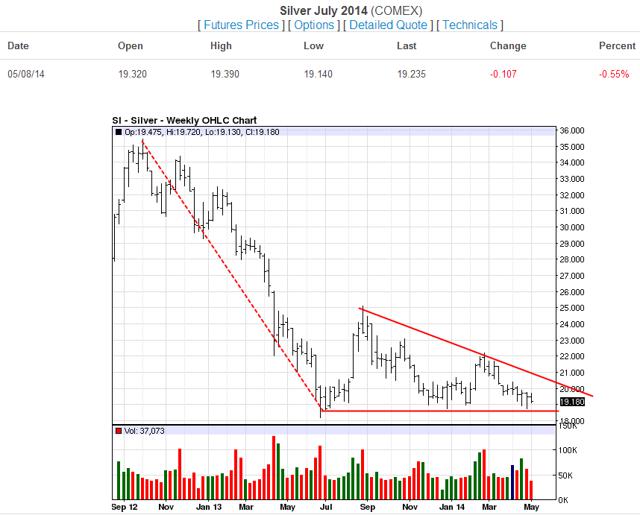 Here on the weekly chart you can see the failure that lasted most of 2013 with ultimate lows barely higher than 18. You then notice the attempts at rally and the failure that ensued. Silver has continued to constrict. The pattern of its attempted bullish pushes and subsequent failures bring us a descending triangle pattern. This type of pattern typically breaks to the down side. This descending triangle built onto the heels of a significant failure shows me two very bearish signals back to back. Over the next couple of months if we cannot get the inverse head and shoulders patterns on the day to complete themselves and bring us not only up to 22 but able to remain above it, then we may see the ominous pattern on the weekly chart spring to life in a failure. A true failure on silver and the beginning of the potential break downward would commence as we push below the 18 territory.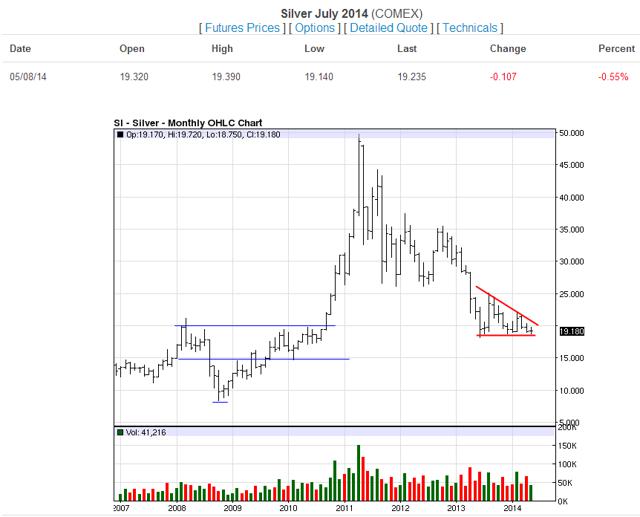 Here on the monthly chart you also see the descending triangle as a signal for potential failure. I have highlighted this in red. Now, should we actually find the failure and break the 18 level, then we might very easily run down towards 15. We may end up channeling as we did in 2008-2010 between 15 and 18. A failure below 15 seems like a reach in my opinion, but stranger things have happened.
At this point, I would pay close attention in the next few weeks and months to the inverse head and shoulders patterns on the daily chart. If they look as if they are not able to complete themselves then you may evaluate a hedge or a short side position in silver. If you do not plan to watch the charts and if you do own physical silver, then you may want to initiate a small hedge as protection. A few dollars spent to "protect" your investment may very well be just that spent for potential protection just as you would spend on insurance.
In summation, we may find a near term bullish attempt only to be thwarted by longer term bearish pattern completions. Fundamentally, I still believe in silver as a true long term gain. However, as much as I love it and as much as I want it to rally, if it can't break and remain above 22, the patterns on the week and month may bring us lower before we get a real shot at returning to ultimate highs.
Consider small dollar protective options for silver over the next number of months.
Contact us directly and we will be happy to create and employ a custom strategy to protect the value of the silver that you already own.
Remember, that we are here to keep your options clear.
Lindsay Hall is Chief Market Strategist with commodities specialists RMB Group. Get the latest futures and commodities commentary from Lindsay and the RMB Group on our Big Move Trades--an online report offering trading ideas backed by research.
Questions about this report or trading futures? Contact us online or at 1-800-345-7026. Follow us on Twitter @RMBGroupFutures
This material has been prepared by a sales or trading employee or agent of R.J. O'Brien and is, or is not in the nature of, a solicitation. This material is not a research report prepared by R.J. O'Brien's Research Department. By accepting this communication, you agree that you are an experienced user of the futures markets, capable of making independent trading decisions, and agree that you are not, and will not, rely solely on this communication in making trading decisions.
DISTRIBUTION IN SOME JURISDICTIONS MAY BE PROHIBITED OR RESTRICTED BY LAW. PERSONS IN POSSESSION OF THIS COMMUNICATION INDIRECTLY SHOULD INFORM THEMSELVES ABOUT AND OBSERVE ANY SUCH PROHIBITION OR RESTRICTIONS. TO THE EXTENT THAT YOU HAVE RECEIVED THIS COMMUNICATION INDIRECTLY AND SOLICITATIONS ARE PROHIBITED IN YOUR JURISDICTION WITHOUT REGISTRATION, THE MARKET COMMENTARY IN THIS COMMUNICATION SHOULD NOT BE CONSIDERED A SOLICITATION.
The risk of loss in trading futures and/or options is substantial and each investor and/or trader must consider whether this is a suitable investment. Past performance, whether actual or indicated by simulated historical tests of strategies, is not indicative of future results. Trading advice is based on information taken from trades and statistical services and other sources that R.J. O'Brien believes are reliable. We do not guarantee that such information is accurate or complete and it should not be relied upon as such. Trading advice reflects our good faith judgment at a specific time and is subject to change without notice. There is no guarantee that the advice we give will result in profitable trades.