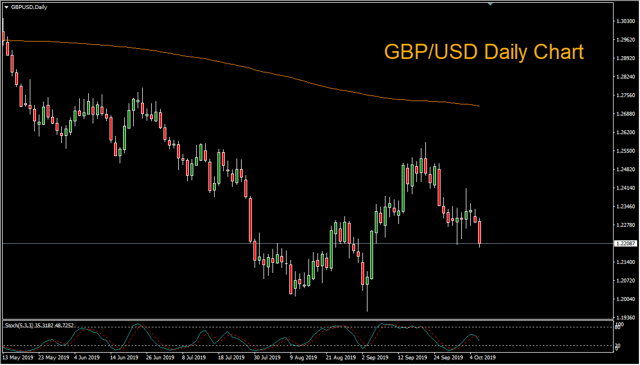 Sterling slumped in Tuesday morning trading, on the heels of a controversial phone call between UK Prime Minister Boris Johnson and German Chancellor Angela Merkel. Sky News reported that during the conversation, Chancellor Merkel told the Prime Minister that a deal is "overwhelmingly unlikely." According to a Downing Street source, Chancellor Merkel told Mr. Johnson that his Brexit deal is unacceptable unless Northern Ireland stays in the EU customs union.
This week had been viewed as the last chance for finding a deal before the October 31st deadline. If an agreement has not been reached by October 19th, the Benn Act requires the Prime Minister to write to the EU to request another extension until January 31st 2020. However, Boris Johnson has repeatedly stated that the UK will leave the EU on October 31st, with or without a deal.
President of the European Council Donald Tusk expressed his frustration, tweeting to Boris Johnson:
"what's at stake is not winning some stupid blame game. At stake is the future of Europe and the UK as well as the security and interests of our people. You don't want a deal, you don't want an extension, you don't want to revoke, quo vadis?"
Looking at the GBP/USD daily chart, we can see price has fallen to the lowest levels since September 4th. Bears eye the prior lows of 1.2016 and 1.1958 amid the slew of negative headlines.
Dan Blystone, Senior Market Analyst at Scandinavian Capital Markets.
Scandinavian Capital Markets is a Prime STP-ECN Forex Broker. It is built on extensive knowledge of the foreign exchange market, expertise in technology, and a commitment to create trusted long-term relationships with their trading partners.