Last December, we saw the gold ETF (NYSEARCA:GLD) make a new all time high and Gold investors sentiment was skyrocketing higher. Since then, GLD has been consolidating and drifting lower and the bullish sentiment has started to fade. However, due to the reasons we list in this article, we now feel that a new leg higher is about to start for gold prices.
Let's start with Inflation. For many months now, the Federal Reserve has stated that inflation is contained and interest rates have been kept low with Quantitative Easing. However, recently rates have started inching higher and the Quantitative Easing programs have all been halted as the economy picks up steam. Other commodities like oil, copper, fertilizers are also going up which will certainly cause price inflation in the near future. Gold is one of the best hedges against inflation.
Then we have Weak Currencies. With all the countries in the developed world increasing their deficits and printing money to shore up their economies, the major currencies are depreciating at a fast rate. Also the recent problems in Europe are killing the Euro which was one of the strong currencies before the economic crisis began. That is pushing central banks in the developing world to accumulate Gold instead of traditional foreign reserves.
Another factor is the higher GDP Growth worldwide. After getting through one of the worst crisis in history, the world GDP is accelerating to the upside. That will surely cause more demand for Gold products specially in the developing world like China and India.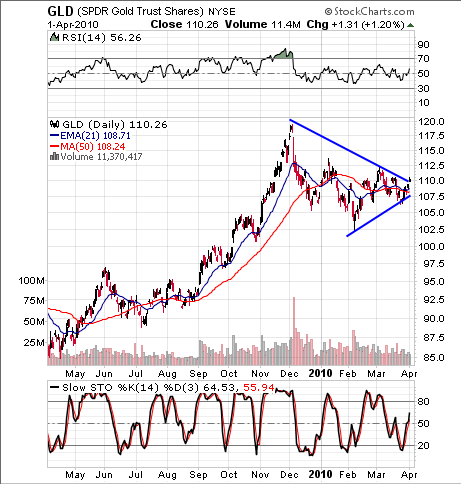 Finally we like to look at the Technicals to confirm all the fundamental reasons we listed above. If you look at the Gold chart you can see that it has been forming a wedge and now it just started moving above the wedge line. Even the Gold miners charts look good and most of them are bouncing off support levels. Some of the stocks we like are NEM, ABX, and GG.
Disclosure:
Long GG Call Options