One fundamental driver likely to propel gold and silver higher by the end of the year is the massive amount of fiscal stimulus, now estimated to be over $12 trillion dollars (source Bloomberg). Adding more dollars into the system has the effect of weakening the purchasing power of the dollar, leading to inflation.  The beneficiaries of inflation are gold and silver as alternatives to fiat money creation.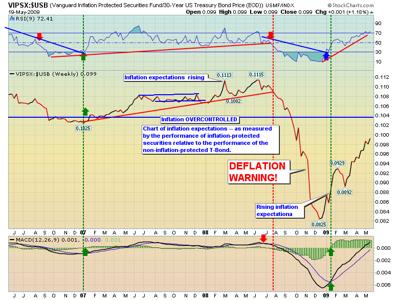 However, it is a good idea to pay attention to an old Wall Street axiom - "Trade what you see, not what you think."  So let's look at some technical indicators.
First, is a chart of inflation expectation as measured by the performance of inflation protected securities (OTC:TIPS) relative to the performance on non-inflation protected T-bonds... I've found this chart to a useful tool for timing entry into and out of the gold market.  This chart is saying that investors are more concerned with inflation than they are with deflation.  Heeding the deflation warning signals would have gotten you safetly out of commodities last summer and into cash or treasuries.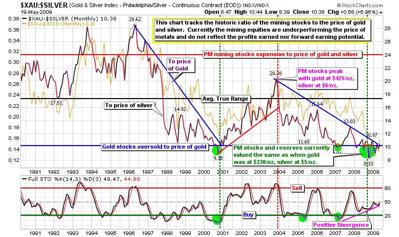 The next chart looks at the ratio of gold and silver mining stocks relative to the prices of the metals.  With all the emphasis in recent years on the gold and silver ETF's a lot of new money flowing into the sector has flowed into GLD and SLV rather than into the precious metals mining stocks.  The ratio chart is suggesting that the mining stocks rather than the metals themselves are now poised to offer the best leverage in the sector.  Rising sentiment indicators combined with low/stagnant mining stock prices is what is known in technical circles as positive divergence and I'm seeing positive divergence signals all throughout the sector.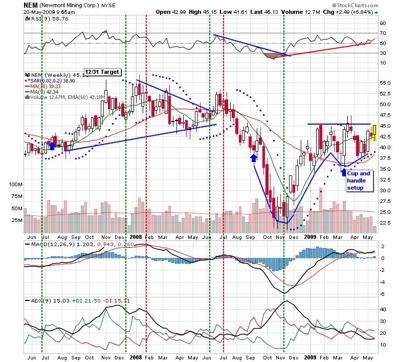 The last signal is the many cup-and-handle formations now approaching pivot point takeoff.  I'm using NEM as a proxy for the many mining stocks.  Some may argue that the pattern is indicative of a double top, but combined with my other technical indicators I think we are looking at multiple cup-and-handle formations throughout the precious metals mining sector.   
Disclosure: Long CEF, CDE, FCX, GDX
No positions in GLD, SLV, or NEM