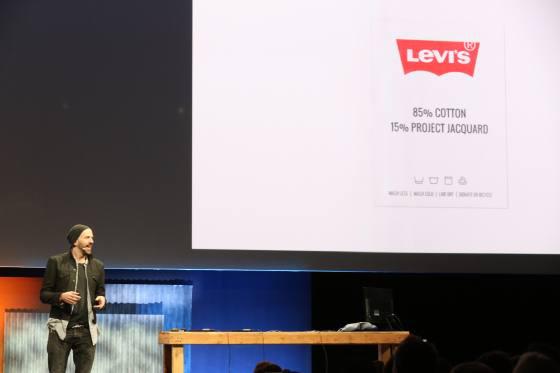 Project Jacquard will help creating a connect surface on the clothes of users where they can power their devices.
Project Jacquard was unveiled at the Google I/O by the ATAP unit. This project is the group's effort in order to develop such technology that could make the interactive textiles and not only novelty but some sort of fashion that could be adopted by the global fashion industry. Latest Google news reports that Ivan Puopyrey, from ATAP expressed that the group questioned how it could texture the text sensors that are multi-touch and also the way through which interactive input devices could be weaved.
He said, "We've done this before - people have done this; but we want to move beyond novelty, we want to move beyond a single use case." The very first thing that the company did was creating the yarn that was capable of being produced and also woven within the clothes on a larger scale, more inclined towards the industrial one.
The ADAP representative stated that the world should think of creating interactive textiles as the measure of the global fashion apparel and industry, and also that those norms cannot change for us, however we need to adapt to the global fashion industry.
Therefore, the company had gone out and worked with the partners so that the yarn could be created which was conductive but still would resist the garment manufacture stresses. Now the big question is, how do we connect electronics to textile? The team realized that the whole garment needed not to be weaved out of new yearns, but even the small part of the garment could be interactive and that would work.
Google news reports that ATAP built a chip that is capable of taking signals from yarn, that has been organized in a set of pattern and also as the people begin to move the fingers over the particular area, interpret the signals from yarns that are conductive.
The search engine giant expressed that it is working on the construction of an entire pipeline which shall introduce the market to this technology and also aims to form an ecosystem around this. The team has been working with the creative in fashion industry already and the first partner that was announced was Levi's. Jacquard introduces the connected fabric tech which will let the user build a connected surface in the clothes, making it possible for the devices to connect with it and also power.
This idea is promising and now has become fool proof one too when we see Levi's as its first partner from the global fashion industry. Levi's is a famous jeans and other clothing brand which is SF based and also looking to incorporate technology with their garment sector.