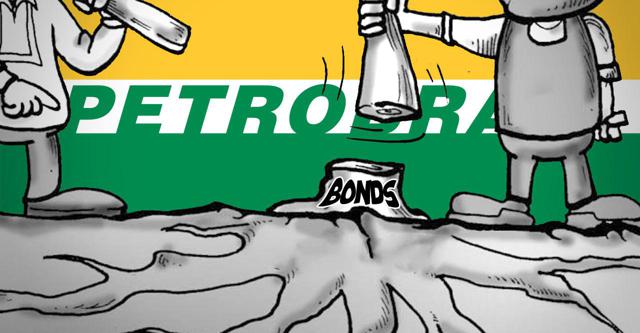 Macquarie Research initiated coverage on Petrobras with Sell rating and $2.80 target stock price
Macquarie Research initiated coverage on Petrobras with Sell rating and $2.80 target stock price. The sell side firm thinks that the Brazilian giant might restore its strategies in order to fund growth.
The firm said that the oil company's management business plan based on macro expectations, which contains exchange rate and crude oil price. The analyst sees these macro assumptions as obsolete and greatly dependent on the ability of the company to execute the restructuring and divestment strategy, worth of $58 billion.
Followed by the announcement of the asset divestment by Petrobras, Standard and Poor's rating agency downgraded the debt rating ofthe company to BB. In the meantime, Moody's Investor Services earlier assigned a sub investment rating. Giacomo Romeao. An analyst at Macquarie research states that; in past three months, Petrobras' yield curve dropped by almost 500 basis points which is going to add $15 billion more in interest expense, in the coming 4 years for the Brazilian oil giant. Yield curve reflects the yield of fixed interest securities alongside maturity.
As per company's base case situation, the sell side firm expects that the present investment strategy will raise the funding gap by the end of 2020. Macquarie Research believes this to make it tough for the equity and debt market to fill the deficit. The oil giant will have to decide for more reduction in capital spending, in the upcoming time; said Mr. Romeao. The capital spending at the moment shows the cost of production per unit, which shows that, the company cannot reduce its capital expenditures any more. According to the analysts, the company might cut the uncommitted capital spending, which will provide $15 to $20 billion relief. If this isn't adequate, the company should improve its liquidity problem by restructuring its debt or should go for any other secondary option.
According to Petrobras stock news, 16 analysts covered the stock out of which only 2 gave it a Buy while 11 recommend a Hold. The twelve month stock price target stands at $7.19, which reflects 65.3% of upside potential as compared to the present share price of $4.35, from yesterday's pre-market session.
One of the major complications for Petrobras is its enormous debt position. Petrobras has over $120 billion of debt load, which makes it the most indebted oil company across the globe. With strengthening U.S. dollar and weakening Brazilian real, the company has to incur higher cost of debt.
Petrobras stock is currently up 1.82% to $4.25 as of 10:40 AM EDT.