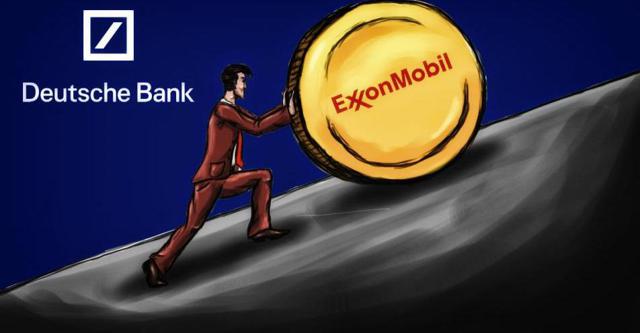 Deutsche Bank is with the approach that the quarterly results have given hopes for a rebound in the prices of crude oil.
Exxon Mobil Corporation recently unveiled its financial results for the third quarter which failed to meet analyst expectations that were expecting bullish investors. However, it was actually a good trimestral when it comes to the margins. Despite the global downturn that has affected various companies across the globe, Exxon Mobil and Chevron Corporation still managed to portray strong financial results. This was because of the integrated model both the companies have been using.
Deutsche Bank whose analysis is renowned in the corporate world took a take on the company's quarterly results. According to them Exxon has been successful in superseding analyst expectations with great chances to rebound due to the prices of crude oil. A 2% increase was seen in the volumes for the trimestral which actually were quite sound. Moreover, a 10% increase on a year over year (YOY) basis was also observed due to the low margins of the Canadian barrels.
Apart from that, the volumes of international gas also sequentially went down by 6% and 10% on a year over year (YOY) basis. This was because of the downward trend observed in the European production of gas by approximately "180 million cubic feet per day (NYSEMKT:CFD)". On the other hand, the sensitivity of the market also suggests that this is because of the hampering demand during the summer season. Also, the staggering impact of the Groningen terminal is also another major factor contributing to the decline.
The chemical segment of the company's earning was revealed to be $1.2 billion which was being compared to the estimate made by Deutsche Bank of $719 million. Exxon Mobil has also reported the global refining earnings that sum up to $1.5 billion which when compared to the estimates made by the firm were of $1.1 billion. The current tax rate was then applied to the income statement of the company accumulated to 31% where the tax rate for the firm was 43%. Apart from this, the buyback of shares is now being done on a pace of $500 million for each quarter- this is extremely negligible.
There were 43 analysts who were assigned to cover the Exxon Mobil stocks, among which eight of them gave the stock a Buy rating where 16 thought to keep it on Hold. The price estimates for 12 months for Exxon stock is summed at $81.32.
The results of Exxon Mobil are thus promising giving signs of growth in the times to come.