The dust from the cloud pricing wars seems to have settled, and it's now a good time for investors to take time and reflect about what the price cuts boil down to. The biggest player in the public cloud business is Amazon's(NASDAQ:AMZN) Amazon Web Services, or AWS, with Microsoft's(NASDAQ:MSFT) Azure and Google's(NASDAQ:GOOG) Cloud playing second fiddle. Gartner estimates that AWS packs five times as much computing power as its 14 biggest rivals combined, despite spending much less money building out AWS than either both Google or Microsoft.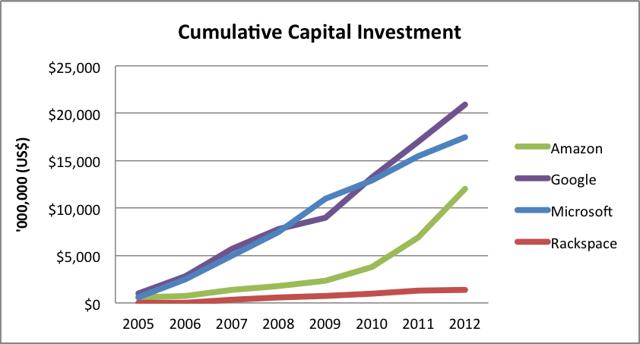 Source: Gartner
But,just because that rings true for now does not necessarily mean it will always remain that way. A recent Gartner study also revealed that enterprise cloud adoption is still very low, with only 2% of companies having shifted their core ERP systems to the cloud, and another 47% planning to do so in the next five years. This means that there is still plenty of room to run, and the cloud space is still expanding with players such as Cisco planning to build a 'giant federated intercloud.'
Google becomes a serious cloud contender
Before the recent price cuts, Google's challenge to AWS looked more like a passing hobby than a serious venture, since the company remained quiet about its cloud plans ever since it launched it cloud services about a year ago. But, the company made some key calls when announcing its price cuts which include:
Launched its Andromeda networking stack to its cloud platform. The move is intended to bolster its Compute Engine services in the background.
Significant price cuts for sustained cloud usage, which could be significant for some companies.
Google's sustained usage price cuts are intended to return value to customers without customers having to predict their forward cloud use. The plan is quite simple, and highly compelling--the more you use, the bigger the discount you are entitled to. This one looks set to becoming a favorite with corporate customers who use the cloud heavily.
When you add it up, Google warrants consideration serious consideration in an enterprise sandbox. Here's how Google's Sustained-Use cloud plan compares with AWS 1-Year Heavy Reserved Instance after the huge price cuts by both players: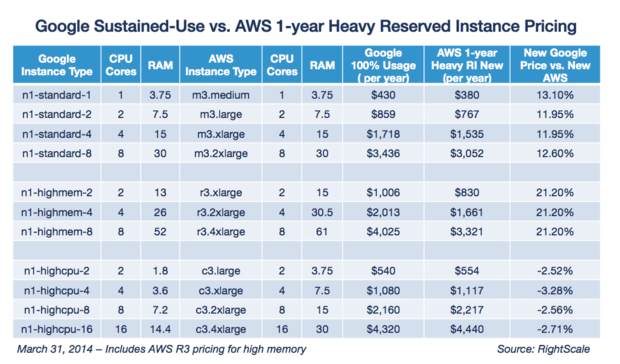 Google's cloud is cheaper than AWS in 4 of the 11 categories. Below is how Google's Sustained-Use stacks up against AWS 3-Year Heavy Reserved Instance: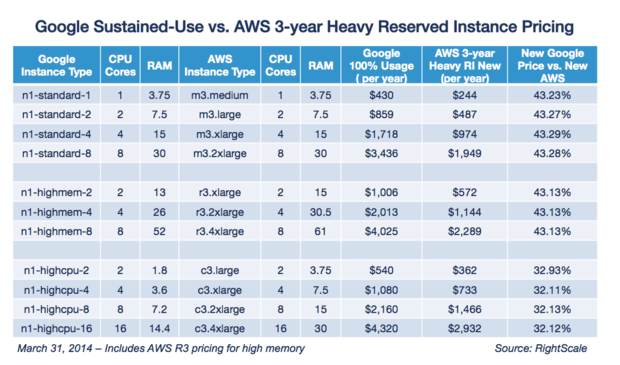 AWS-3 Year Heavy Reserved Instance is, therefore, comparatively cheaper than Google Sustained-Use for all price tiers, when you consider the rate-per-year.
AWS, therefore, matched Google's new on-demand pricing for standard compute resources. It also offered comparable pricing for high memory and high CPU options. It's worth noting that Amazon requires a one to three-year commitment on AWS Reserved Instance. Given the company's history of not passing on discounts, customers on these plans might not get any discounts if the company announces more price cuts in the next three years. Here's where Google's simplified Sustained-Use plan works better, and why customers might prefer it to AWS, especially now that cloud prices are on a freefall.
Microsoft matches AWS price cuts for all price tiers
Microsoft at first watched at the sidelines as the cloud drama unfolded, then followed up Google's and Amazon's cuts by announcing that it intended to effect its own price cuts starting May 1.
Microsoft will chop up the price of compute by 27%-35%, and storage by 44%-65%. Pricing for memory-intensive Linux instances will drop by 35%, while that of Windows instance will be lowered by 27%. Block blog storage prices will be lowered too-- 65% for LRS, and 44% for GRS.
Below is a chart comparing Azure general-purpose virtual machine with AWS.
Virtual Machines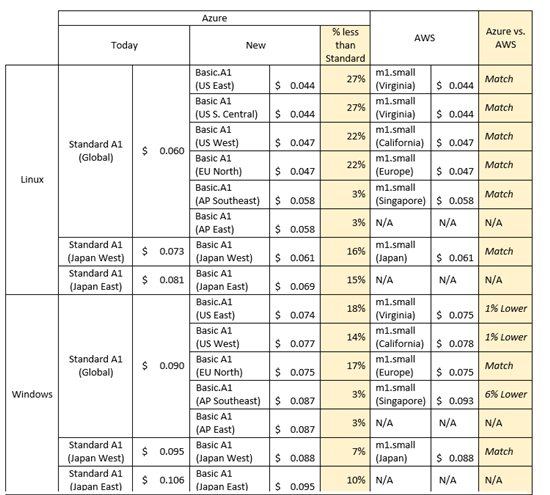 Source: Microsoft Azure
Azure, therefore, matched AWS on all price tiers. But, Azure beat AWS hands down for heavy memory-intensive A5-A7.
Memory-Intensive A5-A7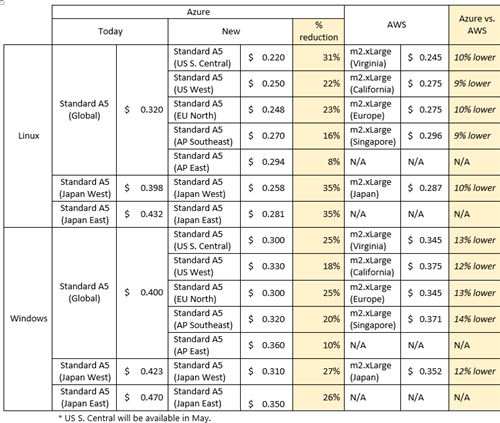 Source: Microsoft Azure
Microsoft also announced the addition of a new 'General Purpose' instances price tier called Basic available from April 3 and costs $0.27 less than previous instances. Microsoft will be moving to region-specific pricing for users with deployment flexibility for specific workloads.
Overall, it appears like Microsoft Azure just made itself a very serious AWS competitor.
Conclusion
Perhaps the ideal situation would be where the large players simply let a trading algorithm compute arbitrage cloud pricing, but we are not likely to see that any time soon.
Microsoft Azure looks like the more serious competitor for AWS. But, Google has, for the first time, also become a serious contender, and its simplified pricing plan might be better than AWS one and three-year lock in plans in the current environment of rapidly-falling cloud prices.
Disclosure: I have no positions in any stocks mentioned, and no plans to initiate any positions within the next 72 hours.
Business relationship disclosure: This article was written by Alex Kimani, the chief analyst of Syncopy Research. Syncopy Research is a group of financial analysts. We are not receiving any compensation for this article, other than from Seeking Alpha.