Where is the M&A ?
The first quarter of 2018 is coming to an end and larger pharmaceuticals firms have yet to pull the trigger on acquisitions despite bullish conditions. The Biotech sector recovered nicely in 2017 after a Republican victory eased drug pricing concerns. Tax reform served as catalyst for the industry as well considering the notable amount of cash firms held overseas available to repatriate. The space has not been healthier since 2014 when pharma and biotech m&a deals reached a record $ 212 billion. However, investors are still waiting for the next wave of deals. Drug giant Pfizer has failed to make a major acquisition despite looming patent expiration of blockbuster therapies such as Viagra and Lyrica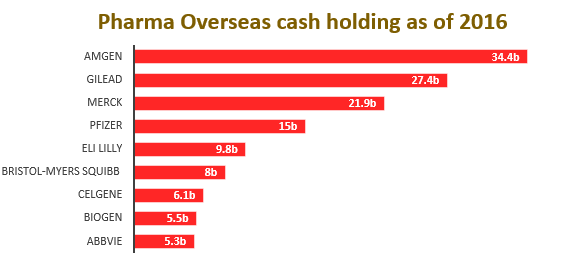 source :  Umer Raffat Evercore Isi
Like Pfizer, other big pharmaceuticals firms are also facing a patent cliff and need to replenish their pipeline through partnerships or acquisitions. It is more of a question of when than if with respect to M&A activity in the healthcare sector. Larger firms have always used acquisitions as a source for growth considering the time and cost to bring a new drug to market.
"If you look at pharma in a 30-year history, it is a consolidating industry, Shire Pharmaceuticals CEO Flemming Ornskov said in 2017. That's because companies need new products to drive growth, and most of those new products come from smaller, newer biotechnology companies."
M&A has been quiet but, not silent. In January 2018, Celgene acquired Juno therapeutics for close to $9 billion while French drugmaker Sanofi bought Bioverativ for $11.6 billion in the same month. In the first month of the year, total deal value reached $27.5 billion. However, there have been no major deals since that period as the sector has struggled to breakout and reach levels not seen since the summer of 2015.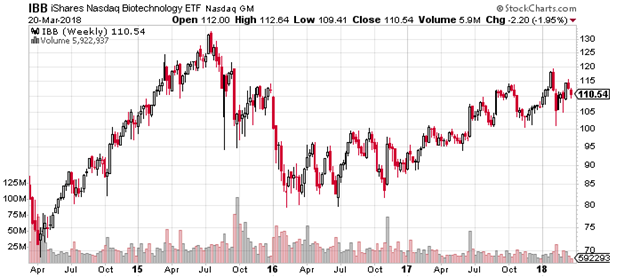 Source: Stockcharts.com 
As seen by the early 2018 deals, oncology and rare disease developers seem to be the attractive targets. It should be noted that these therapies have the potential to generate high revenue with equally high margins considering their six-figure price tags. These companies usually trade at premiums after they have passed all clinical trials to file FDA approval. Some are also acquired early by buyers willing to accept the high risk of failure in testing. It is quite challenging to predict acquisitions, but we do view Array BioPharma as potential target for a major pharma company.
Array BioPharma 
Array BioPharma, listed on the NASDAQ under the symbol ARRY, is a cancer therapy developer which is awaiting FDA Approval for the combination of drugs Binimetinib and Encorafenib to treat patients with BRAF-mutant advanced, unresectable or metastatic melanoma. The FDA set a target date of June 30, 2018 to provide a response. Melanoma is one of the most common cancer diagnoses and is one of the deadliest skin cancers in advanced stages. This indication can generate close to $450 million in peak sales in the U.S alone with additional growth in foreign markets for Array.
The firm recently caught the attention of many investors when the latter therapy beat Roche's Zelboraf in a phase 3 trial. The combination of once daily 450 milligrams of Encorafenib and twice daily 45 mg of Binimetinib resulted in a median overall survival rate of 33.6 months in advanced melanoma with BRAF mutation compared to 16.9 months for Zelboraf. Data suggests a best in class title for Array BioPharma's treatment which will lead to sustainable competitive advantage.
"Many patients with BRAF-mutant melanoma still face significant challenges managing their disease, and there remains a substantial need for well-tolerated treatments that delay disease progression and improve overall survival," Keith T. Flaherty, MD, Director of the Termeer Center for Targeted Therapy, Massachusetts General Hospital Cancer Center and Professor of Medicine, Harvard Medical School, said in a statement. "This data suggests that the combination of encorafenib and binimetinib may have the potential to become a meaningful new therapy for patients with advanced BRAF-mutant melanoma."
Array also has a very deep pipeline targeting patients affected with cancer and multiple partnerships with larger companies who provide necessary funding and resources to develop appropriate therapies. Selumetinib is another molecule being investigated to treat thyroid cancer which generated 64 300 new cases and 1980 deaths in 2016. The drug is currently in phase 3 and is licensed to AstraZeneca which also funded the failed development of Selumentib for lung cancer. Other late stage treatments include Danoprevir , Ipatasertib and Varlitinib which also have the potential to increase peak revenue for the firm.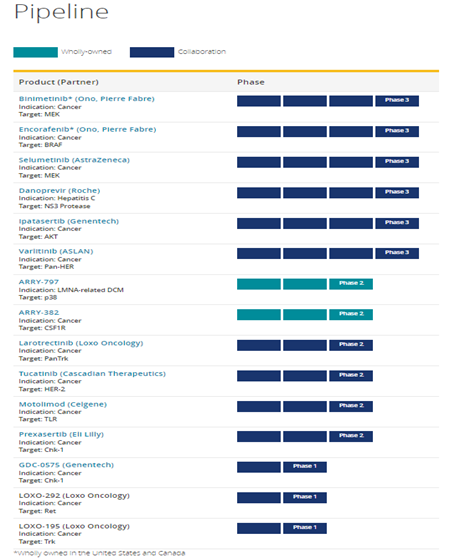 Source: http://www.arraybiopharma.com
Takeover Target 
In our opinion, Array BioPharma seems to be an ideal target as tuck-in acquisition for a major pharmaceutical company looking to expand its pipeline. The biotech is trading at a notable premium at a market capitalization close to $3.5 billion which may be the result of takeover speculation by investors. In the event of an acquisition, we view an enterprise value in the range of $4.5 billion – $4.9 billion. In terms of a comparable, Ariad Pharmaceuticals, an oncology developer like Array, was acquired by Takeda Pharmaceuticals for $5.2 billion in 2017.
Due to the numerous trials and a diverse pipeline, an option pricing model may be required to assign value to specific therapies. The acquirer would be executing a small transaction with a very favorable risk-reward profile and gain access to a deep pipeline helping generate organic growth. An acquirer will likely wait until FDA approval for Encorafenib and Binimetinib to eliminate any risk but, a positive verdict will only increase and solidify the value of the firm's pipeline.
On the other hand, in terms of company specific risk, the company may have to raise funds in the future if no deal materializes leading to shareholder dilution. Management may also raise to strengthen the balance sheet to increase its leverage in negotiations. Array raised $175 million in a secondary offering in September 2017 but, cash reserves stand close to $65 million as of the 4th quarter of 2017. It should be noted that short term investments increased substantially in the fourth quarter which may explain the allocation of cash from the last equity raise. The biotech is still not cash flow positive and reported $150 million in revenue and a Net loss of over $116 million it's 2017 calendar year.
Nevertheless, Array is partnered with multiple firms to develop its treatments which lessens the burden of cash expenditure for research and development. The biotech presents an intriguing  long-term  opportunity as either stand-alone entity or as an acquisition target in the near future.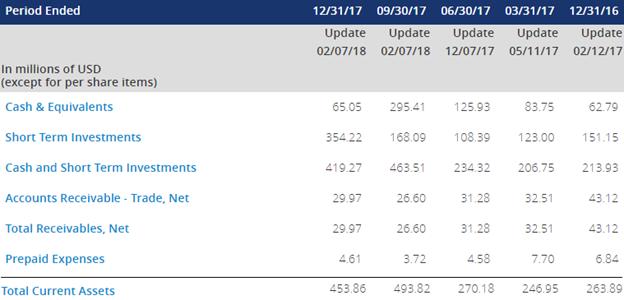 Source:  http://www.arraybiopharma.com
Recap
In our opinion, Array BioPharma appears to be an attractive investment as potential acquisition target in the biotech sector which is on the verge of a breakout. The firm's pipeline provides significant revenue potential and notable profit margins. The data for the combination of Encorafenib and Binimetinib suggest best-in-class therapy for the treatment of advanced melanoma. 
Disclosure: I am/we are long ARRY.