You may just read this from reuters(beijing),this hit APP called "Xuexi Qiangguo" become the most popular app not only on Apple's China app store but also on Chinese Android store.
"Xuexi Qiangguo",which literally translates as "study to make China strong",but it could have another translation:"Learning from Chairman XI makes China greater again".This app ,which includes videos: from TV series to the very updated hit film in china :The wandering earth,government news stories and quizzes has been downloaded over 43.7 million times on Apple and Android devices since it's launch in January.Considering there are 80 million CCP members and 37 million college student,it still have huge upside.
Why you should run away from IQ ? According to APP Annie latest report, Chinese people spend about 4 hours on their smartphone each day.Mary Meeker pointed out in 2017 about 30% of this 4 hours goes to"Wechat".We assume "wechat"and "Douyin"(The china version of Tiktok) these 2 most popular apps in china share the 1.2 hours, there are 2.8 hours left for the other apps.
Doing some study ,we will surprisingly find out "Xuexi Qiangguo" will take most of the left 2.8 hours of more than 100 million Chinese smartphone users,Most of them are the target user or current members of IQ .
How could a newly launched app do this? Thanks for the merit-based system. Every user will get points from using this app.The mandated minimum points always set at 30, those who did not reach this score will be criticized and need to make public apology in their team.
How to get the 30 points?You can get 1 points for first log in each day, reading articles for 6 points at most(1 points for 1 article),watching videos for 6 points at most(1 points for 1 video),each article and video demands at least 4 to 5 minutes to get points (times spending on them could get 18 points at most,if you mute your phone,you can not get any points from watching video).By subscribe, share, comment and quiz test you can get another 27 points. A sophisticated user could get 30 points in an hour.But this app has a ranking list,it clearly shows your position in your team.No one want or dare to stay in the bottom for a long time,they have to spend more and more time to get points to elevate their ranking.Trying to win full points will take 2 hours .
Since IQ needed a long integrated time span for it's users ,we can clearly find out the screen time and ARPU for IQ could drop sharply in the very near future.
New competitor is not the only trouble ,IQ my be the first to experience a financial crisis in 2019. From the chart below, we can see that the cash flow gap (operating cash flow + investment cash flow) of IQ has been expanding since 2015. In 2017, it was negative 6.65 billion RMB. In the past three and a half years, IQ has raised RMB 38.9 billion, with an average annual financing of RMB 11.1 billion, which is much higher than that of Netflix (average financing of USD 1.08 billion in the past 8 years). We can expect IQ's 2018 cash flow gap to grow by 50% to reach 9.98 billion RMB. IQ does not disclose the quarterly cash flow statement, but we can calculate according to the balance sheet, the cash flow gap in the third quarter of 2018 is 3.9 billion yuan, excluding the cash paid by the investment in the Skymoon entertainment (about 1.06 billion RMB), the remaining The cash flow gap was 2.84 billion RMB.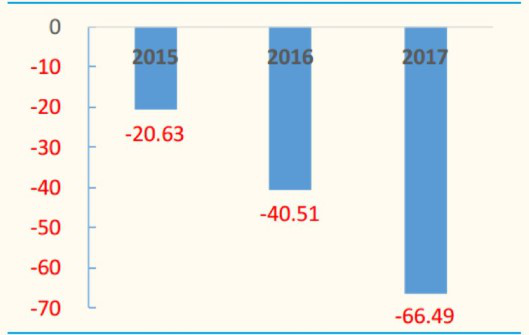 Assuming that the cash flow gap does not increase in 2019, the cash on the IQ account is only enough to burn for four quarters. In fact, it needs to start a new round of financing within three quarters, and the annual financing amount should be kept at 10 billion RMB. With reference to the financing method of Netflix, IQ is more likely to issue debt financing. If Baidu's support is less than expected, IQ may face a major financial crisis. In addition, IQ's advertising revenue In 2018, Q3 first experienced a year-on-year and quarter-on-quarter negative growth.
Disclosure: I/we have no positions in any stocks mentioned, and no plans to initiate any positions within the next 72 hours.
I wrote this article myself, and it expresses my own opinions. I am not receiving compensation for it (other than from Seeking Alpha). I have no business relationship with any company whose stock is mentioned in this article.