From Momentum Structural Analysis (NYSE:MSA), Alhambra's technical research partner:
Gold vs. the S&P500: Asset Class Shift
Gold will turn the performance tide vs. the stock market, probably early in 2016.
To put the relative performance or spread chart between gold and the S&P500 (top chart, next page) in its longer-term context, going back fifteen years: in 2000 (not shown) gold was .185 (18.5%) of the price level of the S&P500. It moved to 1.5 (150%) of the price of the S&P500 by late summer of 2011. Actually intra-month in August 2011 this spread reached 164%. That was a nearly nine-fold performance gain since 2000.
Since then gold performance has dropped - to a low reading last month at .512. Last week's close was up to .532.
Notice the behavior of long-term momentum (bottom chart, next page) since 2012. Each rally to the zero line/3-qtr. avg. of the spread gets repelled back to the downside. Actually those peak monthly momentum closes managed to crest micro-decimals above the zero line, but nothing credibly out above that now-clear structure.
As of next quarter, any month that the spread can close out at .568 (56.8% of the price of the S&P500's monthly close), then the spread's long-term momentum says the massive base is complete: breakout achieved. (To calculate the spread, simply divide the price of gold into the price of the S&P500.)
Given the clarity and large horizontal size of this momentum base, we expect any breakout to lead to large advance in the spread, and probably commence with a rapid first surge following breakout.
Note to new MSA readers: Why do our reports stress momentum assessment, particularly emphasizing structural trend aspects of momentum action?
First, we have found that momentum often provides a different and sometimes much clearer vista of trend than does publicly-watched price chart action.
Second, it is our experience that especially during periods of trend transition - whether topping or bottoming - momentum will take the lead and provide first warning of change to come.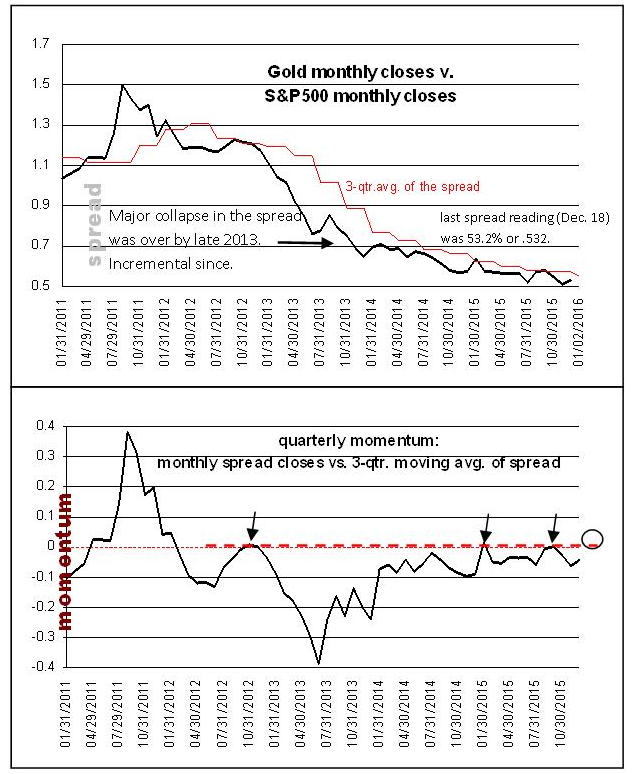 Before we leave the relative performance issue and move to gold's price and long-term momentum, here's the current spread between gold and the "commodity asset category" as represented by the well-balanced Bloomberg Commodity Index. What this chart says is that it's best not to make any assumptions about gold based on one's view of commodities in general. By the way, this is how gold vs. the commodity spread behaved in late 1976 - gold's performance warning of the coming several years of powerful upside, and in late 1977 followed by beat-up commodities - all despite a weak economy.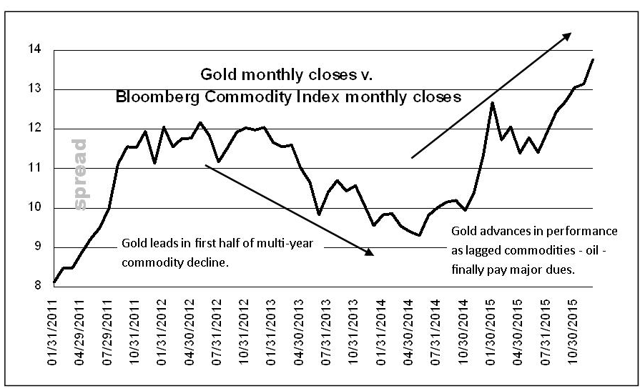 Gold: massive long-term momentum base
MSA identifies a major momentum bottom for gold and expects it to break out along with its relative performance readings, probably in Q1 or Q2 of 2016. MSA maintains other long-term momentum charts of gold, and they are all in tight agreement as to what level is needed for breakout.
36-mo. momentum chart (bottom chart), has created a massive horizontal base with a well-defined top end. Every rally has been capped at essentially the same level on that chart. If January closes out at $1158, that achieves momentum breakout. I have circled the level of breakout needed on the momentum chart. We also maintain 3-yr. avg. momentum, which has a very similar basing situation, chart not shown here. It will signal breakout with any monthly close in 2016 at or above $1158 as well, or any trade to $1170 (these numbers are subject to some minor adjustment as of this year's close). Quarterly momentum, in which price is measured vs. the 3-qtr. moving avg. , not shown here, says that a monthly close in Q1 of 2016 at $1169 constitutes a major upside breakout. Again, gold has a very tight concurrence among its long-term momentum studies. The long-term time-scale of all these indicators coupled with the clarity of the momentum basing action, combine to argue that, upon breakout, a large upside trend over some lengthy period of time is likely.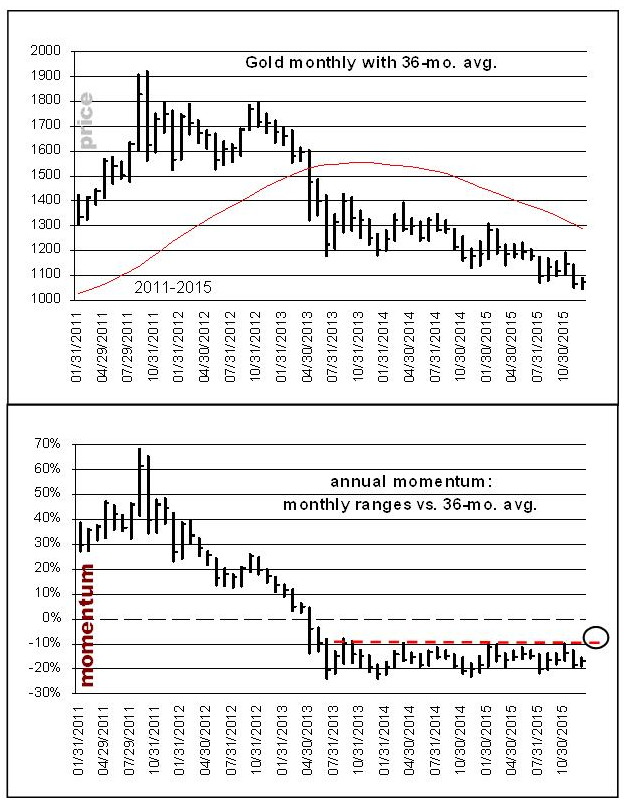 Note from Alhambra: We noticed a couple of months ago that in the relative performance between gold and the S&P 500, momentum was starting to shift to gold (see here). We initiated a small position in gold for that reason. This MSA report provides additional evidence. For what its worth momentum is also shifting to long term Treasuries from stocks. Those are shifts one would expect when fear is winning the eternal battle over greed.
Some of MSA's work is included in our subscription service and we post some special reports here from time to time. If you want exposure to the full MSA service please visit their website.
Disclosure: I am/we are long IAU, GLD.
I wrote this article myself, and it expresses my own opinions. I am not receiving compensation for it (other than from Seeking Alpha). I have no business relationship with any company whose stock is mentioned in this article.