A few months ago I was really concerned that the benefits that the Government was giving to GM would really badly affect Ford.  Turns out I overestimated the ability of GM to take advantage of a good thing and underestimated the ability of the Americam consumer, and the Chinese consumer and the Ford management.  So much for trying to think rationally.

Well, I'm about to go overboard again.  Looking at recent prices of Gold and Silver, I was confused.  My rule is that one ounce of Gold will buy a good suit and 15,000 ounces of Silver will buy an average home.   When these ratios get too much out of line, something is over (or under) priced.

Gold is about $1500 per ounce.  That is about the price of a good suit.  Not a great suit, but a little better than on just off the racks.  So maybe AU can get up to $2000, but not much higher.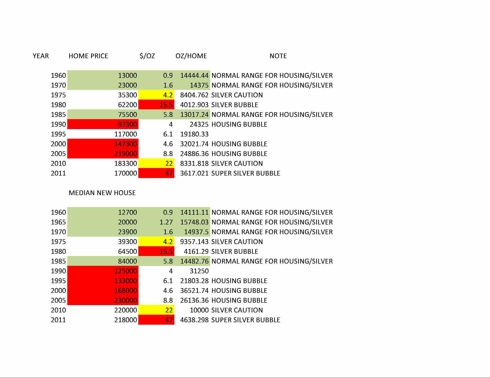 (The data above comes from Census Bureau & National Association of Realtors)

Silver, on the other hand is a very different story.  Looking at average used home prices or new home prices, from 1960 to the present, I see that in 1960, 1965, 1970 and 1985 that a home sold for about 15,000 ounces of silver.  During the bubble from 1970 to 1985, the price of silver rose so much that in 1980 you could get the average new or used house for roughly 4000 ounces of silver.  A really good deal if you had some silver, compared to the more normal 15,000 ounces for an average house.

Paging forward, from 1990 to the 2007, the price of housing popped so high that, even with silver prices going from $4 an ounce in 1990 to $8.8 an ounce in 2005, it took up to 36,000 oz of silver to buy that same average house. (The housing bubble). 

What is more important to notice is that by 2010, with silver at $22 per ounce, and the average house dropping to $ 183,000, it took only 8300 ounces of silver to buy that average house.  Today, with silver at $47/oz and the average house at $170,000, you can buy that average house for only 25% of what it usually costs ( in terms of Silver).

So, yes, I think there is a bubble in silver. But no, I do not know when it will burst.  What I see is an upside of perhaps 20%, and a downside of 75%. 
What do I suggest? Since bubbles can last for far longer than my ability to cover any shorts,   I will be reducing holdings of any of the silver miners, though I would consider buying any of the folks that decide to sell their production forward at current or near current prices.