ACB released its Annual Information Form on 31-Mar-17 in relation to its financial year-ended 30-Jun-16
What's interesting here is that ACB is not obligated to release an AIF (source) as a venture issuer (ACB trades on TSXV). Is this ACB's "prospectus equivalent" document to apply for graduation to TSX? More on that below
I have scanned the AIF and I will summarize findings that I found valuable and were not covered in detail in my last blogpost here
Findings
Organizational Chart
Easy to forget with all the activities in Canada that ACB loaned $1M into Australis Holdings LLP to acquire 24.5 acres of land worth $2.3M US in Washington. At the moment ACB has focused its expansion projects in Canada, no news on Washington project
Loans from Management to help ACB Survive the last 3 Years
29-Aug-14: $1.5M loan received from company controlled by Booth and Dobler. Entire loan eventually converted into shares by Sep-15
1-Apr-15: $2.5M loan received from company controlled by Booth and Dobler. Loan was repaid in full by Aug-16
26-Jun-15 and 1-Oct-15: $3M loan received from company controlled by Booth and Dobler. Loan repaid in full
Over the years, the company controlled by Booth and Dobler (Superior) lent $7M to sustain ACB operations.
For the last $3M loan, the AIF specified the loan was repaid following year-end with no specified dates. This was strange given that all other loans had a payoff date.
Based on discussions with management, I suspect the $3M loan was repaid when Booth and Dobler exercised their grants and sold shares on the market in Jan-17.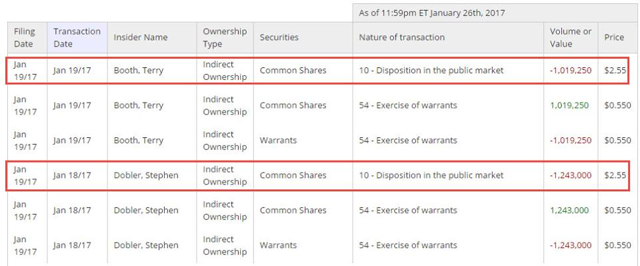 When I enquired with Cam Battley about the above insider sale, he told me it was to repay the loan to Superior, a company that needed the cash for its own projects. This could all be coincidental, but seems reasonable.
Roughly 1 year in the Game
ACB received license to produce and sell medical cannabis on Feb-15 and Nov-15 respectively
ACB received license to produce and sell cannabis oil on Feb-16 and Jan-17 respectively. Oils are not available for sale, company did make note of stockpiling for sales
Per AIF, $8/g average price, $5/g compassionate price
79 employees as of Jun-16, 140 employees as of Mar-17
As of AIF date (31-Mar-17), 344M shares are outstanding or 396M fully diluted
Competent Management and Board of Directors
I was quite pleased learning about the history of management and directors. I'll mention the ones I found noteworthy.
Booth (C.E.O): Part owner of Superior Safety Codes (SSC)
Dobler (President): Engineer + part owner of SSC
Szweras (Director): Lawyer, Partner at Fogler, Rubinoff LLP
Rifici (Director): CPA, CEO of Nesta (Oct-15), previously CEO of Tweed (2 years) now Canopy Growth
Singer (Director): CPA, CFO of Clementia Pharmaceuticals (May-15) and CFO of Bedrocan (1 year)
Fishman (Director): CEO of Teva Canada Limited
Moral (Director): CEO of Canadian Cannabis Clinics
Stephenson (NASDAQ:CFO): CFO of Bedrocan until Apr-16
Belot (Chief Brand Officer): Executive Director of Canadian Medical Cannabis Industry Association
Battley (Executive VP): President of Health Strategy Group Inc.
Management currently owns 40M shares, representing 11.7% of total outstanding common shares (344M).
Of the 40M, 13M is owned by Booth and 16M by Dobler
Booth also has 112k of purchase warrants to purchase at $3 by Mar-2019, 350k incentive options to purchase at $2.25 until Aug-2021, and 1.2M incentive options at $2.26 until Mar-2022
Dobler also has 350k incentive options at $2.25 until Aug-2021, 1.2M incentive options at $2.26 until Mar-2022
Cease Trade Orders, Bankruptcies, Penalties, Sanctions
Declaration was made that no director or executive officer of the company, for the last 10 years, has been subject to cease trader order, worked in a company that went bankrupt/insolvent/compromise with creditors, or subject to penalties or sanctions
Legal Proceedings
ACB settled all claims and is no longer subject to any legal proceedings
One settled claim of interest, is the one that initially commenced on Dec-15, and was finally settled on Jan-17
The claim was for 9M warrants at $0.02 per common share prior to the RTO (dating back 2 1/4 years) and 3M performance warrants at $0.02
The settlement was 8M warrants were allowed to be exercised at $0.02, and remaining 4M cancelled. What a victory for the plaintiff. #8M x ($2.25 - $0.02) = $17.8M settlement if they exercised the warrants and sold the shares
Why Release an AIF?
Why did ACB issue an AIF? If someone can provide guidance for venture issuers that I have missed, please comment below.
Based on Ontario Securities Commission website, Non-Venture Issuers (TSX) are required to release AIF within 90 days of their year-end (source). Venture issuers (TSXV) are not required
Is ACB Gearing up for Graduation to the TSX?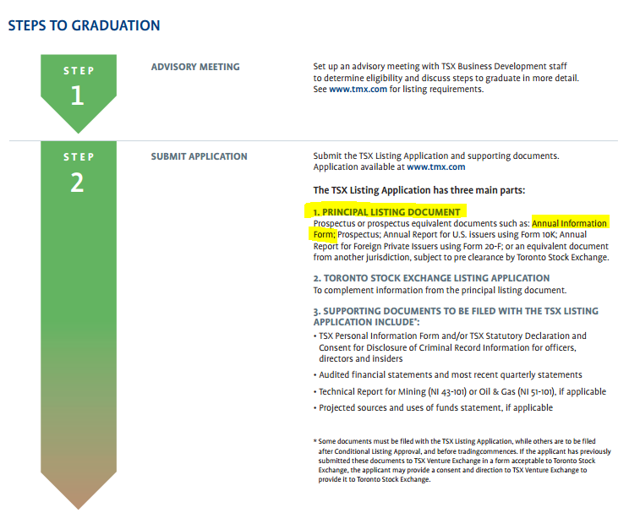 Based on above graduation steps from TSXV to TSX(source), it appears the key principal listing document is a "prospectus or prospectus equivalent" such as an ANNUAL INFORMATION FORM
As I mentioned before, there is no requirement for venture issuer to release an AIF (as far as I know), especially more than 8 months since its year-end.
Food for thought: ACB has never issued an AIF in the past
Disclosure: I am/we are long ACBFF, APHQF, HYYDF, TWMJF.
Additional disclosure: All opinions expressed are my own and were written by me. They should not be taken as any form of advice, consulting, guidance, or similar. Please do your own due diligence before investing and consider your own risk tolerance before making any decisions. This article is for information purposes only. There are risks involved with investing including loss of principal. I do not make an explicit or implicit guarantee with respect to performance or the outcome of any investment or projections made. There is no guarantee that the goals of the strategies discussed by me will be met.