A few weeks ago, the S&P was carving out a new high at 950… As the climb started to wane, I was looking for a sign the market was about to turn in the opposite direction… down. Another week passed, and I got the signal I was looking for. So I told you about it…
I told you to expect the S&P 500 to lose another 30 points… or about 3.5% from where it was trading at the time (920). I'm sure some of you were laughing, as Maria Bartiromo and Becky Quick CNBC were cheerleading the S&P's upward assault. But since the S&P has fallen from 920 to 885 (35 points or 3.8%), perhaps you'll have a little more confidence in my indicator this time.
The indicator I'm talking about is as simple as they get… The Box Trade. The Box Trade - as the name implies - consists of drawing a box on a chart. Based on the size of the box, you can determine how far, and in what direction, the market's next intermediate-term move.
Here's what the box looked like last week: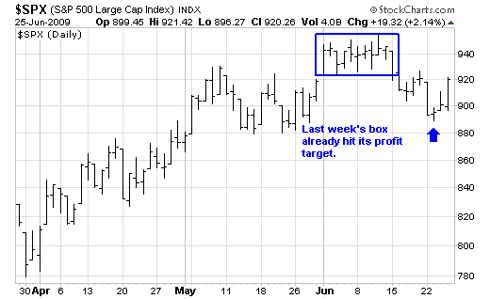 However it appears, over the past week, not only did we hit our profit target for the previous box, it appears the market is trading in a much larger range, carving out another, larger box.
Put another way, even though the last trade was successful… it was only a small portion of a much larger box, which could break any day.
Take a look here…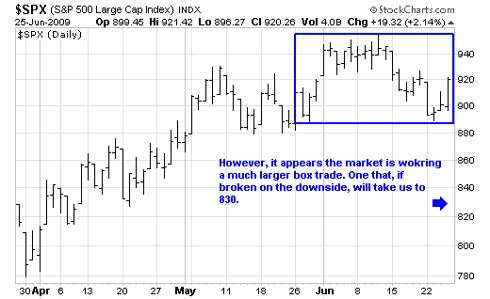 Last week's box trade was simply a box within a much larger box…
At this point, it's a too early to tell which way the larger box will break. Frankly, I'm a bear in this market. However, if we break above 950 on the S&P 500 futures, it's off to the races, and 1010 is my target. But if we don't, and we break the bottom end of the box at 885, the race is over and we'll hit 830 in short order.
I'll be keeping an eye on this one, and if another trade pops up… Whichever direction it does breaks, there's going to be a 60 point move, in a matter of days. Whenever it does, I will make a killing…
Good Trading,
Brian Heyliger 
ps I have no positions listed