Summary
$496 for a single 10 or 25 mg capsule of Revlimid (government price).
$1,225 for a single 60 mg vial of Kyprolis (government price; list price $2,299).
$125,000 for a 12 month course of Revlimid (252 doses of 25 mg).
$176,400 for a 12 month course of Kyprolis (72 doses of two 60 mg vials, gov. price).
$300,000 for the combination. Politics aside, what are the economic pressures which could come to bear?
Investors should ask themselves if these prices are any more or less sustainable than the prices of the best drugs for hepatitis C.
That sums up my concern, but Dr. Roy of Novartis (NYSE:NVS) and his colleagues went into a lot more detail in their 2015 article in which they compute the cost of various regimens to attain 1 year of progression-free survival:
" Estimating the Costs of Therapy in Patients with Relapsed and/or Refractory Multiple Myeloma: A Model Framework
(click to enlarge)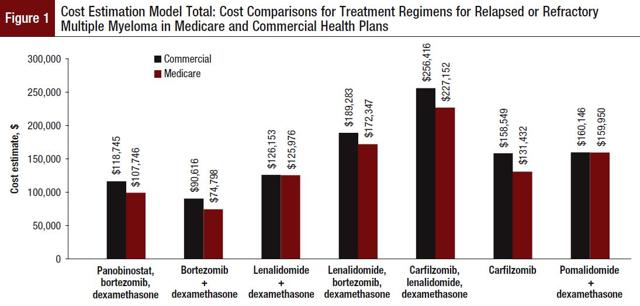 Including associated medical costs, the carfilzomib (Kyprolis, Amgen)(NASDAQ:AMGN), lenalidomide (Revlimid, Celgene)(NASDAQ:CELG), dexamethasone combination figures underestimate the cost if the drugs are actually given for 12 months. In table 2 (not shown), they estimate 60 doses of 27 mg carfilzomib to attain 12 months PFS. According to Amgen's Kyprolis website, monthly dosing after the very 1st cycle is 56mg/m2 for 2 days weekly for the 1st 3 weeks of every 4 week period "until disease progression or unacceptable toxicity." For a person with an average body surface area of 1.8m2 the dose would be 2 vials/day x 6 days/month x 12 months = 144 vials of 60 mg. So while the 12-month PFS cost-effective dose was elegantly worked out by Dr. Roy, the government price for a 60 mg vial is $1,225 and that multiplied by 144 vials given over 12 months = $176,400.
Also consider the comments of Dr. Badros in his NEJM Editorial:
Including this comment: "PFS alone has been considered by some researchers to be meaningless unless it results in improvement of overall survival."
Myeloma is not an orphan disease - it is quite common and becoming more so as the population ages. And yes, myeloma sufferers are living longer, but how long will it be until economic pressures - forget the politics - come to bear?