We all know the drill. I've got a hot penny or sub-penny stock that's going to be the next Google (NASDAQ:GOOG)! This one is the real deal! Put $1,000 in this stock and you'll be a millionaire in a few years!
If I had a penny for every time I've heard or read about the stock I can buy 100,000 shares of for a few thousand or even hundred dollars, I'd ALREADY be a millionaire. Occasionally, though, a stock in the right sector, with the right business model, and a visionary leader can make dreams come true. After all, Steve Jobs was laughed out of every bank he went to for a loan when he first started Apple (NASDAQ:AAPL). The point I'm trying to make is that it DOES happen. Rarely, but it DOES happen.
After researching it for over a year, I believe one such company is Petron Energy II, Inc. (OTCPK:PEII).
Introduction to Petron Energy II
Petron Energy II, Inc. is engaged in acquisition, development, exploration for, production, and sale of oil, gas, and gas liquids in Texas and Oklahoma. The company owns a 75% stake in approximately 2,600 acres with 59 wells in Wagoner and Tulsa counties, Oklahoma. It also operates two gas gathering systems for the transportation of natural gas, which are located in Tulsa, Wagoner, Rogers and Mayes counties of Oklahoma, with a total of 5,000 acres under lease, and a total of 93 existing wells which will require rework operations to attempt reestablishing commercial production in both Texas and Oklahoma. The company was incorporated in 1998 and is based out of Dallas, Texas.
Executive Summary
Floyd L. Smith - CEO
Mr. Smith holds a Bachelor of Business Administration from Harding University, and has over 19 years of experience working in the oil and gas industry. In October 1998, Mr. Smith started Petron Energy, Inc. and has been involved in all administrative and field operations for the company. Under his leadership, the company has funded and drilled over 50 wells in twelve years. Petron Energy II, Inc. is the successor to Petron Energy, Inc. He has knowledge in all phases of drilling, completion and production. He has worked closely with the project geologists and engineers in the origination and acquisition of oil and gas prospects. Mr. Smith is also a member of the president's council of Harding University in Searcy, Arkansas.
Jerry K. Ebanks - Geologist
Mr. Ebanks received his Bachelor of Science in Geology from Lamar University and his Masters in Geology from the University of Texas. He has worked in varies senior level position in his 46 year career. Mr. Ebanks has extensive experience in East Texas, North Louisiana, Mississippi, Alabama, South Arkansas, Florida, Offshore Gulf of Mexico, Alaska, China, Australia, New Zealand and Indonesia. In addition, he performed geological evaluations, wellsite planning, mapping seismic planning, seismic oversight and seismic interpretation. Mr. Ebanks brings a very unique set of skill sets which will be very to our company.
David Knepper - Petroleum Engineer
Mr. Knepper has a Bachelor of Science in Engineering from Texas A&M University. He has over 37 years of experience working with oil and gas companies, specializing in production, completions, operations, reservoir analysis and acquisitions. Additionally, Mr. Knepper has expertise in both the technical and financial sides of the oil and gas business.
Luke C. Zouvas - Legal Council
Mr. Zouvas has a Bachelor of Arts degree from San Diego '96 and his Juris Doctor is from Thomas Jefferson School of Law '99. His primary focus in law has been the areas of corporate securities, mergers and acquisitions, as well as real estate. He has worked on numerous mergers and acquisitions, advised public companies on securities law issues, advised private companies on general corporate governance matters and engaged in the pro bono representation of small business owners.
Mr. Zouvas has represented issuers and underwriters in initial public offerings, Direct Public Offerings and secondary offerings of securities under the Securities Act of 1933. He also regularly counsels issuers in connection with the preparation of and filing with the Securities and Exchange Commission of periodic reports under the Securities Exchange Act of 1934.
He has a mastery of securities law compliance, having prepared proxy statements, periodic reporting documents, private placement documentation and registration statements, among others. He also has counseled numerous entrepreneurs and early stage companies. Mr. Zouvas has advised issuers, private equity funds, and placement agents in private equity and debt transactions. He also has worked with placement agents and issuers with respect to offerings of securities pursuant to Regulation S and Rule 144A under the Securities Act.
Bob Currier - V.P. of Finance
Bob Currier has a CPA certificate and has over 35 years of experience both in the public accounting and corporate sectors. Since 1987, Mr. Currier has been involved with entrepreneurial ventures in industries ranging from medical to real estate to oil and gas. With these companies, he has been responsible for developing financial reporting systems, helping raise capital, implementing internal controls and budget preparation. His experience has included both public and private entrepreneurial companies. He has also worked on SEC reporting engagements on a contract basis.
Mr. Currier started his professional career in 1971 with the audit staff at Ernst & Ernst in Kansas City. After six years, he transferred to the Paris, France office where he spent six years working on the audit of the French national oil company (Elf Aquitaine) and U. S. companies such as Eli Lilly and Harris Corporation. On the French national oil company audit he was responsible for the exploration and production subsidiaries, the consolidation and joint venture audits. From Paris he moved to the Dallas office and transitioned from oil and gas auditing to entrepreneurial services and was named the Vice Chairman of the entrepreneurial services group. Mr. Currier's experience with the entrepreneurial services group included working with business plans and financial projections for various start-up companies. We believe Mr. Currier's level of experience provides Petron II with a clear advantage and he is a true asset to the company.
Judson F. Hoover - Director
On July 11, 2013, Petron Energy II announced that it added Judson F. Hoover to its Board of Directors. Mr. Hoover has served as CFO of several Public Companies for over 10 years. Mr. Hoover is a licensed CPA; and has a B.S. in Accounting from Regis University and a Master's Degree in Taxation from the University of Colorado at Denver. This addition brings the total participants on the Petron II board to 3.
Floyd Smith, President and CEO of Petron Energy II, Inc., states, "Mr. Hoover will provide several strengths to our company and we are extremely excited to have him join the Petron II family." Mr. Hoover states, "I am honored to join a team that has vision, and a great business plan. Petron II, under Floyd's direction has been innovative in every area. I look forward to working with such a dynamic and creative team."
Petron Energy II's Strategy
Petron's strategy is to acquire assets in proven areas with multiple pay zones, manage development cost and take advantage of new technology to maximize daily production rates. Their target market is the Woodford Shale in Northeast Oklahoma and the Tannehill Sand in Texas, with each offering a high success rate and the potential for long term cash flow.
Secondary Completion Method
In primary natural resource recovery, the initial approach to produce oil is generally via natural reservoir pressure or simple mechanical pumps used to raise oil to the surface. Most oil wells today have to be pumped. Primary oil recovery can only produce a small fraction of the oil in a reservoir. The need for secondary oil recovery methods arise from this fact. Waterflooding can be both effective and economical.
Secondary recovery of remaining oil from a proven reservoir can be obtained by injecting water/gas ('water/CO2 gasflooding'), to maintain reservoir pressure and push oil out of the rock. Prolonged oil production can be achieved effectively once the primary production has tapered off. This is called secondary recovery.
A well planned oil field can go a long way toward the reliability and overall cost effectiveness of a water/CO2 gasflooding project. One method uses centrally located wells that, once primary and secondary production declines, will be used as injection wells.
These injection wells use water/CO2 gas to force the remaining oil reserves toward the extremities of the oil field. Increasing the viscosity of the water, allowing for drillers to gain 'control' over where the water flows. This allows for the introduction of water/CO2 gas into areas of the reservoir in which it naturally wouldn't flow. By forcing water/CO2 gas into the crevices around an oil reserve, oil can be 'moved' toward the production zone. Such techniques can raise production on these outer wells to near initial production numbers as well as allow for the recovery of up to 80% of the remaining reserves.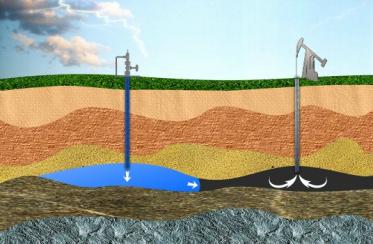 Oil reservoirs suitable for secondary recovery projects have produced for several years. It takes time to inject sufficient water/CO2 gas to fill enough of the void spaces to begin to move the oil.
Assets
SUBSIDIARIES:
Petron Energy II Pipeline, Inc. is engaged primarily in the transmission of gas and gas liquids for its own wells and third party wells in the United States. As of December 31, 2012 the Company is operating in the state of Oklahoma. In addition, the Company owns two gas gathering systems located in Tulsa, Wagoner, Rogers and Mayes counties of Oklahoma, one of which is fully operational. The pipeline consists of approximately 132 miles of steel and poly pipe, a gas processing plant and other ancillary equipment.

Petron Energy II Well Service, Inc. is engaged primarily in Well Service operation for its own wells currently and expects to begin well service operations for third party operators in the future. As of December 31, 2012 the Company is operating in the states of Oklahoma and Texas. The Company owns all of its equipment used in the Petron Energy II Well Service, Inc.
TEXAS PROPERTIES:
The company recently agreed to acquire approximately 2800 acres in Munday (Knox County) Texas, this property is comprised of 48 wells. The property has 34 of 48 existing wells capable of producing commercial quantities of oil. We are reviewing the property for further producing zones which may be available.
OKLAHOMA PROPERTIES:
Petron purchased a 75% stake in approximately 1100 acres with 59 wells in Wagoner and Tulsa Counties, Oklahoma. We have 56 existing wells and 3 newly drilled wells. This acreage has 5 to 7 payzones, which are capable of producing oil, gas and or both commodities.
The company has purchased 75% equity stake in a 105 mile pipeline gas system, Petron Energy II Pipeline, Inc. The pipeline system extends from Wagoner County into Tulsa County Oklahoma. This system is critical to our development in the area because it provides us access to deliver our gas to market at minimal cost. We believe our ownership of the gas pipeline system will provide us opportunities to grow our acreage as we are the only transporter of natural gas in the area.
The company has also purchased a 75% stake in a second gas pipeline system, Petron Energy II TNT, Inc. This pipeline system extends 30 miles through Wagoner, Mayes, Rogers and Tulsa Counties Oklahoma. There were over 450+ wells drilled and tested in anticipation of the completion of this gas system. This system provides access to a natural gas market for us along with development opportunities for the company. Petron Energy II TNT pipeline is the only gathering system to transport natural gas the area.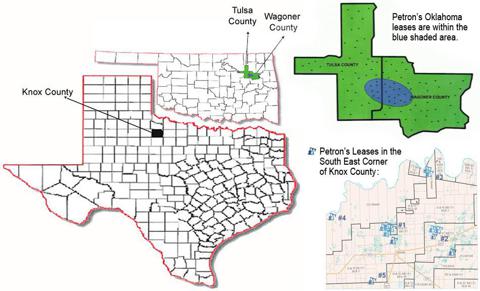 Recent Events
On Oct. 30, 2013, Petron Energy II, Inc. signed a Letter of Intent to purchase a 5% minority interest from Phoenix Energy, Inc. in the Bakken Shale Deal. The importance of this deal to Petron's future can't be overstated. At the time of the signing, the company estimated that the deal alone was worth $0.04/share. While some dilution has occurred since then, my calculations based on that estimate still put the Bakken Shale Deal at worth approximately $0.03/share. On that basis alone, this stock is a 10-bagger from its current trading price.
On Dec. 5, 2013, Petron Energy II, Inc. announced that it had chosen an investment banker for funding for the Bakken Shale Deal and has completed a due diligence packet and forwarded it for review. CEO Floyd Smith stated, "We have received positive confirmation from the financing group that they have sincere interest in funding our Bakken deal and our goal is to have funding to close this transaction on or before December 31, 2013. Further, we expect to have a reservoir engineering report completed on this property within two weeks. We will report deal results as they are available." After speaking with Petron's legal council (listed above), I'm convinced that this is all but a done deal, and that finalization of the deal is only a formality requiring all prerequisite signatures, at this point.
Looking Ahead
With all of the research I've done on this particular stock and the underlying company, and with the company itself stating that it will be profitable by the end of Q2'14, I consider this perhaps one of the most undervalued stocks, penny or otherwise that I've ever done due diligence on. The share price has, in my opinion, been driven down by the sale of convertible shares, which was necessary to raise working and growth capital (for the record, there are indications that the company has stopped this practice, possibly due to positive recent events), as well as market makers naked short selling the stock. I have my own theories in addition to those obvious and very old tricks, but it would be mere speculation to publish them here. Suffice it to say that I don't think I'm the only one who realizes what's going on with this company and its share price, and that this will NOT, in my very studied opinion, be a gradual climb back to "pennyland." Rather, once the company starts to release its production numbers, coupled with the finalization of the Bakken Shale Deal, I believe this stock will gap up and go virtually straight up for quite some time. As always, there will be pullbacks and bumps along the road, but make no mistake about it ... if/when this stock goes back up, it won't be gradually. It is, of course, impossible for me to predict with any accuracy the future performance of this stock and its future share price, but I don't think it's unreasonable to expect a share price in the area of $0.20 by mid-2014, and possibly a climb to over $1/share over the next 2 years.
Risk Assessment
As always, we must acknowledge the reality of what we're dealing with, here. I feel it an important part of any analysis of any stock to keep expectations realistic and to openly state the very REAL risks involved in trading ANY penny stock. This is not a stock I would recommend anyone sink their life savings into (actually, I can't think of a stock I would recommend anyone do that with), and the risk of bankruptcy and a complete loss of your investment is certainly possible, but if you have a few hundred, thousand, or ten-thousand dollars lying around, depending on your individual fiscal situation, I believe this would be a much better investment, statistically, than purchasing a lottery ticket or taking that money to the tables at a Vegas casino.
Conclusion
I'm a NAPFA Personal Financial Advisor with multiple degrees in mechanical engineering and physics from the Georgia Institute of Technology, and I formerly analyzed securities for what was then A.G. Edwards, so I'm hardly the gambling-type. I could never in good conscience recommend to one of my clients that they invest more than a few hundred dollars in any penny stock, but like anyone interested in investing and the markets, I do enjoy searching for that elusive hidden nugget of a stock that has gone largely unnoticed, and I enjoy the process of researching such stocks. It is my belief that Petron Energy II, Inc. COULD be one of those nuggets, and depending on what the future holds, I'll either become a hero to many (as well as rich), or the butt of many a joke. I'm not afraid of the latter, so I decided to make my opinion and research on this stock public. I hope it has, at the very least, been an interesting and educational read, and I wish all of you good fortune in your trades.
Disclosure: I am long OTCPK:PEII.