UNTD - IMMINENT SPIN-OFF SHOULD UNLOCK FTD HIDDEN VALUE
(You can find more information about the spin-off in the company's SEC filings or on www.stockspinoffs.com, which is a great website for sourcing special situation ideas.)
Ticker: UNTD / Price: $8.44 / Market Cap: $781 million / Idea Style: Special Situation
Overview
United Online (NASDAQ: UNTD) is a mispriced situation whose sum-of-parts value will be unlocked within one month, as the company is scheduled to spin off its highly profitable FTD business, whose earnings profile is currently being obscured by the company's declining Communications and Content & Media segments (the spin-off will be completed on October 1st).
Post-spin, UNTD will become two independently traded public companies. The spin, FTD, is a high quality, cash generative and steadily growing business that operates with structural competitive advantages; the stub, UNTD, is a combination of businesses in secular decline but are nonetheless cash flow positive and therefore, worth "something". As you can see, this is a classic "Goodco & Badco" situation where the going concern value of the Goodco has been masked by accounting losses reported at the Badco, where the sum-of-parts value should be realized through an imminent catalyst.
I believe FTD alone is easily worth $10 per UNTD share and can more than justify UNTD's current valuation of $7.83. Investors buying into the spin are effectively paying a negative implied price for the stub, which is in secular decline but still generating enormous amounts of free cash flow.
FTD - The Spin
I believe FTD represents more than 85% of the value of UNTD. FTD operates two businesses. Product revenue is mainly derived from the consumer business, while service revenue is mainly derived from the floral network business.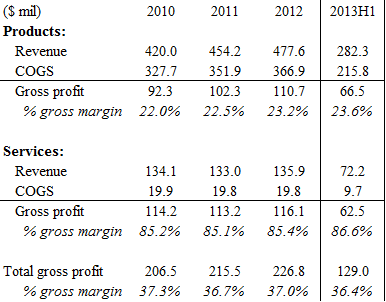 1. Floral Network Business: FTD runs the largest floral network business in North America, the U.K. and Ireland, serving local floral shops (network members) with order flows (through its e-commerce websites), credit card processing services and discount supplies. In short, FTD helps its members become more profitable by providing them with local orders and reducing their business expenses. Since flowers are very fragile during delivery and consumers typically purchase flowers as special occasion gifts, having the ability to deliver the flower safely and timely is critical in determining customer satisfaction.
To deliver flowers quickly while ensuring the flowers are well-protected, most of the orders are hand-delivered by the local florists. To make the delivery profitable from a variable cost perspective, the delivery address must be sufficiently close to the florist, making the flower business very regional in nature. FTD's dominant membership size provides it with a huge advantage in distribution, since having the largest network of florists gives it the broadest local reach, and therefore, the most convenient services. This has allowed FTD to offer same-day delivery capability to most communities in North America and the U.K.
FTD charges its members an annual fee for membership in the network, and generates additional revenue through selling services to its members. The membership economics is very rational - local florists would only join the network if incremental order gross margins could justify the membership costs. The steady long-term growth of this business further highlights the value proposition.
2. Consumer Business: this is the main retail business and is responsible for most of the revenue. Consumers place orders for flowers and other gifts for delivery on the FTD e-commerce websites or over the phone. These orders are then routed to the closest floral shop under the FTD network or third-party warehouses for local delivery.
In the retail model, FTD's main function is to serve as an order agent and earns a "commission" which is the difference between the order value charged to customers and the discounted price charged by network members to FTD. Therefore, FTD does not have to hold any inventory and enjoys an unusually low capital intensity model. Capex in the last three years averaged only 1.4% of sales, compared to 4% - 10% for most retailers and 6% for Amazon.

Another benefit of this "drop-shipper" arrangement is that since FTD receives cash for its orders before it makes payments to its florist members, it operates with a negative working capital requirement. This is a very advantageous position to be in since it reduces capital burden on growth as revenue growth reduces working capital needs and contributes to free cash flow generation.
UNTD currently has close to no sell-side coverage. Considering that FTD is the industry leader and will probably have close to $1 billion in enterprise value post-spin, giving FTD its actual name and a pure play stock should help attract a decent level of sell-side interest.
Barriers to Entry
These two businesses form a very nice platform that benefits enormously from the network effect. FTD's huge order flow attracts a large number of network members; more members provide FTD with greater local reach and brand exposure, leading to even larger order flows. This creates a virtuous cycle, leaving network members drawing customers, and customers drawing network members.
Additionally, even though the primary business model is e-commerce, FTD is no Internet fad. The consumer business is represented by the iconic FTD "Mercury Man" logo, first adopted in 1914. A brand equity taking nearly a century to build is naturally extremely difficult to replicate. The strength of the network effect is evident in the low level of competition in the floral network business, which is dominated by three brands, even the youngest of which is more than 30 years old.
Network members are required to make monthly payments to use the FTD brand and its order flows, making revenues of this business largely recurring in nature, so are other FTD membership services such as credit card processing and discounted supplies. The structure of the network business is in fact not dissimilar to fast food franchises, as network members (franchisees) pay the network/brand owner (franchiser) recurring royalties for rights to use the brand. As you can see, this service revenue stream has been very stable and high margin, and in an efficient world should probably be valued on the same basis as royalty stream businesses like a McDonalds or Yum Brands.

The low capital intensity and recurring revenue characteristics of the FTD business have produced an average pre-tax return on capital employed of 171% over in the last two years, and this is counting cash as part of working capital. Realistically, most of cash position has been excess cash; counting it out capital employed has historically been closer to 0! (Note that FTD has historically reported a large intangibles amortization expense which is not a real economic cost. This has served the purpose of masking the earnings power of the business as free cash flow has been substantially higher than reported net income.)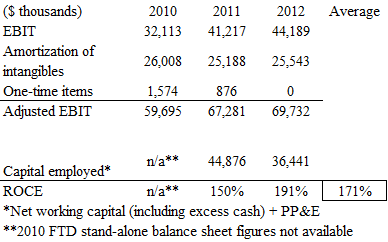 The bottom line is that FTD operates with a very wide moat. It's a very high quality, cash generative and growing business with phenomenal returns on capital, albeit with limited growth potential. As a pure play this business should get a very nice valuation.
Competition
Basically, if you want to purchase some flowers and hand-deliver them to your desired party, you would buy them from a local supermarket. But if you want to do it the convenient/safe way, you would order flowers from a floral retail/delivery service.
There are three primary floral delivery service models currently in place:
1. Courier services that purchase flowers wholesale directly from growers and contract the delivery to services under shippers such as UPS/FedEx. The leading service under this category is Proflowers.com, which is owned by John Malone's Liberty Interactive (NASDAQ: LINTA) under the Provide Commerce subsidiary (I will write up on LINTA at a later date, which I also think is severely undervalued).
The advantage of this service is that by bypassing local florists entirely, the total service cost to consumers is lower. Old regulatory filings (before Proflowers was acquired by LINTA) show that the average order value of Proflowers was $49.85 in 2005, roughly 18% lower than FTD's $60.67. LINTA does not provide more up-to-date data on Proflowers but considering that there has been virtually no inflation in the cost of flowers in the last ten years (FTD's average order in 2012 cost $61.26, slightly higher than seven years ago), I would guess that Proflowers' average order value is still somewhere around $50.
The disadvantage are mainly related to quality control, since the flowers are cut and arranged at large warehouses by warehouse workers who are not as professionally trained as local florists and the flowers are usually delivered in boxes, which do not protect them as well as hand delivery. Basically, by choosing Proflowers over the floral networks, you potentially sacrifice quality for price savings. I can see a viable niche for this business, but I don't think it is strong enough to overtake the floral network model. At the end of the day, price-sensitive, lower-income consumers probably have better gift choices than to dish out $60 a pop for a perishable with a seven day expiration period; and "Budget Flowers" hardly sounds like a terrific value proposition on Valentine's Day.
2. Floral network services that route orders to local florist members who hand-deliver the flowers. FTD is the largest player under this category. The two other sizable competitors are 1-800 Flowers, which is publicly traded (NASDAQ: FLWS), and Teleflora, which is privately owned by the Resnick family. These three networks control most of the floral network market.
FTD was an effective monopoly in the business for many decades after World War Two. The network either outright banned or actively discouraged its network members from joining competing networks until the U.S. government put a stop to the practice in the 1990s. Many local florists are now members of all three networks. The economics of whether a florist should join a network are entirely determined by a cost and benefit analysis, comparing incremental gross margins on network routed order flow with membership fees.
Networks under category 2 are generally viewed to be slightly premium options relative to 1, as the flowers are cut and hand-delivered by trained florists rather than warehouse workers and UPS trucks. Also, since most florists are owners of their own businesses whose reputation is built on orders to their local communities, they place more care in processing the orders (cutting, arranging, delivering, and conversing nicely with the receiving party of the order). These are things that warehouse workers and UPS mailmen cannot deliver. I think while these differences are subtle, they represent incremental value to consumers nonetheless.
3. Contacting a local florist directly. The difference between category 3 and 2 is mainly the presence of a network as a middleman. Orders through 3 are usually a little cheaper, but far less convenient. This is because most people who use the networks send flowers to a different address than their own, one that belongs in a community they are unlikely to be familiar with. While it is theoretically possible for one to Google up a florist shop near their designated address and place an order on the phone/through a website, there is simply no quality assurance since the sender is not familiar with the local shop. Alternatively, one can spend a few extra dollars to get FTD's quality guarantee and forgo all the trouble of having to conduct due diligence on the shop. The value proposition is clearly evident in the fact that the networks have consistently taken market share from direct florist orders in the last few years.
FTD Valuation
My projections are as follows:
1. 3% top-line growth for both segments, and relatively stable EBIT margins.
2. Capex will be 1.4% of total revenue, consistent with historical capital intensity, though I expect 2013 Capex to be a few $mil higher due to purchase accounting adjustments and extra spending associated with the separation.
3. Net interest expense to decrease from $12.8 million in 2012 to $5.8 million in 2014. This is consistent with the new terms of the recent debt refinancing. Management also guided a pro-forma $7 million reduction in interest expense in their Q3 presentation slides.
4. Working capital to be a source of $1.2 million of cash annually. I estimate that total working capital requirement has been fluctuating between -$33 million to -$51 million by adjusting for cash and maturing long-term debt. For simplicity, I assume that future working capital needs will be somewhere in between that range, call it -$40 million. If revenue grows by 3% as I projected, assuming proportional working capital growth, then normalized WC should be a source of $1.2 mil of cash per year. Actual figures will be quite a bit more volatile though due to seasonality and the timing of cash flows.

I end up with $57.5 million in normalized free cash flow generation, starting in 2014.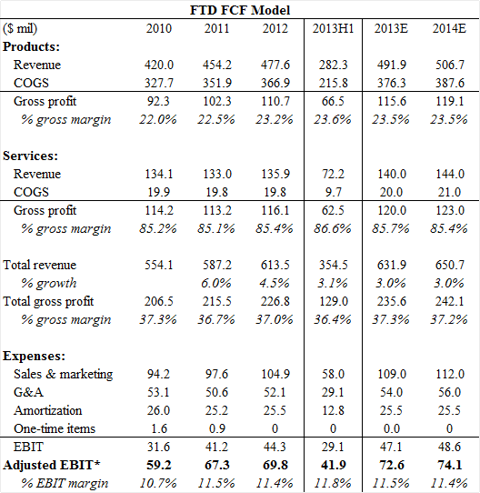 FTD's only publicly traded peer, FLWS, is trading for around 15 times free cash flow. Note that a third of FLWS's business is a food & gift basket retail business which is very commoditized, capital intensive and low return on capital. Whereas FTD spent around a tenth of its operating cash flows on Capex last year, FLWS spent over 45%.
I think FTD deserves to trade at a FCF multiple at least as high as FLWS, given its higher quality mix of businesses. At 15 times FTD is worth $9.33 a share, implying that investors are assigning a -$1.50 per share value for the legacy UNTD business. If you apply a slightly higher multiple than FLWS, which I justified earlier, you can easily end up with $10 - $11 a share, effectively paying -$3 to get the stub.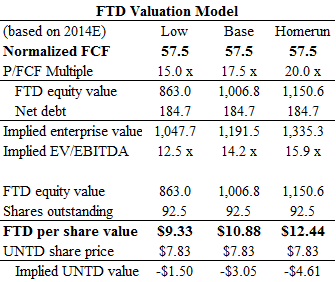 Another way to look at FTD's valuation is comparable M&A transactions. John Malone purchased Proflowers (which was only a third of FTD'S size) in 2006 for a total enterprise value of $477 million, or a whopping 25 times EBITDA. A general rule of thumb is that John Malone does not make stupid deals, so there was clearly something that he saw that was unique about the business for him to stomach the premium.
FTD itself was purchased by UNTD in mid-2008 (during the market crash) for $800 million in total enterprise value. Even assuming that the company has not increased in value at all, the equity is still worth $6.65 a share, or 85% of UNTD's current share price.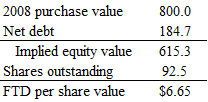 Another exit strategy worth noting is the possibility that FTD may get taken out by a private equity firm. FTD's basic business mix is a royalty business and a commission business, both of which have stable margins and generate reasonably predictable cash flows. Also, with the large reduction in leverage in the past few years and the recent accretive refinancing deal, FTD will be significantly under-levered for its cash flow profile. I estimate that FTD will have a cash interest coverage of over 10 times by 2014. Considering the interest rate environment I would find it very illogical not to recap the company and reload with long-term leverage.
And who knows, maybe John Malone would be interested in merging FTD with his Proflowers. A transaction like that could 1) reduce the number of sizable competitors in the business from 4 to 3; 2) improve scale - a lot of redundancies like order processing, IT and customer service can be eliminated and bargaining power over suppliers will be higher.
While I'm not counting on a good sale I believe these are material possibilities that make an awful lot of economic sense. Management also indicated in the latest Q call that they would welcome a bid from anybody. Particularly with the current management leaving, no one at UNTD is emotionally & financially attached to FTD's future so there is no reason not to sell.
UNTD - The Stub
The UNTD stub will mainly consist of two businesses: 1) Communications: a low-cost dial-up Internet business; 2) Media and Content: consisting of classmates.com, an online social network designed to connect people with their old high-school classmates, and MyPoints, an online loyalty marketing business.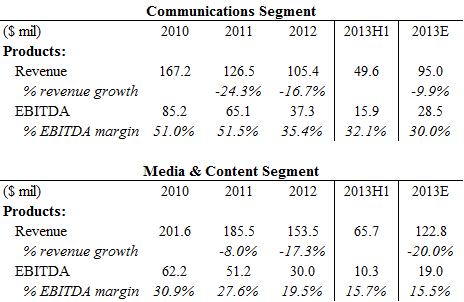 Both businesses are in secular decline. The dial-up Internet service, under the Juno and Netzero brands, has been made obsolete by cable/fiber broadband or even DSL in most areas. Classmates.com is facing an uphill battle against Facebook which is a much stronger service due to the network effect. Still, both businesses still generate solid free cash flow and still have positive value.
On the bright side, the dial-up Internet business, I believe, should still be able to retain a core user base of low-income, rural people without extensive Internet usage. Monthly fee for this service is $9.95, which is significantly lower than $20 for DSL and over $40 for cable/fiber/satellite. Higher Internet speeds do not make a lot of difference for people who only use the net to check their email inboxes and do limited surfing. While there is no doubt this business will continue to shrink, it remains a viable stream of cash flows. One of the dial-up brands, Netzero, has recently introduced a 4G resale business in partnership with Clearwire. I have no idea where this business is going and so far it is not material to the overall valuation.
Media & Content consists of two businesses: classmates.com and MyPoints. Classmates.com generates revenue by selling premium account services to members (to access yearbook information) and selling advertising. Other than the database of yearbooks, this network offers very little over Facebook, which has 100 times the user base and has been taking market share for many years. The only value I see in this business is in its high school yearbook database, which is apparently the largest library of yearbooks in the U.S. MyPoints seems like a slightly more interesting business but is also declining, albeit at a much lower rate.
UNTD also owns a fairly large patent portfolio which the company is seeking to monetize either through a sale or licensing deals. The company has engaged Evercore to help divest the patents and the CEO mentioned in the Q2 call that negotiations were already on the way for a licensing deal. As to how much this portfolio is worth, my guess is in between not much and an awful lot. To be conservative I value this portfolio at 0 in my model even though management seems to believe that it will become a significant income stream for UNTD in the future.
As part of the spin-off arrangement, the legacy UNTD will be responsible for all of the annual $21 million in unallocated corporate overhead. Management has been working to reduce that number to $6 - $8 million, in-line with the future size of the business.
UNTD Stub Valuation
Valuing the stub is a lot more difficult because both businesses will continue to decline at double digit rates. The good thing is FTD is easily worth more than UNTD's current market cap so you are paying nothing to get the stub, so I will value this business as conservatively as possible. Any positive developments from the stub are free options really.
UNTD ended with $122.4 million of cash in Q2; subtracting FTD's cash position of $48.8 million, the stub should have $73.6 million in cash. Since FTD will be taking on all of the debt, UNTD will be debt free. My projections for 2013 are:
1) For the dial-up business, a 10% decline in revenue (H1 2013 decline was 9%) and a 30% EBITDA margin.
2) For the Media & Content business, a 20% decline in revenue (H1 2013 decline was 17%) and a 15.5% EBITDA margin.
3) I assume management will hit their target for corporate overhead reduction from $21 mil to $6 - $8 mil a year. Let's call it $7 mil.
In my worst case scenario I value the stub at net cash. Given that both legacy segments are still cash flow positive and that the patent portfolio is worth at least nothing, the real value of the stub is virtually guaranteed to be higher than this.
In my base case I value the dial-up business at 2 times EBITDA and the classmates.com business at 1 times EBITDA. Note that the two businesses combined only spent $11.4 mil in Capex last year (backing out the $6.4 mil at FTD from consolidated Capex of $17.8 mil) compared to $67.3 mil in EBITDA so most of the EBITDA is free cash. I'm not projecting any new revenues from the 4G initiative because I don't have any insight into its future (nor do I think anyone else does) I think that's conservative enough.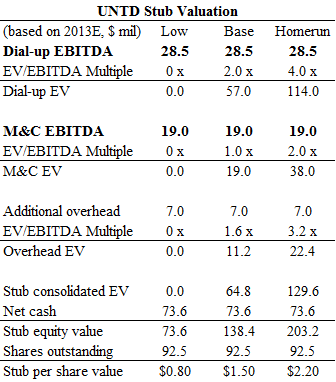 This gets you $0.80 for the worst case and $1.50 for the base case.
UNTD Consolidated Valuation
Below is my sum-of-parts valuation. As you can see FTD will be the majority of the value of the two stocks and so deserves most of your attention.
Management
The current UNTD management has a mixed track record and is poorly regarded among its investor base. While the CEO and Chairman, Mark Goldston, has done a reasonable job acquiring Internet assets and taking cash out of them, he has a reputation of overpaying himself with bonuses and stock options. He was paid $15 million in 2008 and on average $5 - $7 million from 2009 to 2011, which anyone would agree is excessive for a company this size. Goldston is also perceived to be very promotional, often overpromising and under-delivering on new business initiatives.
Despite all his short-comings, I would rate Goldston a B in capital allocation. In the last ten years, the company has:
1) Paid out $369 million in cash dividends
2) Bought back $150 million of shares
3) Purchased FTD and significantly deleveraged its balance sheet
4) Now decided to spin off FTD and monetize the UNTD patent portfolio
The good news is Goldston will be leaving both companies once the spin-off has been completed. FTD's current management will take over as new management, while UNTD is conducting a CEO search which will be completed post-spin. I view this as a positive development as the new companies will be perceived fresh, normally run public companies without management controversy.
How This Plays out
The Short Term: While I am not a market timer, if I have to take a guess, I think FTD will probably get an initial boost from the transaction, while the stub will very likely be sold off.
This is because while there are some investors who bought UNTD to expose themselves to FTD (whom I expect to hold on to FTD), there are probably not many investors who bought the stock to expose themselves to the legacy dial-up internet/classmates.com businesses, which are in secular decline and are a lot harder to value. Historically most Goodco/Badco separations result in the Badco being sold off immediately post-spin.
To be honest, if the stub gets a reasonable valuation I may end up doing just that myself. I don't really know much about the future of the 4G initiative and the classmates.com business; the extent to which new management will be able to milk the declining cash flows is also very difficult to project. But again, depending on what new management decides to do with respect to capital allocation, I also won't mind buying the stub if it trades down to some ridiculous valuation like below net cash.
FTD will probably attract more institutional interest as a pure play, though I could be wrong about the initial boost. This is because UNTD is currently paying out a very large dividend (over 5% yield). The latest amended spin-off filing indicated no dividend policy. If FTD starts trading without the board announcing a dividend, income-oriented investors may end up selling it as well. As a long-term investor I pay very little attention to these things and will opportunistically add to my position should the stock be weak in initial trading.
Management has indicated that it will schedule a special shareholder meeting in September to vote on a reverse stock split and announce dividend policies for the new FTD and UNTD companies. I will leave it to you to decide how these developments will affect the story.
The Longer Term: This is what I am interested in. FTD as a stand-alone entity will be far under-levered. If the stock stays cheap I think management will initiate a stock buyback, and I expect the company to receive a high level of LBO interest.
Should the company stay independent, I remember Joel Greenblatt said in "You Can Be a Stock Market Genius" something like most spinoffs go to full value in 1-2 years. Well, 2 years from now is 2015. I think conservatively FTD can make $60 million in FCF by 2015; if the company spends all of its FCF in the next two years buying back shares, assuming the stock trades at $8 post-spin and a 15% annual appreciation in the share price, FTD should have $0.74 a share in FCF generation. Value that at 17 times and add back $1.50 for the stub, you are looking at a 30% IRR.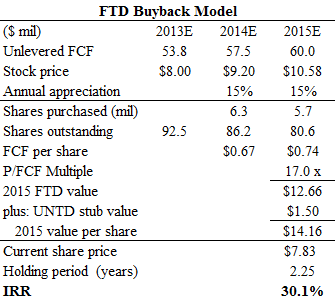 Risks
1. Irrational competition at FTD (i.e. a competing floral network cuts margins to gain share)
2. Goldston sold almost all his shareholdings in UNTD two weeks ago. When I called up the IR person to inquire about that they said that was because 1) Goldston is leaving, 2) once the spin is on the way management will be locked up and will not be allowed to sell so he has to use this window to liquidate his shares. I'm not entirely sure what this development means, but it does not change my assessment of the fundamental value of the company.
3. New management wastes cash on an acquisition instead of returning it to shareholders.
Catalysts
1. FTD and UNTD dividend announcement pre-spin
2. Dividend or buyback announcement post-spin
3. FTD gets taken out at a premium by an LBO operator
4. New CEO announcement for UNTD
5. 4G initiative turns out to be very profitable
6. Sell-side coverage initiation for FTD - not unreasonable for a $1 bil enterprise to attract some Wall Street attention?
7. FTD (perhaps also UNTD) will go from a single digit stock to a double digit stock once the reverse split is complete. Somehow that's supposed to make it more attractive to institutions. You decide.
Disclosure
The author of this write-up owns shares in the company mentioned (NASDAQ: UNTD) and may purchase or sell shares without notice. This write-up represents only the author's personal opinions and is not a recommendation to buy or sell a security. No information presented in the write-up is designed to be timely and accurate and should be used only for informational purposes. Readers of the write-up should perform their own due diligence before making investment decisions.
Disclosure: I am long UNTD.
Additional disclosure: The author of this write-up owns shares in the company mentioned (NASDAQ: LINTB) and may purchase or sell shares without notice. This write-up represents only the author's personal opinions and is not a recommendation to buy or sell a security. No information presented in the write-up is designed to be timely and accurate and should be used only for informational purposes. Readers of the write-up should perform their own due diligence before making investment decisions.