Before you go ahead, please take a look at the last two insta blogs I wrote. Also, check the dates I wrote and the way the prices of the shares/commodities moved after I wrote it. This will be my third blog at Seeking Alpha. And it will be about AAPl, aka AAPLE. Nope it is not the apple you can buy from market. It is the equity everyone looks at with wonder.
Let us deep dipper at the following chart. One can easily see that the price nicely bounced between trend lines. To tell you truth for a few moments I was a bit scared when I saw it broke the upper trend line. But I was happy to see it bounce back. As we can see that within next week, a large price increase is expected. The only issue is we have one less day to trade. I have 25 Call options AAPL Sept strike 700 (monthly). I may be entered the price a bit too early this time at 9ish price. However I am certain that it will increase. I expect the price to go above 705 and can touch 720. If it touches 720, then I will have about 11$ before expiration per options aka 27500. Considering volatility to increase and considering that Ben has given a A OK for printing money, there is no reason to assume that the price will decrease from here.
Also remember that AAPL just won against SAMSUNG. Also recently AAPl has gone all the way against all the good products from SAMSUNG even the S3. Also remember the new iPhone, iPAD, iPOD, iTV. It should be insane price increase for AAPL coming up!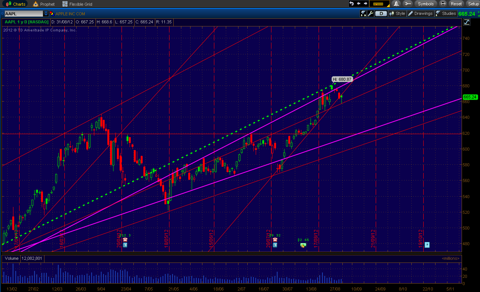 Disclosure: I am long AAPL.