I am approaching the end of my second year buyout of my company. As I get closer to actually retiring, the recent bout of volatility has given me pause to think about matching my equity choices with my personal goals. I was caught off guard in August by the increase in volatility and decided that while a lot of the stocks that I owned were now much cheaper, I just didn't feel comfortable with how I was positioned. There are a number of things going on from a macro level and in the markets that have heightened my concerns.
The CAD$
In 2012 - 2013, I moved 50% of my investments from Canada to the US because with the CAD$ at par with the US$ - US equities seemed very inexpensive to me. I purchased QCOM, JPM, MET, AAPL and V. Over the three years these stocks did well and when added to the 30% change in currency, I had some big gains.
The Price of Oil
Fast forward a couple of years and oil prices are very low, the CAD$ is down to US$ .75 and I now feel that moving forward from here, the CAD$ has more upside than downside. If oil ever recovers (it will) then moving my investments back to CAD$ would be a wise choice. There are no guarantees of course, but with retirement in my sights, I needed to ensure that my dividends were not exposed to currency fluctuations. I don't mind if the price of an equity goes up and down, but any income that I earn would need to be very solid. There is the possibility for the US$ to strengthen and the CAD$ to languish, but I just don't think oil will remain low for long.
So I have sold all but one of my US holdings. Note, I sold AAPL last fall and bought GILD. These are capital gains + currency gains (not including dividends).
| | | | |
| --- | --- | --- | --- |
| Stock | Sell Price | Date | Gain |
| AAPL | $106.75 | Sep 2014 | 55% |
| GILD | $106.23 | Sep 2015 | 23% |
| JPM | $61.33 | Sep 2015 | 20% |
| MET | $47.50 | Sep 2015 | 3% |
| QCOM | $62.25 | Jul 2015 | -5% |
| V |   |   | 60% |
Visa is my best performer and is a stock that I think can grow the dividend faster than any loss I may incur on currency.
Interest Rates
My investment thesis in 2013 was to sell two Canadian Banks - BMO and CM and buy JPM and MET. They were very cheap to me and I thought rising interest rates would be easy money. That turned out not to be the case and now I don't believe that dynamic will change any time soon. Even if rates do rise, ¼ point is not sufficient to make a difference on NIM at the banks. I still hold RY, TD and BNS and have no plans to sell them. They currently have 4% yields and I'm comfortable holding them through whatever turmoil is coming. I bought AAPL and QCOM to benefit from the surge in mobile sales and I didn't know which one would win. I sold AAPL when I thought the gains to too good to not capture and bought GILD with a similar thought - way underpriced and wide moat.
I still like all of these companies and it was hard to sell them, but I cannot ignore the macro issues of currency and my requirement to have stable dividends in my local currency, the CAD$.
Volatility
Having sold the remaining two US companies in September, I ended up with 30% in cash in my portfolio. I'm not one to sit on the sidelines, but the volatility to me was an indication of future stock market declines. I have created a new list of stocks to watch and acquire over the coming months.
I don't own any utilities, not because I don't want to, but because over the past few years, they have been expensive. The recent downturn in markets has given me a chance to acquire some companies that possess the kind of consistent and growing dividends that I am looking for in retirement. I chose ENB and FTS.
Enbridge is Canada's largest pipeline company. They are targeting 15% growth in earnings over the next 3 years and they have a very long track record of increasing dividends. Here's a chart from FASTGraphs so you can see what I see when looking at ENB.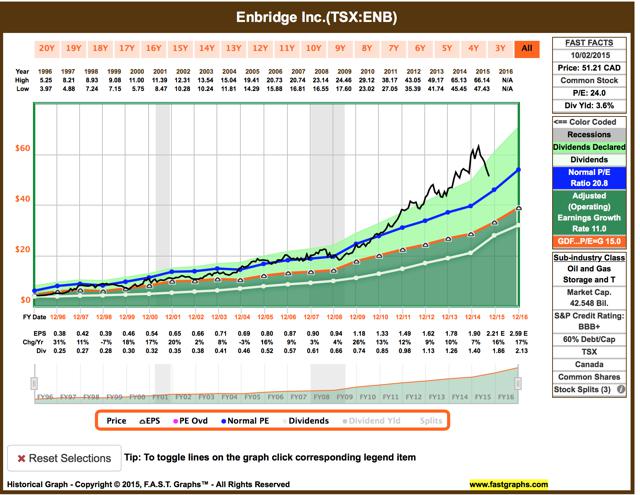 And here's their dividend track record and total return.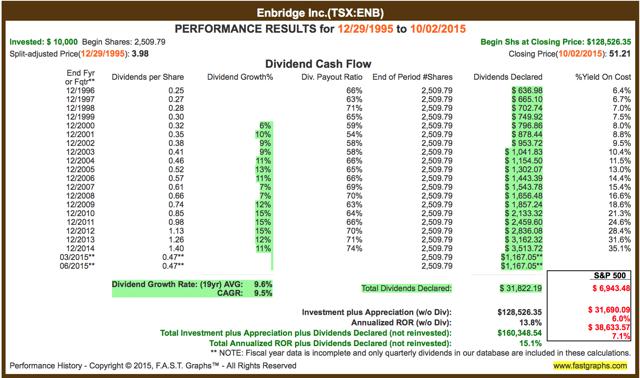 ENB generally trades at a premium to the market and you can see that even during the worst financial crisis they continued to raise their dividend.
The other company that I've wanted to own for a while is Fortis. FTS is a Canadian regulated utility. There is virtually no chance that they will reduce their dividend and FTS always trades at a premium to the market as well.
Here's their chart: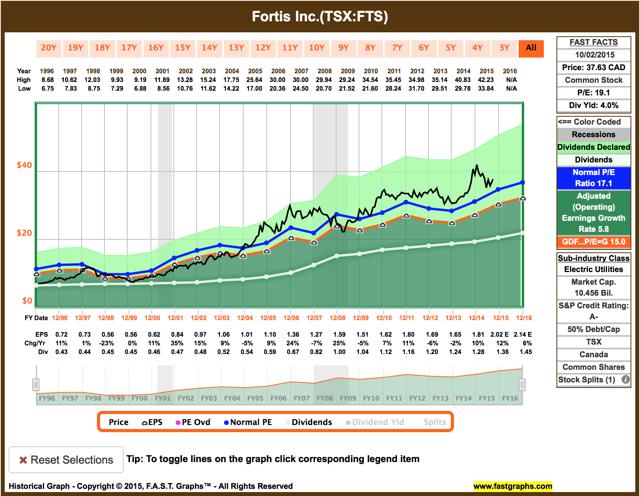 And here's their dividend history.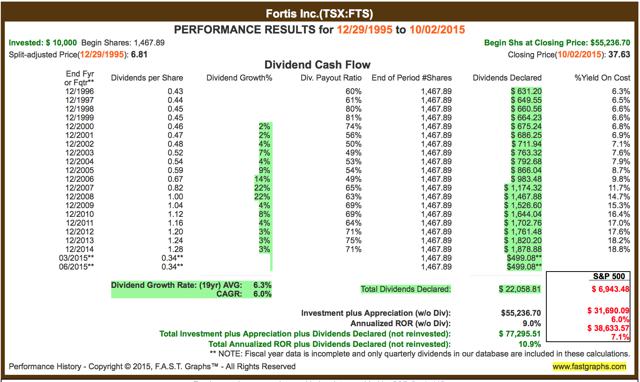 You can see that their dividend growth is much more modest than ENB, but their most recent dividend increase was 10% and I was able to purchase a very solid 4% yield from a company that I can just buy and hold.
The nice thing about buying individual stocks is that you can tailor your portfolio to your own requirements. My retirement is around the corner and I want to make sure that I can count those dividends without the risk of currency fluctuations. I remain 25% in cash and will keep you posted on my next moves.
Disclosure: I am/we are long ENB, FRTSF.