I've had a flurry of investment idea activity this past month (at least by my standards), and I just wanted to take a second to look at the performance of those ideas.
The first idea I had was a Select Comfort (SCSS) Deutsche Bank (NYSE:DB) pairs trade. The idea had been to use (DB) as a hedge against a potential turn in the credit cycle. After two weeks, and a substantial rise in Select Comfort and fall in Deutsche Bank, I didn't think the hedge was really necessary anymore and thought it would be a good idea to close it.
My next idea was to short STAG industrials because of a divergence in Fed messaging and rate expectations. That idea lasted about two weeks as well until rate expectations came back in line with the messaging coming out the Federal Reserve.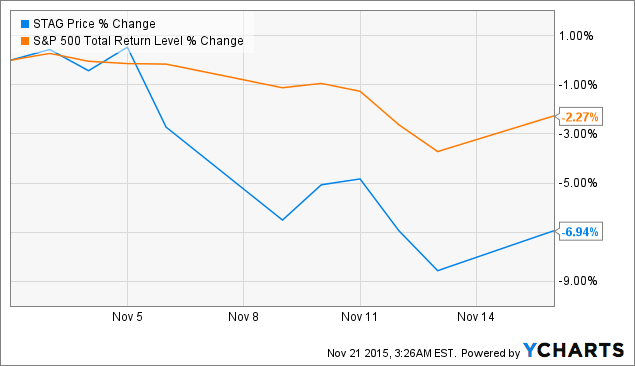 Next, even though my original thesis on Select Comfort had been to hold for six months, I developed worries that they may be having more problems with their new computer and delivery systems than management planned. When this was combined with the fact that my second expected catalyst for the company wouldn't really be until Q1 2016, and any potential problems would likely come to light at the next earnings announcement in Q4 2015, I thought it would be a good idea to take profits until there was more clarity about the effects of the new ERP systems they had implemented.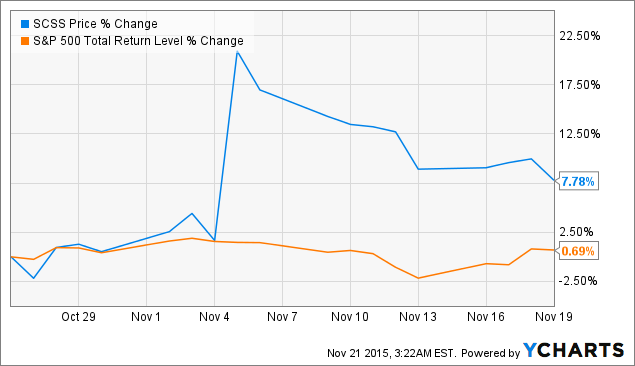 And finally, I suggested that Foot Locker (NYSE:FL) was a buy on Tuesday morning before the bell and I bought some myself later that day. This is the only idea that I haven't yet recommended selling or covering, yet, and I think it has a lot of potential as a long term hold (which is actually my preference). Here is where Foot Locker is at less than a week later: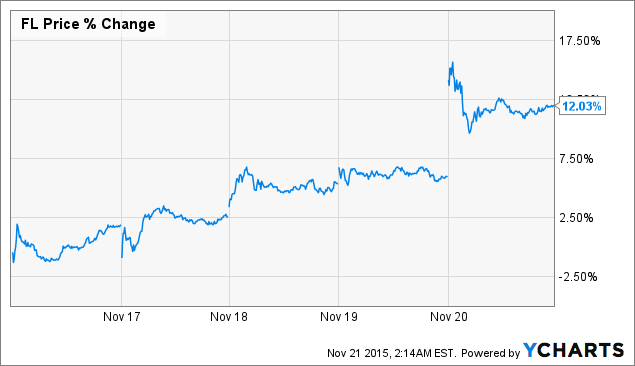 A couple weeks after my first article, I thought it would be a good idea both for readers and for myself to track the performance of my ideas, and also to use a weighting system for my ideas as a way to share the size of the positions I had in mind for someone's portfolio.
Here is a table to show the investment ideas I've had so far. It should be noted that I didn't initially attach weightings to the first couple ideas. It only occurred to me to do so after the STAG idea, but I plan to continue to offer weightings with ideas in the future because it reflects how I would really approach each investment. In reality, my trading account was 100% weighted in SCSS while I owned it, and my son's custodial account, for which I bought Foot Locker, probably has about a 30% weighting. That has more to do with the individual nature of those accounts than any particular measurement of my conviction level of the idea. So, for obvious reasons, I wouldn't recommend every person (or perhaps any person) be 30-100% weighted in anything.
Symbol
Idea
Duration
Weight
Simple Return
Alpha to S&P 500
Effect on Total Portfolio
DB
Short
2 Weeks
6%
+10.2%
+9.73%
+.612%
SCSS
Long
4 Weeks
6%
+7.78%
+7.09%
+.467%
STAG
Short
2 Weeks
2%
+6.94%
+9.21%
+.139%
FL
Long

1 Week

(Still Open)

2%
 
 
 
There are a couple of measurements that interest me the most. The first, is how my ideas compared to the S&P 500 for the time periods in question. The weighted Alpha (provided I am calculating it correctly) is about +8.52%, so far for the first three ideas, which I am very pleased with.
The second is the effect the weighted investments would have had on a full portfolio. So, in this case if the any uninvested money was held in cash, at the time of peak investment, 14% of the money would have been invested (6%+6%+2%) and the other 86%, theoretically, in cash. Currently, 98% would be in cash since FL is the only open position. I fully expect that over time this high amount of cash will come down as the ideas hopefully produce more long-term holds, than short term trades. But for now, even currently sitting at 98% cash, and having, at its peak time, only invested 14% of the available capital, the portfolio would have returned +1.218% over four weeks. In addition to that, the FL position would now have about +0.24% of unrealized gains. Let's compare that to a portfolio with a 100% investment in the S&P 500 over the same period.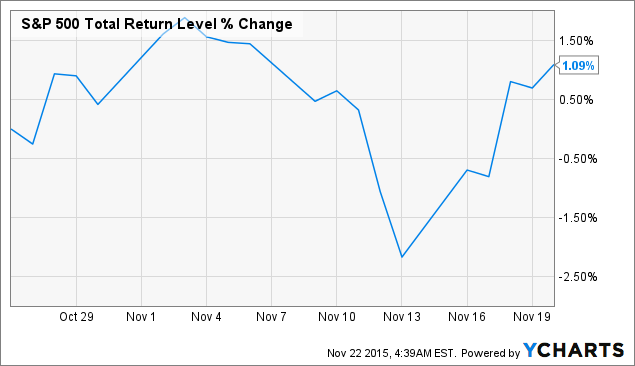 Even with 86% of the money theoretically sitting in cash for the entire duration of this time period, the combined realized and unrealized return on my weighted ideas was +1.458%; superior to the total return on the S&P 500, even though the S&P 500 did rise during that period. The reason I think this is important is because it is one thing to have superior gains over a very short period of time (and this is a very short period of time), but if over time, one can have superior performance while also taking on less risk, that is the sign of superior investing. Some people consider lower beta or volitility the best measure of risk. I prefer to look at how much of the portfolio is in cash equivalents to roughly judge risk. For example, our 401k has been over 30% cash for 2/3rds of of the year, yet, it is outperfoming the S&P by 3-4%. For me, that means I've taken on less risk, yet produced superior returns. That's what I'm aiming for over the long-term.
The goal here isn't to brag. I don't think there is anything special at all about one month's performance. Nothing. Nada. Zilch. What I'm trying to do, though, is develop a way to really measure performance in a meaningful and useful way over time. Most of my capital is currently tucked away in 401ks, so I won't have the capital available to make all the investments I come up with. I do expect to have more and more capital available over the next few years for individual investments, though. I consider measuring performance as a critical way with which to measure which investing techniques actually work, and which do not. My goal is to develop my investing theses in such a way that I (we) can learn as much from my mistakes as my successes. This will continue to be a work in progress, of course. Thanks so much for following me.
Disclosure: I am/we are long FL.