Earlier this week I sold Target (NYSE:TGT) because of uncertainty about its insertion into the transgender bathroom debate. I wasn't sure about their earnings this week, but the market either didn't like the earnings or didn't like the guidance.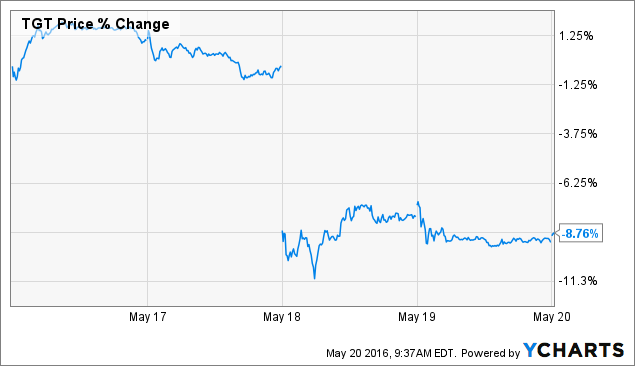 I think selling Target will end up being the correct call here, especially since I already have a lot of exposure to retail.
Foot Locker (NYSE:FL) reported earnings this morning that were in-line, but the expectations had been high relative to the rest of the S&P and especially relative to the rest of retail. Foot Locker is lower today. I had expected Foot Locker to go higher before it went lower, but I was wrong with respect to this earnings report, unless the market changes its mind in the next couple weeks. At this point, Foot Locker is a hold. My sense is that the market is now pricing in a recession within the next 12 months. I won't buy more Foot Locker unless we have the recession, FL's price overshoots to the downside, and no imminent threat develops from online retailers in the mean time.
My initial thesis with Foot Locker has always been that it will perform better than the SPY and better than the department stores, and that if the whole market goes down, I'd be happy to hold Foot Locker through the downturn. They've had enough multiple contraction that a mild recession is already being priced in, in my opinion. When, and whether, that recession happens is anyone's guess.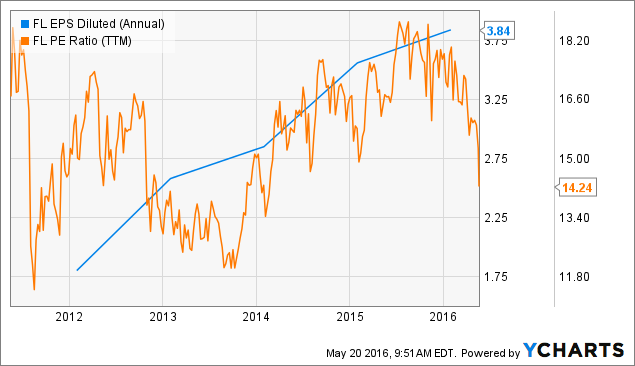 FL EPS Diluted (Annual) data by YCharts
I wrote an article a month ago warning about how Fed rate hike expectations were too low. Amazingly, they got even lower after the article. Not so amazingly, that was one of my least read articles. There wasn't a single comment. When the market is asleep, it is really asleep, I guess. The main actionable idea I have with regard (at least partially) to the Fed, is my Berkshire vs Realty Income idea. I feel very confident about this idea, which is basically that one would be better off owning Berkshire until O either drops to around $47.50 or a 25% spread opens up between the two, or three years passes. Here is how the idea is fairing so far: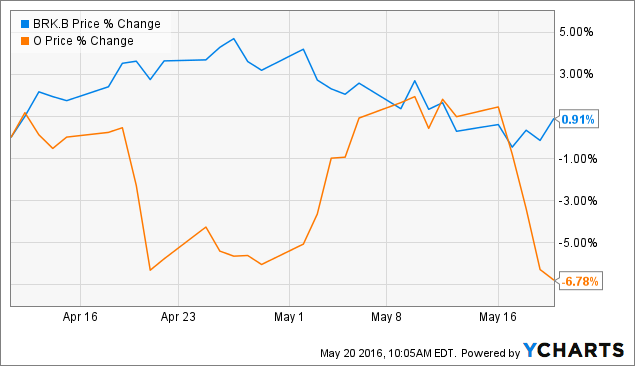 So far, out of 19 recommendations I've made on SA, 4 have been realized for a gain larger than the SPY, and 1 realized for a gain less than the SPY. Of the unrealized ideas, I have made at least one fairly major mistake. That mistake was Gilead (NASDAQ:GILD), which I am going to write a full-length article on in the near future because I think it is essential to carefully analyze my mistakes so I can try not to make them in the future. The rest of the ideas are still in progress. Here is how Gilead has done: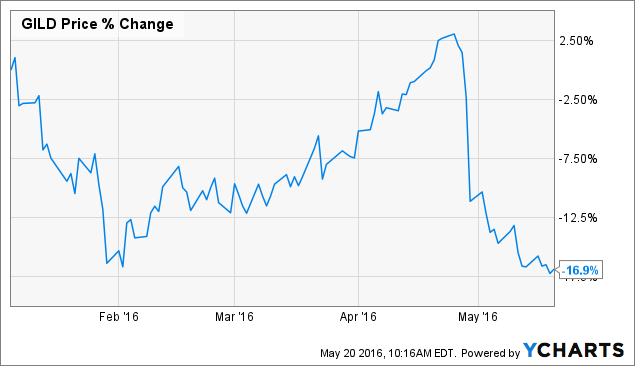 I'm still holding...
Disclosure: I am/we are long FL, GILD, BRK.B.