I haven't written much the past couple months on Seeking Alpha. A combination of factors has led to my silence. Mostly, it's been because summers are extremely busy for me at home because my kids are home from school (and my first job is a stay-at-home dad). But it's also because the market has been creeping higher and I haven't seen any stocks that are on sale. Though, admittedly, I've been spending more time fishing than stock researching.
I have previously written a couple Instabogs on Foot Locker (NYSE:FL) and it is part of the Multiple Model portfolio with a 2% weighting. I had expected it to pop after the last earnings report, but it never happened, and I have been patiently waiting for the market to re-price the stock. After Foot Locker's most recent earnings report, we finally got the price appreciation I've been waiting for, and I'm taking profits.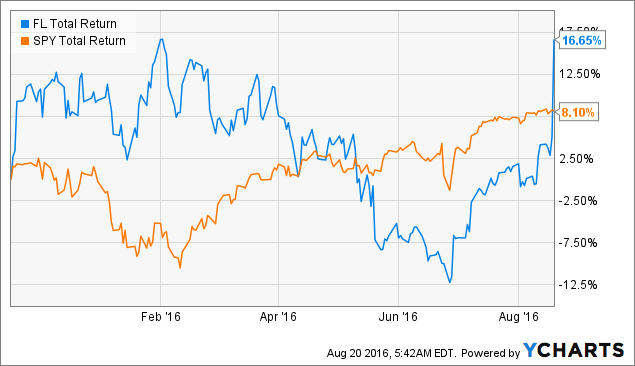 FL Total Return Price data by YCharts
My initial recommendation for Foot Locker was on Nov 17th 2015, and in 9 months we've had a total return of 16.65% vs. 8.10% for the SPY. So, both solid annualized returns and also solid outperformance. I'm always happy with that.
Heading into the fall, I should be writing more consistently, and have more time to research and come up with ideas. I really hope that I can put more money to work, but I'd rather come with 18 good ideas out of 20 than 18 good ideas out of 40!
I hope your summer as been a fun as mine, and I promise more articles are coming this fall.