Market moved up last week with Dow leading the gains, up 1.11%, followed by S&P 500's 0.88% move. NASDAQ trailed with 0.74% gain. So far this month, US stocks have another impressive runs as S&P 500 gained 4.65%, Nasdaq rose 4.56% and Dow returned 2.91%.
Market started its tireless run from last November. It moved up seven months in a row. S&P 500's monthly gains, for example, were
11/2012 - 0.28%
12/2012 - 0.71%
01/2013 - 5.04%
02/2013 - 1.11%
03/2013 - 3.60%
04/2013 - 1.81%
05/2013 - 2.98%
But the run stopped in June and has been in trading range since then
06/2013 - -1.50%
07/2013 - 4.95%
08/2013 - -3.13%
09/2013 - 2.97%
10/2013 - ?
and now is at the top of its recent trading range and the drop will be imminent. See S&P 500 daily chart below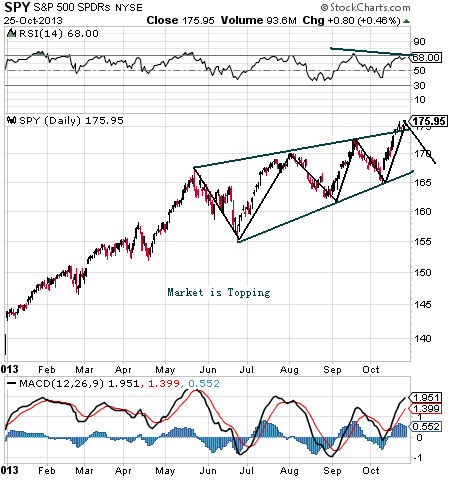 My View - Market Drop is Imminent - It could start from tomorrow
Here is Why
1. The recent strength on Nasdaq is only supported by huge moves from few big blues such as GOOG, AAPL, AMZN, MSFT etc. But most tech stocks have been weak and this is particularly true for semiconductor, telecommunication, solar and new energy stocks. Many dropped big last week even market was up. The list is long:
ATML, ALTR, CREE, RMBS, MU, FIO, OVTI, ONNN, MVDA, RFMD, CSCO, CIEN, JDSU, TQNT, FORM, STM, FSL, CY, SLAB, MLNX, BRCM, ADI, AMD, XLNX, SIMG, VTSS, PSMI, AMCC, PXLW, DIOD, PMCS, SWKS, RBCN, HIMX, MCHP, REGI, GPRE, GEVO, RVLT, GRPN, etc.
On the other hand, gold stocks have been strong recently.
2. The big blue tech stocks are all topped:
MSFT - $35.73. Up $2.01 after company reported its earnings. MSFT has been in $27.50 - $35 most of the time since 2001 and now it is at the top of its 13 year trading range. We will see stock gradually moving down in the following weeks;
AMZN - $363.39. Up nearly 10% after it released its earnings and reached all time high. On the other hand, stock tended to move lower after earning release as can be seen in previous quarters. That means, stock topped.
GOOG - $1015.20. This stock is still quite strong and we will see how it will perform in the following weeks.
3. Most of DJI 30 stocks are topped
Eleven stocks are now at/near the tops of their recent trading ranges: CVS, DIS, INTC, JNJ, PFE, PG, T, WMT, XOM, GS, MSFT
Three stocks are now at the tops of their uptrend channel: MMM, TRV, V,
Seven stocks are or started their down trend: CSCO, HD, IBM, KO, MCD, UTH, UTX
Five stocks are strong with break-out but may face pull backs: BA, AXP, GE, NKE, DD.
On the other hand, VXX, the reverse of S&P 500 futures, showed the strength last week with no new lows even S&P 500 was up.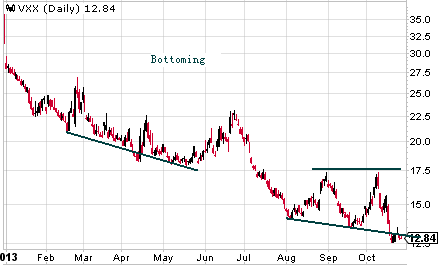 Disclosure: I am long VXX.